Skip to main content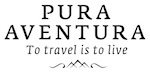 Thoughtfully tailored holidays in the great outdoors of Spain and Latin America.
Category:
Tour Operators
---
Pura Aventura is a tour operator specialising in tailor made trips to Spain & Latin America.

An Anglo-Spanish company, founded in 1999 by three guides who met in Chilean Patagonia, our vision is simple: to share the places in Latin America and Spain that have moved us. Our holidays help you pause your everyday and get back to what's important.

1. To get the right people to the right places: everybody's ideal holiday is different. We're knowledgeable about our destinations, and we're opinionated, but we listen, and we tailor. When clients tell us that they had a magical experience which exceeded all expectations, we've had a good day at work.

2. To protect and benefit: the places, the people and the communities that we love. Clients and staff, partners and friends, here and overseas. We have to add value and we have to look after you.

3. To seek out potholes: the places which move us are rarely slick, brochure-page perfect. On the contrary, we're happiest when we find places where nature dominates and daily life carries on in all its bumpy beauty.

4. To replace suppliers with partners: we are unusual in the travel industry because we cut out a link in the chain and go directly to the people we most want to work with. After 18 years, we have a huge network of people ready to welcome you. It's something of which others in the industry are jealous.

5. To be restlessly inquisitive: we innovate, we learn and we change. We explore further, push ourselves harder to find out what's bad, what's good and what's amazing. We never settle for just good.

6. To be client champions, and Pura champions: by keeping our clients at the heart of everything we do, we make Pura better. By looking after Pura as a business, we are better able to focus on our clients.
---
Head office
Pura Aventura
18 Bond Street
Brighton
BN1 1RD
United Kingdom
01273 676 712
01273 676 774 (Fax)
ATOL: 5408
ABTOT

---
Pura's deep knowledge of the country and attention to detail meant we met wonderful local people and visited spectacular out of the way places. Pura turned what I anticipated would be a lovely holiday into a spectacular experience.
Pura Aventura helped us choose the prefect holiday itinerary, managed the trip seamlessly. The restaurants, hotels and in particular the guided visits were all excellent. First time in a while, we've let someone else take the strain of organising, and it was definitely worth it, in terms of local knowledge and value for money. Thank you !
Just very impressed with their ability to 'get' what we wanted from our trip to Costa Rica. A 17 day itinerary, not one thing we wanted to change! All our lodges were amazing, the people who organised our activities were so professional and friendly. Every thing helped us to have one of our best holidays ever.
---
error:
Alert:
This content is copyright protected