Skip to main content
The LATA Media Awards recognise innovation and excellence across the British travel media landscape with a specific focus on Latin America.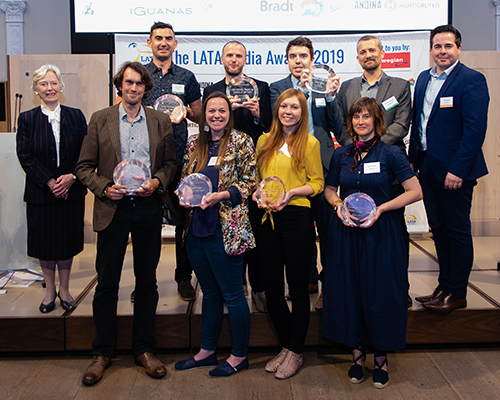 The awards aim to celebrate and encourage inspiring and creative Latin America stories are awarded in the following categories:
Consumer National Newspaper Feature of the Year Award (print)
Consumer Magazine Feature of the Year Award (print)
Online Consumer Feature of the Year Award (national magazine or newspaper)
Best Regional Feature of the Year Awards (print a/o online)
Best Latin American Round-up
Trade Publication Feature of the Year Award (print or online)
Blog, Vlog or Podcast of the Year Award
Best Self – Published Award (i.e. Company Blog/Website)
Top published Latin America photo
Social media campaign of the year
The awards are judged by destination experts from the Latin America Travel Association and by a final expert media panel.
Entry criteria
All submissions need to be published/ executed between 1 January and 31 December 2019 in the UK.
Submissions must be sent via email either in PDF format or a high quality scan. Hard copies can also be submitted.
For the online/ social categories, please send a link/links to the work (as indicated on the submission form).
All submissions must be clearly marked 'LATA MEDIA AWARDS SUBMISSION' and must be received before 6pm on Friday 20 March.
Each submission needs to include: Name of author/photographer/content-creator, date and title of publication a/o campaign, contact information (please note, if submitted by a third party, i.e. PR Company or tour operator, please also specify).
Deadlines
All entries should be emailed to LATAPR@wearelotus.co.uk with the entry form – (please note a separate form is required for each entry), by 6pm (GMT) on 20 March 2020.
For further information, please email LATAPR@wearelotus.co.uk or contact Kate McWilliams, George Leonard or Amber Martin at Lotus (02079537470).
error:
Alert:
This content is copyright protected