Skip to main content
Birdwatching
Nature
Kayak
Water Sports at Ometepe Island
Caribbean
Caribbean Coast of Nicaragua
Honeymooners
Luxury Holidays
Yoga
Wellness and Spa
Volcano
Masaya Volcano
Health
Wellness and Spa
Artisan
Handcraft at the White Towns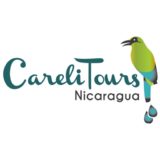 Since 1992, we have applied our dedication, expertise and teamwork to designing and managing many different styles of travel products. We have a proven track record, as well as a local and international reputation for delivering good advice, excellent service, and a visionary approach to tourism in our beautiful and varied country.


---
FIT´s, Group Travel, Luxury Holidays, Bespoke Travel, Corporate Travel, Honeymooners. View all >
---
Cultural Itineraries, Eco Experiences, Honeymoon Escapades View all >
---
Head office
Careli Tours Nicaragua
Club Terraza 1/2 c East, 850 mts South.
Managua
Nicabox 194
Nicaragua
ECOficinas 1-A
Managua
Nicaragua
(505) 8465 1284

We are Rain Forest Alliance Certified Sustainable Company. We are the only Virtuoso On-site in Nicaragua

---
Carelitours, My wife Maureen and I went to Costa Rica last month for a do nothing one week vacation. We had planned to lay around, relax and do as little as possible for that week. The day after arriving, there were an assortment of tours offered by the resort. This was the one thing my wife and I do not participate in when we travel. The thought of getting on a bus and being kidnapped for the entire day is not what we enjoy doing. I glance quickly through the list of offered tour to be polite to our host at the resort, when I came upon Nicaragua. I never wanted to go to Nicaragua. I never thought of going to Nicaragua. Nicaragua was like Iraq to me. So I signed up. Maybe because it was so close to the resort. Maybe it was the adventure of going to some bad place for the thrill. We pass through the border and there was a handsome man standing in the front of the bus. The Costa Rica tour guide introduced Juan Carlos, and handed him the microphone. The rest I will say was "Nicaraguan History". I enjoy watching the History Channel here in the United States. Juan Carlos was like watching the History Channel and the subject was "The History of Nicaragua". He was superb! He taught me more in that afternoon then I would have never imagined. Juan Carlos, and Nicaragua was the highlight of my week visit to Central America. I would like to pass along a very special thanks to Juan Carlos, and look forward to visiting his wonderful Nicaragua again. Beast Regards,
Thanks for your email. Our trip to Nicaragua was wonderful. Every step of the way, the services that you provided were top notch! All of the drivers were prompt and friendly. The resorts were all great – El Convento – Patio del Malinche and the best one was Villas de Palermo. We actually extended our stay at Villas de Palermo because we liked it so much – and the tour company accommodated us without a problem. Everyone at Latin Destinations/Careli Tours was wonderful and the price that we paid for the trip was very very reasonable. I wish I could book all of my trips through your company. I travel often and will definitely use your company again,and will tell all of my friends and colleagues about your site. Thanks for giving me a wonderful vacation to Nicaragua!
---
error:
Alert:
This content is copyright protected