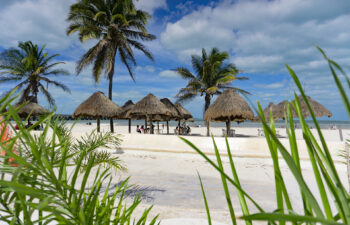 Yucatán is undoubtedly one of the most charming states in Mexico. Although well-renowned for its cuisine and world-know archaeological sites, Yucatán goes much further than a day trip from other destinations in the neighbouring state of Quintana Roo in the Caribbean coast. Each trip to Yucatán is an adventure, and each visit offers something new to discover. Yucatán has many pockets of magic and beauty, and lots of these are found on the beaches of Yucatán. Some of these beaches are home to friendly and helpful locals, who are ready to welcome their new visitors whilst others are quiet paradises with no buildings in sight, giving them the feeling of being untouched pieces of paradise. Each beach offers an opportunity to take in everything nature has to offer – it's true bliss. Here, you can learn more about some of them.

PROGRESO
Progreso is located just 36km away from the city of Mérida. It was founded in 1871 and became the main port of the Yucatán coastline. Today it is a key connection hub for tourists and trade via the Mexican Gulf. Due to its commercial nature, Progreso is the most visited port in the state, its proximity to the city of Mérida and capacity to receive international cruise ships means that visitors from all over the world have access to Progreso's incredible turquoise beaches. On Progreso's boardwalk you can find restaurants serving all kinds of food, both national and international dishes, but always with a Yucatán touch. On Progreso's beaches, you will have access to all kinds of activities, from kitesurfing to windsurfing, water skiing to fishing.
SAN CRISANTO
San Crisanto is fishing village is located just 1 hour away from Mérida and is home to around 600 people. San Crisanto became an ecotourism hub thanks to the inhabitants who live in the port, as they seek to preserve and showcase the natural wonders it has to offer. With over 3,000 metres of beach the sea here is blue (as opposed to the emerald colours in Progreso). Here, you can take guided water tours and discover the wide variety of fauna, over 130 species of birds and many mangroves. As if that weren't enough, amongst its mangroves you can also find cenotes, of which the best known is called Dzonot-Tzik or Cenote Bravo.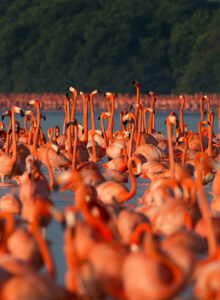 CELESTÚN
Celestún is indisputably one of the most enchanting eco-tourism hubs in the region. This eco-paradise is located in the west of Yucatán, just 109km from Mérida and 123km west of Progreso. Its landscape is exceptional and it also has the Reserva Especial de la Biosfera de Celestún nature reserve, declared a fauna refuge in 1979. There are also several springs in Celestún where you can carry out a wide variety of activities. The Baldiosera spring is ideal for swimming and diving, or the freshwater of Cambay, and Tambor which is a sanctuary for the famous regional bird, the pink flamingo. These birds come to the area to rest and find food, and due to the concentration of carotene in the waters, they have become the pinkest flamingos in the world. Local boat tours are available to learn more about these birds and see them from as close as possible without interrupting their natural habitat.

CANCUNITO
Cancunito is a preserved, barely touched beach and is the perfect place to disconnect from city life and reconnect with nature and the ocean. Located in Río Lagartos, Cancunito has plenty of mangroves to see, full of vegetation and wildlife or you can visit nearby Las Coloradas, where the ocean is naturally coloured a vibrant pink due to the local salt extraction. This pink water is calm and transparent and provides a beautiful contrast to the bright blue sky. To get to Cancunito you have to cross a small path over the road and once there, you'll be welcomed by its fine white sands. To ensure its conservation, there are no shops, hotels or restaurants around, so you'll need to bring water and food so that you can stay long enough to truly enjoy the beauty of this natural paradise.