Skip to main content
Chonos Route
M/V Skorpios II in front of San Rafael Glacier
Chonos Route
Panoramic View of Puerto Aguirre and Moraleda Channel
Chonos Route
Hot Springs at Quitralco Fjord
Kaweskar Route
M/V Skorpios III approaching Amalia Glacier
Kaweskar Route
Excursion to view point to Amalia Glacier
Kaweskar Route
Excursion to El Brujo Glacier
Kaweskar Route
Clients in front of El Brujo Glacier
Kaweskar Route
Excursion on Calvo Fjord on icebreaker
Kaweskar Route
Clients in front of Bernal Glacier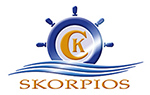 Cruises to the Glaciers of Chilean Patagonia
Category:
Cruise Ships
---
Skorpios Cruises is a family corporation, pioneer in the shipping tourism in Chile with over thirty five years of experience taking tourists to the Patagonian Northern Ice Field, and, since 2003, to the glaciers of the Patagonian Southern Ice Field.

Our specialty is ice, so the company designed and built both cruise ships in its own shipyards specifically to cope with the conditions faced in Patagonia (A1 Ice Class Vessels by the American Bureau of Shipping). In addition, during our visits to the face of glaciers, we use strong and well-equipped boats to ensure the comfort and safety of our passengers at all times.

Our two regular programmes are:
- Chonos Route, aboard M/V Skorpios II, a 5 nights programme sailing on Saturdays from Puerto Montt and visiting San Rafael Glacier, Quitralco Fjord and Chiloé Island.
- Kaweskar Route, aboard M/V Skorpios III, a 3 nights programme sailing on Tuesdays and Fridays from Puerto Natales and visiting up to 14 glaciers, including Amalia and El Brujo, and spectacular Las Montañas and Calvo Fjords.

Skorpios Cruises is also proficient organizing group tours and incentives, field on which the company counts with more than ten years of experience.
---
Head office
Skorpios Cruises
Augusto Leguía Norte 118
Santiago
Las Condes
Chile
Marketing Rep Europe
Michel L´Huillier, E: michel@skorpios.cl
Barcelona
Spain
+56 2 477 1900
+56 2 232 2269 (Fax)
USTOA Member

---
';
error:
Alert:
This content is copyright protected