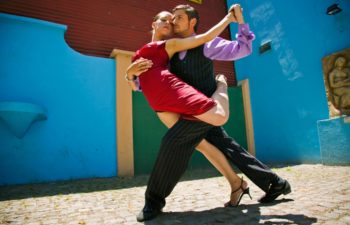 Tango is still alive and well, particularly in Buenos Aires where the annual World Tango Championship take place. The famous Argentine dance originated in the late 19th century, in the nightclubs of the River Plate. The dance is becoming one of Argentina's most valued cultural exports with exponential growth across the world. In 2009 UNESCO declared it as an Intangible Cultural Heritage of Humanity.
Tango takes in styles and influences from both European and African cultures. The dances of former slaves, such as candombe, helped to shape what tango is today. The word 'tambo' from which tango originated, referred to musical events of African slaves. Though it originated in the low-class districts of Montevideo and Buenos Aires, the dance spread to all parts of society. In the early 20th century, the first group of tango dancers toured Europe where it went down a storm.
It is appropriate that the world tango event is back home in Buenos Aires. Every day the bars, ballrooms and milongas of the city come alive with dancers and the sound of tango music. The championship is part of a Tango Festival which runs between 18th and 31st August. The competition has two distinct categories. Salon Tango (Tango de Pista) and Stage Tango (Tango Escenario). The former has stricter rules about the dance and traditional milonga moves. The latter includes elements of other dance disciplines including ballet. Recently same gender partnerships are allowed to enter the competition.
It is a world-wide event with entrants from as far away as Seoul, China, Russia, Tokyo, Italy and the UK, as well as South America. This final is the culmination of world-wide smaller competitions.
Don't worry if you are not experienced, those keen to try out the dance, the festival has plenty of events for beginners. Try those at the 'Teatro de la Ribera', located in the neighbourhood of La Boca. Classes, shows, milongas and exhibitions will all be on offer. For those less agile, watching this passionate dance from the side-lines will not disappoint.
As they say, it takes two to Tango, so grab partner and head down to Buenos Aires this August for the unique event. To find out more about the Buenos Aires Tango Festival or the World Tango Championship, take a look at the organiser's website.