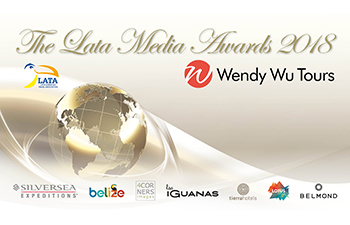 LATA is delighted to announce the winners of the LATA Media Awards 2018 sponsored by Wendy Wu Tours.
The LATA Media Awards recognise innovation and excellence across the British travel media landscape with a specific focus on Latin America.
Celebrating and rewarding inspiring and creative Latin America stories and photography, the winners of the 15th edition of the LATA Media Awards were selected from over 150 entries by a strong judging panel composed of key figures from the Latin American travel industry.
The 2018 judging panel included Hilary Bradt, founder of Bradt Travel Guides; Baroness Hooper, lawyer and honorary president of the all-party parliamentary group (APPG) for Latin America; Hugh Thomson, leading author and film-maker; Martin Morales, founder of the restaurant group Ceviche and award-winning Peruvian chef; Colin Stewart, chairman of LATA and the UK and Ireland director at Air Europa; and Andy Skillen, multi-award winning international wildlife photographer and founder of Fauna Vista.
The winners were revealed at an event that took place at the RSA House in London on 22 May, which was attended by key members of the Latin American travel industry and some of the UK's most prolific travel writers and photographers.
Winners and runners-up are detailed below:
Best Online Blog Feature of the Year Award, sponsored by Las Iguanas
Winner: Abigail King, 'Pre-Columbian art in Ecuador and the surprising question it asks', Inside the Travel Lab
Runner-up: Shafik Meghji, 'Best things to do in Ecuador', Kimkim.com
Highly commended for photography: Neil Hennessy Vass, 'Central America: A New Revolution', neilhennessyvass.com
Best Self-Published Feature of the Year Award, sponsored by LATA
Winner: Anna McNuff, 'Through Patagonia on Wheels', Swoop
Runner-up: Jennifer Richt, 'Belize in it: An Example of Ecotourism', Jacada Travel
Best Trade Publication Feature of the Year Award, sponsored by LOTUS LATAM
Winner: Ben Lerwill, 'Andes to Amazon', Selling Travel
Runner-up: Meera Dattani, 'Belize the Hype'. Travel Weekly
Best Consumer Online Feature of the Year Awar, sponsored by Tierra Hotels
Winner: Tamara Hinson, 'Quito: Why Ecuador's capital is known for its evolving music scene', Independent Online
Runner-up: Sarah Gilbert, 'Exploring Che Guevara's Bolivian shrine 50 years after his death', Independent Online
Best Photography of the Year Award, sponsored by 4 Corners Images
Winner: Jonathan Gregson, 'Lago Pehoe, Torres Del Paine', Lonely Planet
Runner-up: Alex Robinson, 'Mystic River', Wanderlust
Best Consumer Newspaper Feature of the Year Award, sponsored by Belmond
Winner: Mike Unwin, 'Living at one with the Creatures of the Canopy', The Sunday Telegraph
Runner-up: Andrew Purvis, 'My David Attenborough moment in the jungle', The Sunday Telegraph
Consumer Magazine Feature of the Year Award, sponsored by Belize
Winner: Adrian Phillips, 'A wild rolling beast of a route', National Geographic Traveller
Runner-up: Chris Moss, 'Shape Shifter', Conde Nast Traveller
Colin Stewart, Chairman of LATA says:
"The quality of the entries for the 2018 LATA Media Awards was extremely high and LATA would like to thank all the talented journalists and photographers who entered the awards. We are delighted to have welcomed so many key figures from the Latin America tourism industry and fantastic writers to this flagship annual event, which brings the Latin American region to life through creative and interesting stories and powerful photography. In addition to the headline sponsor Wendy Wu Tours, other sponsors included Silversea Expeditions, The Belize Tourism Board, Belmond, Tierra Hotels, LOTUS LATAM, Las Iguana, and 4Corners."

For further information, please email latapr@wearelotus.co.uk or contact Kate McWilliams or Lucy Keenan at Lotus (02079538788).