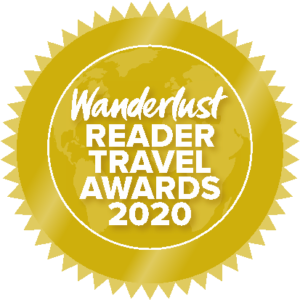 Peru, Cusco and Simon Reeve's American adventures are the choices of the readers at Wanderlust Travel Magazine's annual awards ceremony
Latin America made a huge splash at this year's Wanderlust Reader Travel Awards 2020, edging up into the higher reaches of the voters' choices. Not only did Peru win the Silver Award in the prestigious Top Country category, but the Peruvian city of Cusco climbed the charts of the Top City category. Elsewhere, Brazilian conservation pioneers Caiman Lodge, Llama Travel and Simon Reeve also waved the flag for the Latin American travel sector.
The awards were presented at a special event hosted at Destinations: The Holiday and Travel Show at Olympia on 30th January 2020, co-hosted by Wanderlust Magazine's Co-founder and Editor-in-Chief Lyn Hughes.
The awards are based on readers' travels from December 2018 to November 2019, with results based on an average satisfaction rating.
The big success was Peru, leap-frogging perennial favourites Japan, New Zealand and Laos on its way to the Silver in the Top Country category. Readers were won over by how diverse the country is, from the spectacularly biodiverse Amazon to the epic vistas of the Andes, as well as its celebrated Inca heritage.
The latter played a big part in Cusco bagging the Bronze award in the Top City category. But the city is not just the gateway to the glorious Inca Sites of Machu Picchu and the Sacred Valley, as it boasts plenty of colonial charm and history in its own right, which explains why Wanderlust readers picked it over the likes of Seville, Cape Town and Siem Reap.
Latin America travel specialists Llama Travel also took home a prize at the Reader Travel Awards, grabbing the Silver award for Top Tour Operator for their continued dedication to high-quality authentic experiences at a fair price – and earning themselves a remarkable 99.13% satisfaction rating score.
Another regular winner at these awards, Simon Reeve's tour around the Americas was declared the Wanderlust Readers' Top TV Programme. The travel journalist explored the complicated history and politics of the region, while revelling in Latin America's breath-taking experiences and scenery.
Elsewhere, there was a special award for the groundbreaking conservation work being done by the Caiman Ecolodge & Onçafari Project, helping protect the jaguars and landscapes of Brazil's Southern Pantanal. On Friday, Lyn announced them as Wanderlust's Conservation Heroes.
The finalists were rated by 2,422 Wanderlust readers with a total of 8,228 votes in the Top Country category alone, highlighting the magazine's reach.
Full results of the Travel Awards will appear online at https://www.wanderlust.co.uk/awards/wanderlust-travel-awards/ and will then feature in the April edition of Wanderlust, on sale on 12 March 2020, priced £4.95
-ENDS-