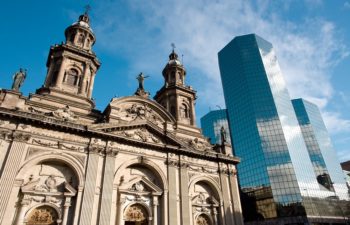 In the run up to the launch of the British Airways flights from London Heathrow to Santiago in January 2017, The Latin American Travel Association (LATA) has collated insider tips from the LATA members who specialise in travel to Santiago in Chile.
DON'T MISS
Santiago de Chile is a historical city teaming with markets, museums and beautifully varied architecture.
Here is LATA's pick of exciting attractions not to miss:
La Chascona, located in Santiago's Bellavista district was one of Chilean poet Pablo Neruda's houses which he started to build in 1953 for his mistress (and later wife) Matilde Urrutia. The name 'La Chascona', meaning 'messy hair' was inspired by his lovers curly main of red hair and today is a museum managed by The Pablo Neruda Foundation. Retaining the quirky nature of Chile's most celebrated poet, La Chascona reflects the spirit of many of Neruda's poems with a fairy-tale like style offering a glimpse into the poet's fantastically creative mind.
Located in the heart of the city, El Mercado Central is Santiago's most famous market situated in an impressive neoclassical wrought-iron building. Offering a fantastic range of local seafood dishes such as pastel de jaiba, a delicious thick Chilean crab casserole, the market offers a great mix of tradition and taste.
Santiago's main fresh fruit and vegetable market, La Vega Central, located just minutes away from El Mercado Central, offers an entertaining way of mixing with the locals whilst discovering popular South American fruit and vegetables, such as Chirimoya (a kind of sweet apple also known as 'custard apple') or Lucuma (a yellow-fleshed fruit, typical of the Andean regions). The market is located at the far south of Recoleta, almost on the north bank of the Mapocho River. La Vega Chica, next door, offers a range of little traditional eateries offering hearty dishes with indigenous origins.
The Museo Chileno de Arte Pre-Columbiano is widely regarded as one of the best museums in Latin America and houses an impressive collection of artefacts from ancient Central and South America which underscores the rich cultural and artistic diversity of the Pre-Columbian Americas. The museum is located in the heart of downtown Santiago close to the Plaza de Armas and is open from Tuesday to Sunday from 10am until 6pm.
The Palacio de la Moneda is the seat of the President of the Republic of Chile and is located in a stunning neoclassical building designed by Italian architect Joaquin Toesca in the late 18th century. Parts of the exterior façade were badly damaged during the 1973 military coup when President Salvador Allende was overthrown. The inner courtyards are usually open to the public however guided tours of the building have to be scheduled a week in advance.
Santiago's Plaza de Armas has remained the heart of the city since it was founded alongside Santiago in 1541 and is encompassed by a number of eye catching structures such as the Metropolitan Cathedral of Santiago and the Palacio de la Real Audiencia de Santiago. Today, the city's main square maintains its original charm and is a must-see for every visit.
WHERE TO HEAD FOR A DAY TRIP
For those looking to escape the city:
Valparaiso is a picturesque coastal city located approximately one hour and a half north east of Santiago, famous for its artistic community, steep funiculars and colourful, clifftop homes. The creative city is home to "La Sebastiana", the quirky former residence of Chilean poet Pablo Neruda, now a museum featuring far-fetching views overlooking the Pacific Ocean.
The modern city of Viña del Mar stands in sharp contrast to Valparaiso with boulevards lined with palm trees, sprawling public beaches and beautiful expansive parks which have earned it the nickname 'Ciudad Jardin' ('City Garden'). The modern coastal resort is a popular escape for Santaigo residents looking to escape the city, and offers a wealth of top of the range restaurants and bars.
Cajon Del Maipo, located south east of Santiago is a stunning canyon lined with greenery and rocky walls where Santiaguinos come to camp, hike, climb, cycle and raft. The canyon is home to the El Morado Natural Monument, a mountain reserve with trails to the San Francisco Glacier and Laguna Morales, and a great place to catch a glimpse of an Andean condor. The canyon is also dotted with traditional restaurants, teahouses and a big winery where travellers can taste some of Chile's famous local wines.
Valle Nevado is a ski resort located on the El Plomo foothills in the Andes Mountains, 46km to the east of Santiago. Known for its powder skiing and snowboarding with slopes for all levels of skiers and snowboarders, the resort is an ideal escape from the city, especially throughout the winter months. During the summer, Santiago's surrounding ski resorts offer a chance to spend a day in the high Andes, horse-riding, hiking or simply enjoying the fresh mountain air and panoramic views
WHERE TO CATCH THE BEST VIEWS IN THE CITY
Santiago is full of spectacular views that overlook the city below:
1 – Cerro San Cristobal is Santiago's biggest green space and has some of the best sweeping views overlooking the bustling city accessible by funicular from the Bellavista station, or a 45 minute uphill walk through the park. Visitors can also visit the National Zoo, the Jardin Botanico Mapulemi and a perfectly landscaped Jardin Japones (Japanese Garden). The most popular site however is the 22 metre-high white statue of the Virgin de la Inmaculada, an iconic structure, towering over the city below.
2- Cerro Santa Lucia is a distinguished park in the heart of Santiago which features a web of trails and steep stone stairs that lead up through terraces to the Torre Mirador where visitors can admire stunning panoramic views over the city.
3- Standing at a height of 300 metres, Sky Costanera is the tallest building in Latin America and has the most impressive 360 views of Santiago and the Andes Mountain Range framing the entire city. Open until 10pm, visitors can enjoy the views by day or night (from 5000 Chilean pesos per adult).
EXPERIENCE SANTIAGO'S LOCAL CUISINE
Being such a long country stretched over a variety of landscapes from icebergs in the south to dessert in the north, Chile boasts a vast range of food and drink, with multiple tasting opportunities in the Chilean capital of Santiago.
Chilean Empanadas – A traditional empanada in Chile is the "empanada de pino del horno": a baked beef-stuffed meat turn-over, considered best when it is cooked in a rounded adobe oven (a traditional way of cooking empanadas in the countryside in Chile). Chileans eat empanadas for Sunday lunch, barbecues and for the September Independence Day holidays. The Chilean way includes a mix of ground beef, onions, raisins, black olives and hard boiled eggs.
Pastel de Choclo, a pie filled with beef, onions, chicken, olives and a boil egg, covered with dough made of fresh corn, is one of Chilean's favourite home cooked meals, frequently served as a "traditional" Chilean dish and appears in worker's lunchrooms and neighbourhood cafes.
Humitas are a typical Andean food made predominantly from fresh ground corn. Normally wrapped in corn husks, the Chilean version is normally baked or boiled.
WHERE TO SHOP
Santiago is a haven of markets selling local crafts as well as more modern shopping centres:
Pueblito Los Dominicos is a crafts market located in a heritage zone in Los Dominicos Park. The market brings together every Chilean craft imaginable in a rustic cluster of outdoor shops, exhibits and workshops from which visitors can admire artists at work.
The Barrio Bellavista, Santiago's bohemian quarter, tucked away between the Mapocho River and San Cristobal Hill is filled with shops selling jewellery and trinkets carved from lapis lazuli, a glittery blue gemstone which, seems entirely appropriate to the neighbourhood and its dazzling array of colours. There is also a weekly crafts market that takes up the length of Calle Pio Nono and welcomes people from all over the city who are selling quirky object or simply enjoying the atmosphere.
For a more American style shopping experience, try one of Santiago's most modern shopping centres, including Parque Arauco, the Costenera Center or Alto Las Condes featuring hundreds of shops and labels, as well as restaurants, cafes and cinemas.
WHERE TO GO OUT
To enjoy a drink or two, head to:
Bellavista is a mainstay of Chilean nightlife, and offers a varied experience for going out. The streets of Pio Nono are popular for drinking beer whilst la Consitucion houses restaurants and some of the best pizza in the city and the Patio Bellavista has bars of many variety, restaurants with live music and theatres and art galleries open until late.
Plaza Nuñoa, is found in the eastern part of the city and is a typical meeting place for people to meet before heading to one of the many lively bars, restaurants and nightclubs the area.
Located close to Cerro Santa Lucia, Barrio Lastarria offers a vibrant cultural calendar with its wealth of theatres, cinemas, restaurants and bars and its belle époque landmarks, including elegant streets, a lively café society, and the sensational Museo de Bellas Artes.
In recent years, a range of cool boutiques, independent shops, cafes, bars and restaurants have been popping up in Santiago's Barrio Italia, attracting a young and trendy crowd. Ideal for an afternoon drink.