NEW LATA MEMBERS
---
NEWS FROM LATA FOUNDATION
LATA SUPPORTS FOOD PARCELS FOR 71 MIDWIVES SERVING RURAL COMMUNITIES IN GUATEMALA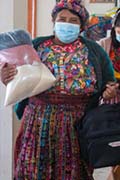 Between February and the end of August 2021, the LATA Foundation has supported food parcels and PPE for 71 midwives serving rural communities in Guatemala, as well as providing food packages for 30 families from the birthing centre. The food parcels were provided given the growing malnutrition amongst many families in Guatemala due to the ongoing challenges of the global pandemic, including the ability to earn a basic income.
Additionally, thanks to the funds raised by the #Pery25for25 campaign, the LATA Foundation has been able to support food parcels for 92 porters and their families for a period of 12 months.
To support the LATA Foundation, please visit https://www.justgiving.com/lata
---
NEWS FROM UK MEMBERS
Silversea Cruises
Silversea confirms 2021-2022 Antarctica Season with three ships departing from Chilean Ports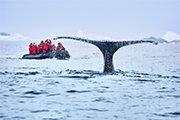 Leveraging its destination expertise, Silversea collaborated closely with Chilean authorities, industry bodies and other stakeholders to lead the return of Antarctica travel.
Silversea Cruises, the leading ultra-luxury cruise line, has reached an agreement with the Chilean authorities to depart from Punta Arenas for its 2021-2022 Antarctica season, leading to the return of Antarctica travel.
Silver Cloud and Silver Wind will set sail from Punta Arenas, while the line's third Antarctica-bound ship, Silver Explorer, will continue with its scheduled plan to depart from Chile's Puerto Williams from November 2021.
---
REGION-WIDE
Vapues Travel
Island Life in Central America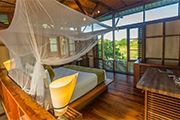 Picture it – you're sitting back with a cocktail in hand, looking out to sea whilst your toes sink into the soft sand. Not a care in the world. There are few better vacation experiences than spending a few days living the island life, and the coastlines and lakes of Nicaragua and Panama are home to some real gems.
At Vapues Travel, we offer a range of charming resorts, private vacation rentals and curated tours and activities, so that your clients can enjoy a perfectly tailored island experience.
Have a look at our latest blog for a comprehensible overview: https://www.vapues.com/blog
---
Quimbaya Latin America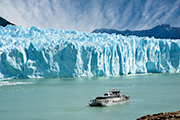 Argentina is finally getting ready to open its Borders to foreigners without quarantine from Nov 1st, 2021!
This is very exciting news to start preparing the Season for Argentina. All safe Travels protocols are in place in all hotels and restaurants.
So, we are happy to propose our 10 Days Guaranteed departures for minimum 2 people. Please contact us to receive this program and to have access to our Quimbaya Agent system for short programs in Argentina or to combine with other destinations.
Contact here: laura-ortiz@quimbaya-tours.com
---
ARGENTINA
ALCHEMY DMC Argentina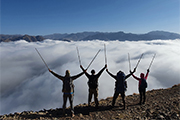 Northwest Adventure: Trek from the colourful "Quebrada de Humahuaca" to the green "Yungas"
Unique adventures for intrepid hikers await in the Northwest! 4 Days Crossing from Tilcara, Jujuy, to Calilegua exploring the most varied landscapes, is one of our proposals for those seeking solitude, challenges, and total disconnection.
It is quite demanding in terms of kilometers per day, although without a marked difficulty. We invite hikers to walk through semi-deserts, meet local communities, reached mountain tops, and end up in the jungle, an environment located in the subtropical area that we call "Yungas".
Our management team experienced this challenge some days ago. Reaching our goals and conquering the highest peaks are part of our philosophy, the ALCHEMISTS. Unique panoramic views, reaching 3400 Mts above sea level, will make you feel like to be walking above the clouds: the true feeling of immensity around us!
---
Furlong Incoming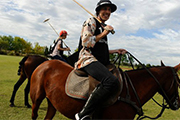 We invite you to re-discover Buenos Aires, join us and explore this destination from a sustainable perspective.
As travellers are searching for new ways of travel, more meaningful, looking to connect with people, places and the cultures they visit and specially being responsible with the planet, we must be ready to provide these type of experiences for them.
Join us for the Sustainable Buenos Aires Webinar on October 5th, at 11:30 am (GMT-3).
---
Say Hueque Journeys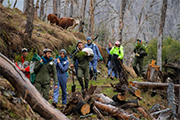 At Say Hueque we stand against deforestation and climate change and we act! ­ ­ ­ ­ ­ ­In September Rafa, our founder and director, was in Patagonia with our friends from ReforestArg planting native trees to help reforestating the endangered area of Rio Tigre, Chubut, Argentina.
After 2 days of hard work, they made it possible to plant 3000 Coihues, a perennial tree that is part of the Andean Patagonian Forest. ­ ­ ­ ­
"It was an unforgettable experience full of enthusiasm, adventures and great people! Massive reforestation is urgent. We all need to act." Rafa Mayer, Say Hueque Founder & Director
---
Say Hueque Journeys
ARGENTINA OPENS ITS BORDERS FOR INTERNATIONAL TRAVELLERS
In a press conference that took place last Tuesday 21, the Minister of Health announced the re-opening of Argentinian borders for international travelers starting on November 1.
Requirements to enter the country include a PCR test before arrival and a proof of a complete vaccination schedule. Those who have not been vaccinated against Covid-19 will be allowed to enter the country, but they will be obliged to undertake a quarantine period of at least seven days.
"At Say Hueque we have been waiting for this moment for almost 2 years. We are excited to welcome foreign explorers again to our amazing country full of natural and cultural wonders that deserve to be discovered." Said Rafa Mayer, founder and director of the company.
---
BOLIVIA
Crillon Tours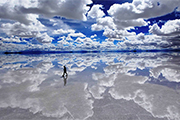 Spring good news…thanks to the good performance of our country's Health authorities, Germany lifted the ban on Bolivia from the list of high-risk countries, as other countries are also doing it.
With over 47% of people vaccinated, we receive daily long-haul flights from Europe with OB and UX & from USA with OB, COPA, AV & LATAM via Lima.
Our land borders are open, and whilst waiting our neighbors to open theirs, to complete the takeoff from the South American destinations, we are receiving passengers in our successful program "BOLIVIA Single Destination Travel". HAPPY TO WELCOME YOU! www.crillontours.travel
---
CHILE
travelArt Chile
SOUTHERN CARRETERA AUSTRAL – PATAGONIA UP CLOSE (6-Day Self-Drive Programme)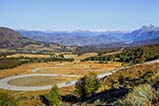 Patagonia and the southern Carretera Austral are popular destinations for travellers who want to discover the impressive nature of Chile.
A special experience is exploring the Carretera Austral by car, passing through the partly untouched natural landscapes. travelArt has created an itinerary that will take your clients by rental car from Coyhaique to Puerto Guadal, a village of about 500 inhabitants on the west coast of Lake General Carrera, and back to Coyhaique.
Along the way, they will have many opportunities for hiking tours or other outdoor activities. And along the route of the turquoise blue General Carrera Lake, they can fully immerse themselves in the beauty of the surrounding landscapes. A visit to the Marble Chapels, famous limestone formations located on the western shore of the lake, rounds off this experience. info@travelart.com|www.travelart.com
---
Las Majadas Hotel
Las Majadas NEW excursion | Two Valleys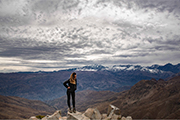 Nice and calm trekking through one of the most attractive sanctuaries in central Chile: Lagunillas Sanctuary. Established as a protected area in 2008, it constitutes a valuable mountain ecosystem, with a surface of 13.426 hectares between 800 and 4,000 meters over sea level in the San José de Maipo commune.
From Hotel Las Majadas we head to the town of San José and after 2 km we start rising toward Lagunilla Ski Center, through an entirely paved road. This excursion starts with a demanding slope, after which we will face a minor one.
After approximately 2 hours, we will reach 2,655 meters above sea level, from where we will be able to observe the Colorado and Maipo Valleys.
---
Remota Patagonia Lodge
After a long pause due to the Covid-19 pandemic, Remota Patagonia Lodge finally announces the reopening of the hotel as of October 29.
The hotel administration would like to welcome both national and international guests, and ensures them the strict compliance with the biosecurity protocol that guarantees a safe and unforgettable stay in Chilean Patagonia.
For more information on the hotel facilities and booking options, please check our website www.remota.cl
---
COLOMBIA
Colombian Journeys
New water bottles policy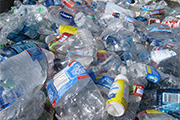 We are in the process to obtain the Travelife seal, a leading program in training, management and certification for tourism companies committed to achieving sustainability.
As a responsible company and committed to protecting the environment and provide a more sustainable tourism, Colombian Journeys has taken the decision to eliminate single-use plastics in transfers and excursions.
We invite passengers to bring their own water bottle or to include a water bottle with filter we offer within quotations and that can be filled in hotels or at the places indicated by the guides. In specific requests, is possible to include glass or cardboard bottles depending on the destination. For us is essential that all our allies support this type of changes that guarantee the sustainability of our planet and reduce our environmental impact.
---
Colombia57
From October 2021 Marketing & Product director, Simon Locke, will relocate to the UK to focus on relationship management and business development as business to Colombia starts to reactivate.
Simon will also regularly travel to Colombia in his role overseeing the product portfolio and updating our commercial partners in the UK & Europe on the ever evolving range of hotels and new experiences in one of Latin America's most diverse and engaging destinations.
Simon can be contacted via email at simon@colombia57.com
---
COSTA RICA
Travel Excellence
Our Commercial Director, Mr. Carlos Blanco, will be participating in the upcoming LATA Expo Virtual from 11th to 15th October; and in person in the WTM London at ExCel from 1st to 3rd November.
After all this time, he is more than happy to meet with all of you to talk about the situation in Costa Rica with the pandemic and the vaccination process, the tourism reactivation and many other good news we have to tell.
---
Nayara Resorts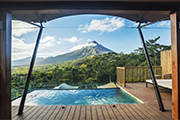 We are thrilled to announce that Nayara Tented Camp has won the #1 spot for Central America Resort Hotels in Travel + Leisure's World's Best Awards! (As well as an impressive #2 in the Top 100 Hotels in the World list.)
Sweeping the Top Central America Resort Hotels, additionally Nayara Gardens and Nayara Springs were ranked #2 and #4 respectively.
We are overjoyed to see our Nayara Tented Camp join the ranks of past accolades we've earned (in previous years, Nayara Springs has earned the titles of #1 hotel in the world from Trip Advisor, #2 hotel in the world from Travel + Leisure, and Best Hotel Spa in the world by Condé Nast Traveler).
We are truly honored to be ranked so highly by Travel + Leisure's readers.
---
CUBA
Caribbean Biking Company (Cubania Travel)
Cuba Re-Opens for Tourism on 15th November 2021
Tourism to Cuba restarts on 15th November, dependent on 90% of the Cuban adult population being fully vaccinated.
Tourists arriving in Cuba will come from countries which have fully vaccinated at least 70% of the population. This detail suggests that the focus lies on recapturing the European Market initially. There was no specific mention of tourism from the USA, and the USA is unlikely to have reached the required 70% vaccination rate in the next 2 months.
Vaccination of Cuban Children aged 2-17 started on 6th September 2021, so that schools will fully reopen on 15th November too. From 15th November, no quarantine will be required on arrival, so long as passenger presents vaccination certificate or negative PCR test taken within 24 hours of arrival in Cuba.
---
ECUADOR/GALAPAGOS
Galagents
Why Galapagos Cruises are so important?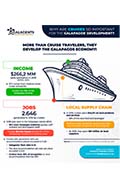 According to a report from the ESPOL's (Escuela Politécnica of Ecuador), the total cruise sales in 2019 were $266,2 MM. 67% of the sales come from medium and small cruise companies. Moreover, cruise trips represented 75% of the total income for the Galapagos Islands' tourism activities in 2019.
We know times are still hard as we believe people will start travelling again soon. Let's bring back tourism together!
For more information about our cruises, CLICK HERE.
---
Hotel del Parque
Green Globe Certification awarded to Hotel del Parque Guayaquil – Ecuador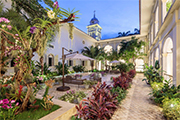 We are honored to announce our new Green Globe Certification, which confirms that Hotel del Parque is committed to make our property a truly sustainable destination.
Green Globe is a sustainability certification system that has been developed exclusively for the tourism industry. This certification recognizes that Hotel del Parque has worked to ensure that its operation is in accordance with the global criteria for sustainable tourism.
The Green Globe Standard includes 44 core criteria supported by over 380 compliance indicators. The applicable indicators vary by type of certification, geographical area as well as local factors. The entire Green Globe Standard is reviewed and updated twice per calendar year.
The Hotel del Parque team will continue working for economic, social, and environmental sustainability.
---
Metropolitan Touring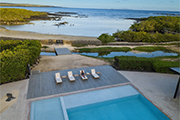 From November 2021, Ecuador's much-loved hotels, Mashpi Lodge and Finch Bay Galapagos Hotel, will come together to launch a new 'Forest-to-Coast' wellness package, celebrating the properties' unique ecological surroundings with an array of nature-based healing experiences, on both land and water.
Guests will begin the journey immersed into the magic of the Ecuadorian cloud forest at Mashpi Lodge where days start with self-guided sunrise yoga, birdwatching excursions and ethnobotanical hikes along some of the reserve's unique nature trails.
A short flight across the fabled Galapagos Islands will welcome guests for three nights to the secluded Finch Bay Galapagos Hotel on Santa Cruz island, where guests are encouraged to embrace active exploration of the island on board the hotel's own Sea Lion Yacht and find peace at Finch Bay's new spa.
---
Napo Wildlife Centre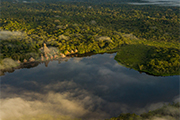 Napo Wildlife Center announces the actual start days for the Touristic Programs.
As we rely on airlines and their schedules, we are now beginning our programs every Monday, Thursday or Friday, according to the number of days our visitors want to experience the Amazon Rainforest in Ecuador's Leading Green Hotel.
For more information, visit our website.
---
Anakonda Amazon Cruises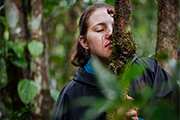 Taking a cruise with us down the Napo River, deep into the magical Ecuadorian Amazon rainforest, is the perfect opportunity to have a multisensorial experience of a lifetime!
The past couple years have been difficult the world over, and it is now time to celebrate milestones, go on an adventure, enjoy nature, and the many extraordinary treasures that the rainforest has to offer.
Your guests will delight all five of their senses with the wonders of this natural paradise. We invite you to join us on board and fully immerse yourself in the experience and the present moment. Watch our multisensorial video!
---
Via Natura Peru, Ecuador & Galapagos
Galapagos Cruise Update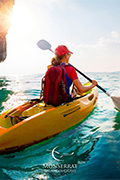 The Monserrat Yacht now features a new way of discovering the Galapagos! Kayaks are now available to our guests to see the enchanted islands under a new perspective. Kayaking enables our guests to take their experience to a new level by allowing them to charter the pace and the course of their discovery of the Galapagos.
Designed especially for rowing enthusiasts, this adventure activity allows you to discover beautiful landscapes and the untamed wildlife of the Galapagos both on the islands' shores and under the sea.
Onboard our 20-guest First Class cruise, our main motivation is to create life changing memories for you in the Galapagos Islands. Kayaking is an empowering experience and there is no better place to do it than on these pristine islands in the Pacific Ocean.
---
Montemar Eco Luxury Villas
What our clients say: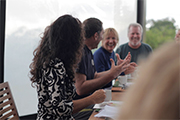 "Montemar is everything a hotel is not. It's natural, real, cozy, luxurious without being fussy, and most of all personalized. We loved all the décor and branding details, and the special extras like laundry service, and snacks & drinks waiting on arrival. We loved walking around the property with Reyna, hearing about the tortoise research, and collecting fruit from the trees. I know that anyone staying there would leave feeling they had new friends in the Galapagos, and that benefit is immeasurable."
For info, contact your supplier or us at ventas@montemar.ec, or check us out at www.montemar.ec.
---
Integrity Galapagos
Travellers have much to look forward to in the Galapagos!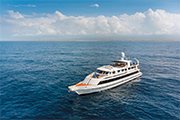 Safety standards are high: The islands' adult population is 100% vaccinated, and international travellers who visit must show a negative RT-PCR test. Additionally, we require Integrity passengers to be vaccinated.
Our 16-passenger, luxury yacht, Integrity—now represented by Senderos — is getting remodeled. Your clients can enjoy its freshly spruced-up sundeck and impeccable service as of October 3.
Looking for special New Year's adventures? Space remains on our December 31, 2021–January 8, 2022, sailing.
To get a feel for an Integrity wildlife cruise, check out this Travel + Leisure article HERE.
---
GUATEMALA
Maya Trails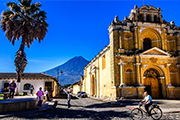 Every year, a bunch of 'best' lists come out, and we love perusing them for inspiration and also just for fun. In this year's Travel + Leisure's "Top 10 Cities in Central and South America", readers selected Antigua, Guatemala as the number one city for its beauty, rich history, wide variety of activities (Climb a volcano! Learn to make chocolate!), its charm and more.
Maya Trails will make any visit to Antigua an incredibly memorable and rich experience for your guests, where they can 'escape the usual'.
If you don't know Antigua, have a look at our webinar for a brief introduction, or contact Jimmy for a rundown on the myriad options for a visit.
---
GUYANA
Wilderness Explorers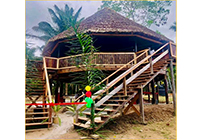 Named after the local Lokono word for the sacred cashew tree, the community-run Ubudi Lodge in Moroikabai has just opened its doors to tourism. Ideally located for a short break from Georgetown, the journey begins by road before taking a boat along beautiful black waters under overhanging trees to this new 2-bedroom lodge.
Activities here, apart from relaxing in and on the St Francis River, include fishing on the nearby Abary conservancy lake, and sampling delicious local produce, including the Tacuma worm! The cassava and craft houses, and the village's emblematic cashew tree are also wonderful interactive experiences.
Contact claire@wilderness-explorers.com for more information on how to add this or other community lodges and experiences to your itineraries.
Guyana is open and ready for fully-vaccinated travellers with negative PCRS.
---
MEXICO
The Los Cabos Tourism Board
Los Cabos Farm To Table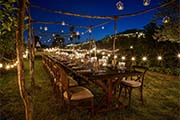 In Los Cabos, food is as fresh as it gets. Farms in the rural areas near the main bustling hubs of Cabo San Lucas and San José del Cabo provide fresh ingredients for many of the best resorts and restaurants in the area.
Farm-to-table dining establishments offer a stimulating way to savour Baja California cuisine, as ingredients sourced from local farms provide an ideal opportunity to experience the spirit of the countryside.
Many restaurants even organise cooking classes to educate diners about the meats and vegetables that go into making authentic Mexican meals in an artful way.
---
NICARAGUA
Nicaraguan Tourism Board – INTUR
The Pacific and the Caribbean of Nicaragua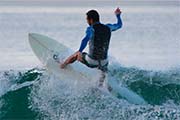 Nicaragua is geographically divided mainly into two large regions: the Pacific and the Caribbean.
The Pacific is characterized by its colonial cities, volcanoes, beaches with perfect waves for surfing 365 days a year, lakes, crater lagoons, delicious cuisine, impressive historical legacy, lively culture where most of the national tourist offer is concentrated.
The Caribbean represents 50% of the national territory, stands out for being multi-ethnic, multilingual and multicultural, with a fascinating history with ancestral customs and legacies, exquisite food based on coconut milk, with tropical jungles, a variety of flora and fauna, beaches with white sand and turquoise sea where is most spoken creole and Miskito.
---
PANAMA
Panama Journeys
Interesting facts about Panama
Panama may be best known for its astounding Panama Canal, but the potential to inspire awe doesn't stop there. What else can be found in this ecological haven?
To start, Panama has more bird species than Europe and North America combined, and more plant diversity than the United States and Canada combined. That's because Panama is uniquely located at the point where North America and South America connect, allowing plant and animal life from both continents to merge and flourish over time.
This incredibly rich biodiversity—combined with the fact that Panama is the most forested country in Central America at 63% coverage—has made the tropical rainforests of Panama the most researched in the world.
---
PERU
Condor Travel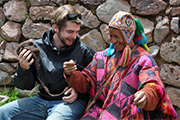 True Wellness is not only a state of physical, mental and spiritual well-being, but it involves a commitment to local communities and the environment.
We invite travellers to discover community-based tourism initiatives in impressive natural settings, recharge energies through yoga, meditation and ancestral Andean ceremonies and taste some of the nourishing Peruvian "superfoods".
Let our Product team guide you through our new True Wellness Peru portfolio, which combines wellness experiences with regenerative tourism, on our latest webinar. You will also enjoy a meditation demo!
To round things up, discover a True Wellness Peru sample program HERE.
---