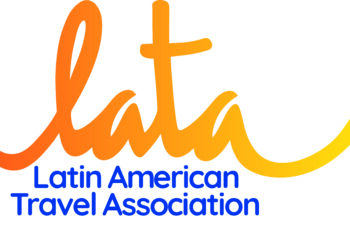 REGION-WIDE
Condor Travel

Preferred by Nature certificatio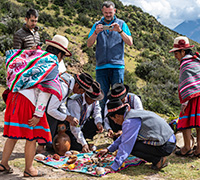 Condor Travel has obtained the Preferred by Nature certification for Tour Operators as a multi-site organization, which recognizes us as a provider of responsible tourism services by complying with the international standard of the Global Council for Sustainable Tourism.
After a validation process in our six offices in South America, it is the first time that Preferred by Nature has granted this type of multi-site certification to a tour operator. This achievement fills us with pride and strengthens our commitment to the well-being of our employees, the protection of the environment, the quality of service to our customers and passengers, and the development of destinations and communities.
Read more about this certification here: https://cutt.ly/eCLOL0W
---
ANTARCTICA
Antarpply Expeditions
Additional 9-night voyage

Due to strong demand, Antarpply Expeditions are pleased to offer a NEW 9 night voyage (A211122) to the Antarctic Peninsula & South Shetland Islands aboard the USHUAIA from November 21 to 30, 2022, starting at only US$4,300 per person.
To book or find out more, please email info@antarpply.com
---
Antarctica21
Antarctica21 launches Antarctic Travel Credit Promotion for season 2023-24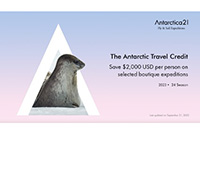 The 2023-24 Antarctic Travel Credit promotion offers savings of $2,000 per person on ten Classic Antarctica Air-Cruise departures aboard Ocean Nova. Promotional prices start at $9,495 USD per person. Ocean Nova is a sturdy and nimble vessel, perfect for sailing the ice-choked waters of Antarctica.
The Classic Antarctica fly & sail expedition offers the chance to enjoy a small-ship adventure with access to world-class guides, exotic wildlife, and all the beauty of Antarctica. Let your clients know about this promotion by including it in your email newsletters and social media campaigns.
For more information, please contact nkrumrey@antarctica21.com
---
ARGENTINA
Say Hueque Argentina & Chile Journeys
Say Hueque Argentina & Chile Journeys Won The World Travel Awards 2022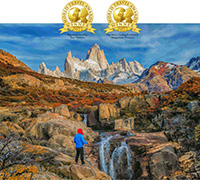 We have been selected as Argentina's Leading Destination Management Company and as Argentina's Leading Tour Operator at the 2022 edition of the World Travel Awards.
It is a great honor for us to receive once again these special awards. This would not have been possible without our amazing team and your kind support all these years.
We are committed to keeping working with love and passion for a more sustainable, responsible, and meaningful way of exploring this outstanding region of the world.
Cheers!
https://sayhueque.com/
---
ATP DMC – ARGENTINA TRAVEL PARTNERS
Doing our bit for the environment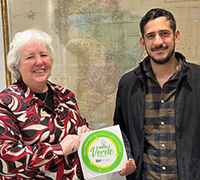 ATP DMC is very proud to receive our green seal from the City of Buenos Aires, formally communicating that our office is GREEN. We continue working every day to improve our recycling and sustainable practices and spreading the word that each one needs to do their bit for the good of the community and our world. It is amazing how this awareness can expand, to our homes, our families, our suppliers, our communities and our clients, helping to make changes which can save our natural environment, the world, and ultimately humanity itself.
@baciudadverde
---
Say Hueque Argentina & Chile Journeys
Say Hueque is celebrating a new native tree plantation in Patagonia Argentina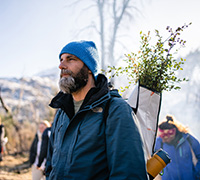 Rafa Mayer, Say Hueque's founder and director went last week to Cholila, Chubut to plant Coihues (Patagonian native trees) in partnership with our friends from ReforestArg.
At Say Hueque we are committed to planting a tree for every traveler to fight against deforestation and climate change and to give back to Earth.
Let's do our bit to protect Earth, our only home. Join us!
---
BOLIVIA
CRILLON TOURS S.A.
Tourism news from Bolivia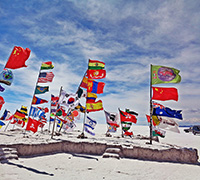 After many years of prospection, effort and the consolidation of a good & healthy relationship with the vigorous native communities of UYUNI SALT FLATS, today we have reinforced the Bolivian presence at JIRIRA base at the Salt Flats, acquiring a new Airstream Camper, with the comfort our visitor's demand.
The future is auspicious, since AVIANCA and BOA just signed an "Interline Agreement", allowing a direct connection on both airlines' flights, which with a single ticket, BOA will access to the offer of 125 Avianca international routes, opening the gates to the hoped arrival of worldwide tourists to Bolivia. BIENVENIDOS AMIGOS!
---
CHILE
Hotel Las Majadas
Product News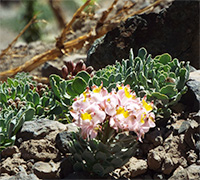 Las Majadas hotel in Santiago de Chile invites you to connect with nature and everything it has to offer: its colours, smells, sensations, seasonal changes, fresh air, silence and the different lifeforms it harbors. Visit our private park, surrounded by the green of centuries-old trees, flowers, lagoons, and the animals that live there. There's nothing like waking up to the sound of birds in the treetops.
Experience the mountains – the imposing Andes Mountains rise up opposite our hotel and are the scene of all the adventures you are looking for: trekking, horseback riding, picnics, and sunrises and sunsets with magical views of the Maipo Valley. Discover the fruits of this land as well: the history and tradition of Chilean wine, the origin of our renowned Cabernet Sauvignon.
---
ALCHEMY DMC Argentina & Chile
Enjoy &Beyond Vira Vira – Chile Experience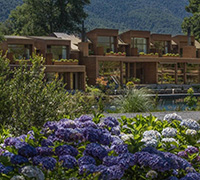 Immersed in nature, Vira Vira, in Pucón, overlooks the forests and mountains of Chile's Lake District, flanked by evergreen forests and the rushing Liacura River, all watched over by the snow-capped cone of the Villarrica volcano. The spectacular scenery of glacial lakes, reflects the snow-capped peaks of the nearby volcanoes, while the tropical forests that adorn the surrounding national parks are dotted with evergreen Araucaria araucana trees, some of which are over 1,000 years old.
The cozy rooms look out onto the snow-capped peaks through floor-to-ceiling windows. The spectacular and diverse terrain surrounding the lodge lends itself to a wide range of seasonal adventures – a collection of 39 activities and experiences, hosted by expert and engaging guides. A truly authentic and remote experience awaits! contact the ALCHEMISTS for more!
---
Hotel Las Majadas
Product News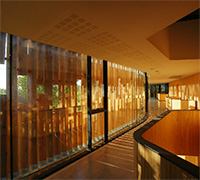 An invitation to deep calm and disconnection. A 50-minute trip from Santiago, Chile, Hotel Las Majadas is the perfect destination for those seeking to connect with the silence and calm offered by contact with nature. Our park with its centennial trees – araucarias, peumos, sequoias and cypresses – changes color with the seasons of the year, making it a magical and inspiring landscape.
It is a scenario that invites our guests to leave the noise of the city behind them and connect with calm and rest; to read a book in the shade of a tree, hike along the trails, go on bike rides, or simply contemplate the imposing Andes Mountains. Get to know the wealth of Chile's central region in this unique place of rest.
---
travelArt
100k Restaurants – Sustainable Gastronomy in Chile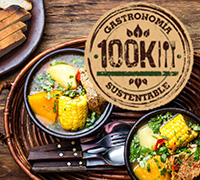 An initiative launched in 2014 by the Chilean Association of Chefs (Acchef) created the 100k seal. The project aims to achieve sustainable gastronomy in three areas: Reduce the carbon footprint, create production chains and enhancing the value of traditional, local cuisine.
Recent developments in Chile and worldwide suggest that visitors are increasingly demanding a stronger commitment to sustainable tourism. This is also reflected in the 100k concept, which involves sourcing ingredients from producers less than 100 kilometres away, which guarantees that 50 % of the ingredients on the menu come from the region. This promotes the development of a local identity and efficient use of natural resources. There are already several 100k restaurants in the different regions of Chile.
info@travelart.com | www.travelart.com
---
COSTA RICA
Travel Pioneers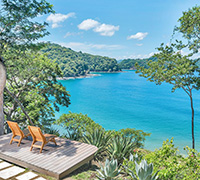 The Papagayo Peninsula, situated in the northwest corner of Guanacaste, is exclusively luxurious. Here you'll find only the most exquisite resorts and villas. The newest addition to the private villas, is among our favorites and is now open from Thanksgiving through the New Year for your dreamy escape.
This five-bedroom haven accommodates up to fifteen featuring a sun-filled bright casita for cooking. Its style takes from rich cultural traditions furnished with a blend of vintage and modern pieces collected from Morocco, Thailand, India, and Central America. Warm golden motifs mixed with characterful armchairs, and crafted wooden tables balanced with colorful textured accessories.
---
Travel Excellence

Nya Hotel – The New Hospitality Hub in Montezuma
Inside a tropical 11-hectare property in Montezuma; Nya Hotel provides the perfect balance to recharge energy by the sounds of the jungle and the ocean.
Its 17 rooms were carefully designed with upscale amenities and different bed settings; making it a great lodging option for adults and families.
Ubin restaurant is a contemporary gastronomic experience with fresh local farm to table quality ingredients.
At Nya, guests enjoy hospitality focused on details, genuine rooms and signature cuisine in one of the nicest small beach towns of Costa Rica.
Please contact Travel Excellence's team to receive additional information.
Read more HERE
---
Hacienda AltaGracia, Auberge Resorts Collection
Discover with Ease – Complimentary Domestic Transfer Package

Discover Hacienda AltaGracia with ease. Enjoy a turn-key transportation option allowing you to immediately immerse yourself in our soul-stirring wellness journeys, soulful cuisine, andadrenaline packed adventures – personally curated to elevate your 5- night stay, leaving you feeling transformed and restored.
– Package is available for up to 2 guests – Additional group members can be added at an extra fee
– Direct, round-trip transportation from SJO to Hacienda AltaGracia
– Transfers are available via scheduled air charter – provided twice daily
– Available to book all room categories now through March 31, 2023
Call (855) 812-2212 or inquire at alg.reservations@aubergeresorts.com for more details.
---
ECUADOR/GALAPAGOS
Aqua Expeditions
Private Charters Aboard Aqua Mare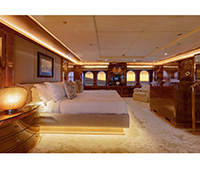 Aqua Mare is well-settled at her home in the Galapagos Islands, and we are loving every moment of discovering this unique region along with our guests. If you would like to charter our Aqua Mare, look into our private charter sailings, including 7-night itineraries in East and West Galapagos, as well as a 14-night itinerary encompassing the entire archipelago.
For further information contact our Reservations Team at reservations@aquaexpeditions.com or visit our website https://www.aquaexpeditions.com/private-charter-cruises/galapagos-islands/
---
Montemar Eco Luxury Villas
Immersive experiences in Galapagos with Montemar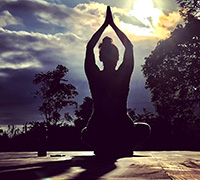 At Montemar, we see travel as a way to connect and transform our community, our environment and our own selves. From mindfulness activities like breathing exercises, yoga, meditation and mindful meals to create a sense of wellbeing, to community involvement experiences, particularly with the youth: art, permaculture, coastal cleaning, etc., and with the scientific community to understand Galapagos from a deeper sense, all our trips are created with sustainability at the core, expressed in the design of each activity from the amenities, to the organic ingredients in our food, to our handling of energy, water and waste, etc.
Find out more at ventas@montemar.ec
---
Anakonda Amazon Cruises
December Holidays 2022 – 2023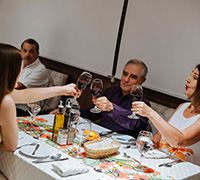 Your guests could share special moments and celebrate with their loved ones this Christmas or New Year's Eve at a special and magical destination, the Ecuadorian Amazon Rainforest, on board our Amazon expedition vessels!
Please find more details HERE for December holiday 2022 departures!
Your guests can also book in advance for Christmas and New Year 2023 departures!
You may also download our flyer HERE to promote these special departures.
Contact us for more information at info@anakondaamazoncruises.com
---
EL SALVADOR
Embassy of El Salvador
Surf City Walter Thilo Deininger Adventure Park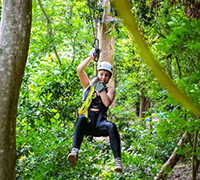 An incredible adventure in the middle of nature awaits you in this park that is part of Surf City El Salvador.
For daring tourists, adrenaline, and extreme sports lovers, this place has a variety of activities such as mountain biking, rappel, and a zip line that tests your physical abilities.
Visitors who look for a place to relax and enjoy tranquility, there are camping amid its natural wealth that expands over 1,047 hectares of land.
Other attractions for those who enjoy being surrounded by nature are the guided tours to the "El Mirador" trail where tourists can enjoy a panoramic view of the Pacific Ocean.
The Cueva del Encanto, (The enchanted cave) adventure route through the "Chan-Señora" trail, displays the exuberant landscapes and deciduous vegetation of the area.
---
GUATEMALA
Maya Trails
Luxury hotel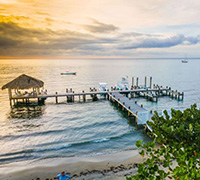 Looking for an out of the ordinary location for your guests with the luxury taste? How about Roatan, Bay Islands, Honduras, home of Luxury Ibagari Boutique Hotel. Roatán, the island best known as a stellar scuba diving destination, lies in the Caribbean encircled by a lush underwater garden of corals and sponges teeming with marine life. Ibagari is located in one of the best and most exclusive areas of Roatan, between the famous West Bay Beach and West End Street.
Surrounded by both vegetation and white sand beaches, Ibagari is the ideal place to enjoy sophisticated food and the most amazing diving/snorkeling experiences. Ibagari is an adults-only hotel, ensuring a quiet, relaxing stay for all who visit.
Find out more and email us info@mayatrails.com.gt
---
MEXICO
Journey Mexico

Conservation of Mexico City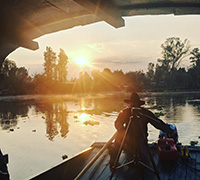 Discover the mysteries of the ancient Aztec city of Mexico-Tenochtitlan with this early morning nature experience in the back channels of Xochimilco. This incredible area is a hidden oasis that brings life to the flora and fauna of the metropolis. You´ll get the amazing opportunity to explore the canals, waterways and ¨chinampas¨, or floating gardens, that once made up most of the entire city of Tenochtitlan. Understand the importance of these floating gardens, recognized as an Agricultural Heritage System.
This fascinating experience is led by the nature loving team behind ´chinampas en movimiento´. The project by non-profit organization REEDUCA strives to promote environmental education and rescue the ecosystem of Xochimilco.
---
NICARAGUA
Nicaraguan Tourism Board – INTUR
Cerro Negro Volcano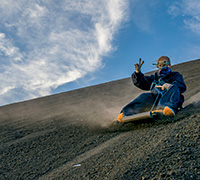 The Cerro Negro Volcano, is one of the best-known attractions in Nicaragua for adventure lovers, it´s the youngest volcano in Central America and one of the most active in the country, located 25km from the city of León. Climbing it and practicing the sandboarding is an unforgettable and unique experience, an adventure for people who love adrenaline. Ideal to challenge your limits and overcome fears in one of the most imposing landscapes in Nicaragua.
Costs are extremely affordable for foreigners, with flexible hours to provide quality care to visitors, and of course, tourist guides always provide recommendations to visitors, which has prevented any type of incident.
---
PANAMA
Vapues Travel
Panama Rum Fest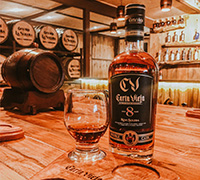 It is no secret that quality rum is being produced in Central America, from Ron Zacapa to Flor de Caña, and Ron Abuelo. We provide clients with the opportunity to visit sugarcane plantations and a rum factory during their tour in Panama or Nicaragua, a private rum tasting event can be added to virtually any tailored travel proposal.
This October, the first edition of Panama Rum Fest takes place, showcasing the best rum of Central America and the Caribbean. For more information contact us at info@vapues.com or see the website of the event. https://panamarumfest.com
---
PERU
VIPAC

3 Days Stand-up Paddle at Piuray Lagoon, Ollantaytambo the last living Inca Town & Pumamarca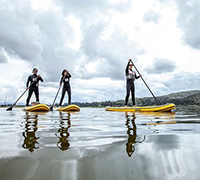 Adventure, landscapes, culture alive at Sacred Valley of Incas. A stand-up paddle experience crossing Piuray lagoon to connect your senses with nature. Tour by the last living village of the Incas, Ollantaytambo, visiting the Temple of the ten windows, the bath of the princess, and Sun Temple.
The postcard pictures that we will take from the heights of Ollantaytambo will close this magical day in the Sacred Valley of the Incas. Pumamarca was one of the towards to control the enter to Ollantaytambo of ancient inhabitants from the eastern.
---
Country Club Lima Hotel
Bar Inglés of the Country Club Lima Hotel is awarded as the Best Bar in Lima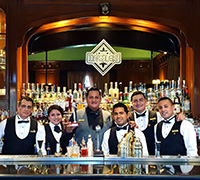 The Peruvian gastronomy revived one of its most important galas, The Summum Awards 2022. After two years of absence, this contest returned with new categories, including "Best Bar in Lima" in which the Bar Inglés of the Country Club Lima Hotel was the undisputed winner.
This iconic space of history and tradition hosts the best Pisco Sour of Lima and it is already part of the imaginary of the connoisseurs of good drinking and eating.
We are delighted to receive this award which celebrates the proposal in cocktails and mastery by our head of Bar, Luiggy Arteaga. This award reaffirms our commitment to offer experiences of excellence and constant innovation, without neglecting the tradition that have made this Bar a timeless and unique space.
---
PROMPERU
World Travel Awards Name Machupicchu South America's Top Tourist Attraction in 2022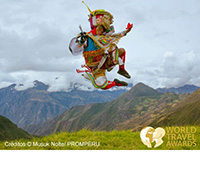 Peru's top tourist destination, Machupicchu, has been named South America's Leading Tourist Attraction by the World Travel Awards. This is the fifth consecutive year the Inca citadel has received this international recognition. Peru was also named South America's Leading Culinary Destination 2022 and Leading Cultural Destination 2022 in the region.
The World Travel Awards was established in 1993 to acknowledge, reward, and celebrate excellence across all key sectors of the travel, tourism, and hospitality industries.
---
LIMATOURS
66 Years and Counting!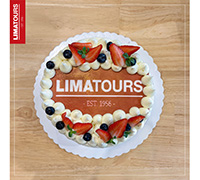 This month, we celebrate 66 years of history and growth. But, overall, we celebrate another year of evolution and adaptation. We feel stronger than ever. Confident in our capacity to lead a solid organization, even under uncertainty. Now, we look ahead, and pick up the pace once again, to continue sharing Peru with the world.
HERE's a message from our CEO to you!
---