NEWS FROM UK MEMBERS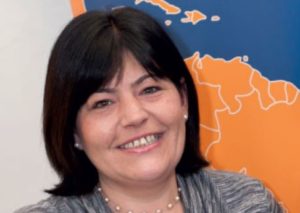 Wendy McNeill Representation – 1st Anniversary and new client
Wendy is celebrating the end of her first year in business and grateful to everyone who's helped make the year a success. She is thrilled to be starting her second year with the addition of Blumar (Brazil) to the WMR family. Wendy will be joined at WTM by the Tico's from Travel Excellence, Costa Rica and the lovely ladies from Blumar.
If you'd like to arrange a meeting contact wendy@wendyrepresents.com
---
Talking Stick Marketing – News from Talking Stick LATA member partners
Estancia Los Potreros, Argentina – their new water filtering treatment system is now fully operational, eliminating the need for any plastic bottles at the estancia.
---
Senderos – News from Senderos LATA member partners
In the 2018 PURE Awards, Tierra Chiloé won the Mindful Design category and Tierra Patagonia's Kineret Muñoz was their Unsung Hero
Ecoventura's MV Origin is now a member of Relais Chateaux
Mountain Lodges of Peru have a new website.
---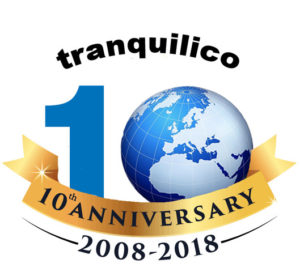 tranquilico – Crisis Management Workshop
If you haven't been through our popular crisis management workshop, then get one booked in now. A great way of raising the profile of crisis management, learning from some excellent case studies, and working through an interactive desktop simulation – also a great team building exercise. All held on your premises or at our Chelmsford HQ.
Contact us now for further information at safety@tranquilico.com
---
AVIATION NEWS
COPA Airlines – new aircraft
Copa Airlines has revealed its new Boeing 737 MAX 9 aircraft, with its first operation scheduled for September 20th between the cities of Panama and San Francisco.
A total of 61 B737 MAX aircraft have been ordered, consisiting of thirteen B737-9, fifteen B737-10, and a further thirty three for with the variant is still to be confirmed by Copa Airlines. Copa Airlines will be taking delivery of 5 units of the B737 MAX 9 later this year.
For more information vists www.copaair.com
---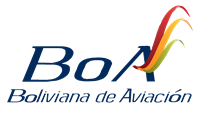 Network GSA – Airline Schedule update
BOA – Boliviana de Aviacion
BOA are pleased to announce additional flights from Madrid to Santa Cruz over the Christmas peak. The additional services will operate on Thursdays from 06 December 2018 through to 24 January 2019. This is in addition to the current 4 weekly flights to Santa Cruz and weekly flight to Cochabamba. Flights are loaded in GDS with good availability.
For further information please call 01293 813960.
---
Iberia
From October Iberia is flying daily between Europe and Guatemala. This is a 40% increase. All flights are operated by A330-200 with modern business (full-flat and aisle access) and economy cabins.
Also starting from Spring 2019, Iberia is introducing Premium Economy to its daily flights to Cuba: extra space, comfort and additional baggage allowance.
---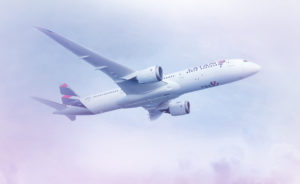 LATAM Airlines
LATAM Airlines flies highest in South America for in-flight experience.
Passengers have chosen LATAM Airlines as a 'Five Star Global Airline' for the second year running in the APEX 2019 Airlines Official Ratings. LATAM Airlines was the only South American airline group to be named as a 'Five Star Global Airline', which is APEX's highest accolade in its annual ratings – one of the aviation industry's most respected benchmarking tools for onboard experiences based on independently assessed passenger feedback.
---
REGION-WIDE
Surtrek – Launch of new online trip building tool for tailor-made South America tours
Surtrek is constantly innovating, looking for new ways to bring the best travel experiences to our partners and their trusted clients, making every South American journey both unique and unforgettable in the process. With this in mind, we have found a ground-breaking solution to a niggling question: how do we put the trip planning process back in your hands, in a way which looks great, is easy to use and so stylish you'd be proud to show it to your own clients while building the trip itself?
Discover Your South America is the answer to so many of the travel industry's questions – usability, aesthetics and speed for a trip building tool. All this means that, with us, simply pick a template which suits your travelling clients best, then start building their trip within a few easy clicks! Along the way, our specialist team will always be with you and on hand, checking availability and answering those all-important questions as the market-leading experts; it's the best of all worlds.
CLICK HERE to view the new planning tool, or contact alfonso@surtrek.com
---
ARGENTINA
Say Hueque – ATTA Summit in Toscana
We are glad to inform you that we will be attending Adventure Travel World Summit in Toscana in October. We will be pleased to meet you there and tell you more about new trips and itineraries for your guests visiting Argentina & Chile. To request a meeting please email us at agencies@sayhueque.com
For more information please check our website www.sayhueque.com
---
BELIZE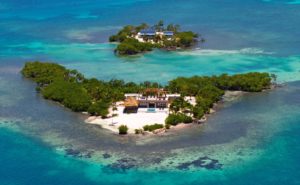 Albee Adventures – The most private island
A swirl of turquoise and aquamarine lagoons cradle Gladden, an island fringed with coral and white sand in the heart of the Belize Barrier Reef Reserve System. This island jewel harbors offers a private sanctuary, a casually elegant villa designed for just one couple, with the all-inclusive service of a luxury resort.
For information contact marketing@albeeadventures.com
---
BRAZIL
Embratur – World Travel Market
More than 25 partners will be exhibiting on the Brazilian Tourist Board stand this year (stand LA250) at WTM. As well as sun, beach, gastronomy and MICE, there will be an emphasis this year on ecotourism, national parks and adventure travel. The Brazilian Tourist Board will be unveiling a special initiative to promote ecotourism among digital influencers who can can drop off their business card at the booth for further information.
Agents can meet with representatives from destinations, airlines, car rental companies, and hotels. For press, editorial interviews with Brazilian Tourism Authorities can be scheduled.
Visitors are welcome to enjoy a delicious caipirinha tasting everyday at 4pm.
---
CHILE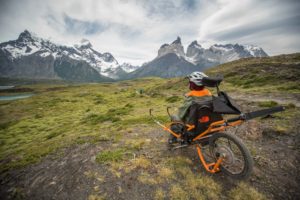 Cascada Expediciones & EcoCamp Patagonia
Adventure-tour operator, Cascada Expediciones & EcoCamp Patagonia, have claimed another title, this time winning Best Transformational Travel Experience at the 2018 PURE Awards held in September. In 2017 EcoCamp brought the first disabled visitor to explore Torres del Paine and in 2018 their tours became fully inclusive. In January they trekked a wheelchair-using guest around the Park in their uniquely-designed wheelchair (pictured)
This is the second year in a row that they have taken home this prize, with their Dientes Trek on Navarino Island winning in 2017. This year their efforts promoting inclusive travel and accessibility in the travel industry helped them earn this award.
For more information contact helen@cascada.travel
---
COLOMBIA
Colombian Journeys – SIB tours in the coffee region
As of September we are offering two full-day tours in regular service (SIB) in the Coffee Region exclusively for passengers staying in hotels in the Department of Risaralda. The first tour is Valle del Cocora and Salento that operates on Sunday, Tuesday, Thursday and Saturday; and a Coffee Process and Thermalism Tour, that operates Monday, Wednesday and Friday. Both include lunch and operate from 2 passengers.
For more information contact marketing@colombianjourneys.com
---
COSTA RICA
Terranova – new hotels in Costa Rica

From gorgeous hotels sitting on deep ridges to beauty lying in pure life virgin rainforest, the new accommodations opening in Costa Rica in the next months is a mixture of unbelievable comfort, breathtaking views and the essence of the Costa Rican Nature.
Read some of the fantastic features of these new glamorous alternatives for a stay in luxury while surrounded by the raw nature of the tropics of Central America.
To read more CLICK HERE
---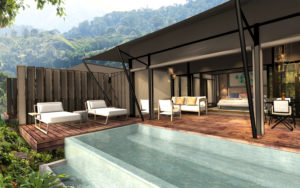 Nayara Resorts – New property Autumn 2019
The award-winning Nayara Hotels is growing its collection with the announcement of a third, exclusive accommodation in Autumn 2019: Nayara Tented Camp.
Phase one of Nayara Tented Camp will consist of 18 luxury tents, each made up of a master suite and en-suite bathroom (as well as an outdoor shower). Each tent will sit on its own platform furnished with an outdoor living area and a plunge pool filled from nearby hot springs. 12 of the tents will mirror each other with the option to connect two tents via a passageway, perfect for families visiting during school holidays. The remaining six tents will be standalone units, offering a private couple's getaway.
For more information contact constanza.navarro@nayarahotels.com
---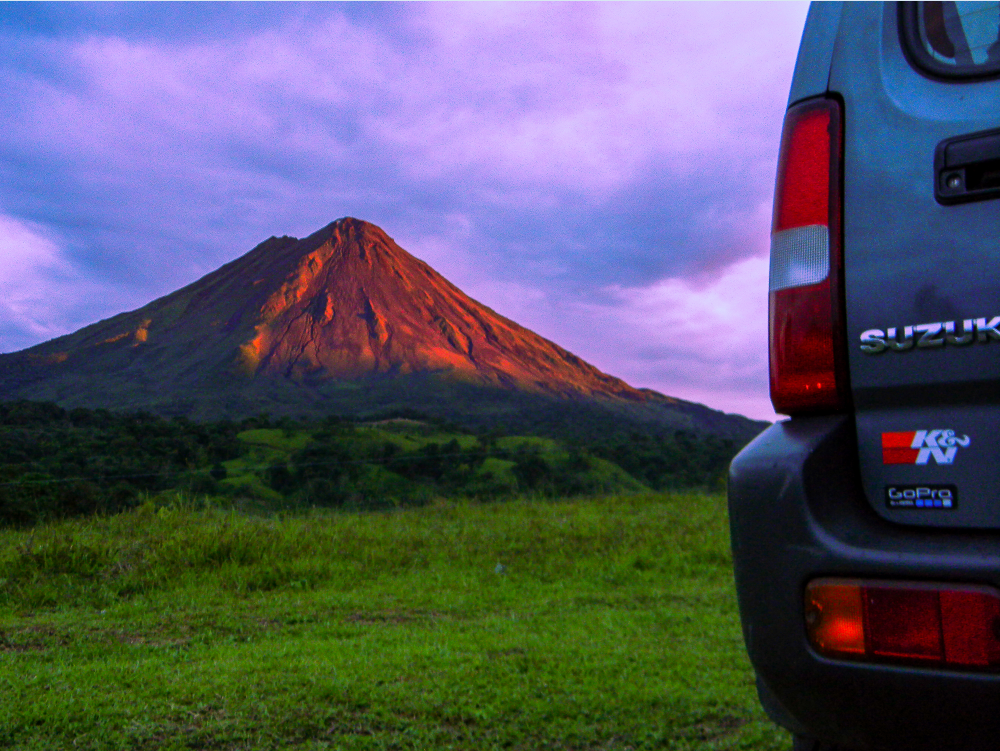 Camino Travel – Arenal Region (La Fortuna)
La Fortuna de San Carlos, often referred to as the gateway to the Arenal Volcano, has long been a favorite destination among travelers. Known as one of the best places in the world for travel experiences, La Fortuna is famous for outdoor adventures. Guests can explore the lush rainforest surrounding the Arenal Volcano while rappelling down a waterfall or gliding through the tree tops of Costa Rica´s lowlands.
For information contact marketing@caminotravel.com
---
ECUADOR/GALAPAGOS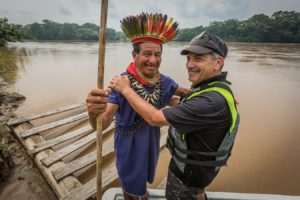 Anakonda Amazon Cruises by Advantage Travel
Raul Garcia, CEO of Advantage Travel and Anakonda Amazon Cruises, has been nominated for PURE Awards 2018's Contribution to Experiential Travel honor. Garcia is one of five contestants shortlisted for the award.
The annual trade show describes the honor as going to an "individual whose efforts have directly influenced the development of the experiential travel movement."
For the full press release CLICK HERE
---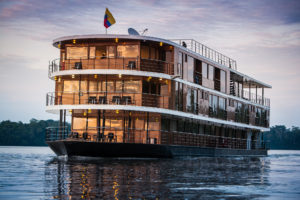 Anakonda Amazon Cruises by Advantage Ecuador
World Travel Awards has named Ecuador as the Leading River Cruise Destination in South America for 2018. Despite only having one river cruise line, Anakonda Amazon Cruises, Ecuador's pristine portion of the Amazon rainforest qualifies the country as one of the preeminent cruise destinations for international travelers.
Raul Garcia, CEO of Anakonda Amazon Cruises, states, "As the only river cruise line in Ecuador, this award means a lot for us and for our country. Plus, this award brings more awareness to the fact that Ecuador has more to offer than just the Galapagos. We are proud to work under a sustainable model of tourism that allows us to share the benefits of the industry with the indigenous people of the Amazon and support the preservation of this pristine region."
For more information CLICK HERE
---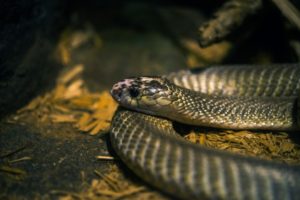 Casa Natura Galápagos Lodge – 3 new species of snakes
Casa Natura Galapagos Lodge is pleased to share that researchers from Ecuador, Brazil and Argentina discovered 3 new species of snakes at the Galapagos Islands. They were discovered at Santa Fe Islands, Santiago Islands and Turtle Islet. This new discovery shows that the Galapagos Islands are not only an adventure and nature destination of the world, however it is also an important place for the scientific community at a universal level.
For more information CLICK HERE
---
Metropolitan Touring – Updates from Mashpi Lodge
Pioneering centre for scientific research, Mashpi Lodge announces the opening of its Entomological Museum and Exhibition of Insects, and begins to create a 'conservation corridor' connecting the reserve with the Cotacachi-Cayapas National Park to allow more freedom of movement for residing species.
Mashpi Lodge has been awarded South America's Leading Eco Lodge 2018 by the World Travel Awards, whilst the Andean Chocó Ecoregion has been declared a UNESCO Biosphere Reserve.
---
Metropolitan Touring – Updated from Casa Gangotena
Quito-based luxury hotel Casa Gangotena offers exclusive access to the local San Francisco Brewery in celebration of this year's 40th anniversary of Quito as a UNESCO World Heritage site.
The hotel has unveiled a new rooftop bar and the restaurant has introduced a new cocina mestizaje menu, as well as launching chocolate tasting tour.
Casa Gangotena has been included among the Best hotels in South America in Condé Nast Traveller's Reader's Choice Awards 2018.
---
EQ Touring – Galapagos Diving
EQ Touring are proud to announce exclusive departures in a new live-aboard diving yacht.
Departures combine scuba diving in Wolf and Darwin with naturalist visits led by expert hand-picked Dive Masters/Naturalist Guides.
For more information and availability CLICK HERE
---
GUATEMALA
Travel Pioneers – Guatemala: the hidden maya ruin of El Mirador
Below the cover of the jungle are the hidden remains of the once thriving Mayan empire: El Mirador.
We arrive by helicopter to inspect the former metropolis which supported hundreds of thousands of Mayans in an area of 10 square miles. Then the hike up to La Danta offers a lookout point to take in the magnitude of jungle, history, of your place in it, far-flung from anything like it.
To view a video CLICK HERE
---
Maya Trails – New Product for Guatemala
Maya Trails are excited to offer a new excursion for travelers to Guatemala – a visit to the ethereal Blue Crater. A natural sanctuary with crystal clear waters, guests can swim and snorkel to see the beautiful marine life and surrounding area. They will see underwater plants, colorful fish, freshwater otters and caracolera birds. The excursion departs by road from Flores to Sayaxche, then continues by boat to the Blue Crater. A picnic lunch is included, and after a leisurely lunch, guests return to their hotel.
For more info: www.mayatrails.com.gt or info@mayatrails.com.gt
---
MEXICO
Native Trails – MyTrails brochure
In the coming days, Native Trails will ship its annual 'MyTrails' brochure in the UK. It includes more than 450 hotels and 150 restaurants all over Mexico. In addition, it contains information on more than 600 different excursions across the country. 'MyTrails' is the perfect guide to advise travellers to Mexico and show them the best sides of the country. If you would like to receive a copy, please contact: annika.behle@nativetrails.de
---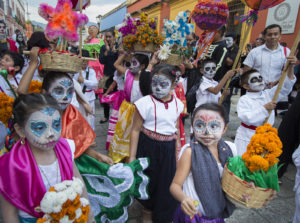 Journey Mexico – Day of the Dead
Don't miss out on Dia de los Muertos (Day of the Dead), Mexico's famous and fascinating celebration of death and loved ones who have passed. Made even more famous by films like James Bond's Spectre and Pixar's Coco, this celebration is attracting visitors from around the globe. Already sold out for 2018, contact us soon to join the colorful and joyous festivities in 2019 – before it is sold out!
For more information contact rich@journeymexico.com
---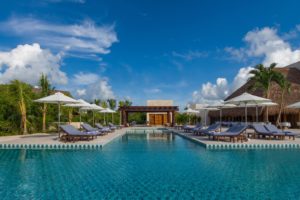 Hidden Doorways – Hotel Opening
Chable Maroma, a luxury resort and spa, opened its doors on 10th September 2018. Located on Punta Maroma, Playa del Carmen, the resort is offering an opening rate of $620 per night based on a double occupancy nightly stay in Castia with private pool and a-la-carte breakfast for two. Valid for bookings until 15th December 2018 with travel between now and 21st December 2018.
Contact jo@hiddendoorwaystravel.com for details
---
NICARAGUA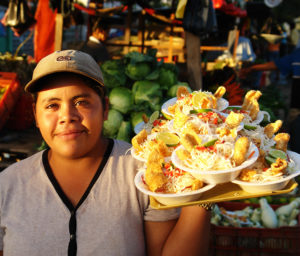 ORO Travel – Culinary Adventure
When people think of Gastronomy, Nicaragua may not be the first place that comes to mind! To challenge the stereotypical idea of Nicaragua being only "rice and beans", we have created an exquisite itinerary for Foodies, proving that Nicaraguan cuisine is varied, innovative, wholesome, fresh, hearty, home grown and first and foremost delicious! Highlights of our Culinary Adventure Tour include: Flor de Caña Rum, Coffee Farms, typical local Cuisine, Cooking Class of traditional dishes, World Class Cigars and Cocoa Tours.
For information contact marketing@orotravel.com
---
PERU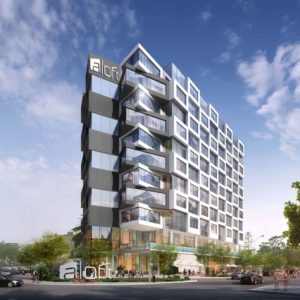 Libertador Hotels, Resorts & Spas – First Aloft hotel in Peru will open in November
With an unbeatable location, the Aloft Lima will have 164 rooms and will feature bold and stylish design throughout as well as tech-forward features. The Aloft Lima will bring tech-forward innovation, modern style and a vibrant new social scene to the Miraflores district. The hotel has been designed to serve the increasing number of hyper-connected global business and leisure travelers who visit the buzzing capital of Peru.
---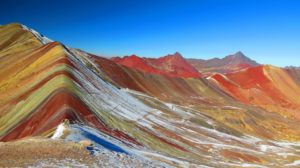 Legendary Peru – The Rainbow Mountain
Vinicunca is located in the Ausangate mountain region of the Peruvian Andes in Cusco. They are all colored, some are terracotta, some lavender, and others are a vibrant turquoise. They're colored by the sediment and atmosphere of the area, unique because of its altitude and isolation close to the ocean. But none are quite as marvelous as Vinicunca, also known as Rainbow Mountain.
For details contact claudia@legendaryperu.com.pe
---
Aqua Expeditions – single supplement fee waived on select departures in 2018 and 2019
On select departure dates in 2018 and 2019, solo travellers will no longer have to pay a single supplement fee onboard its vessel sailing the Peruvian stretch of the Amazon. In comparison to a cruise industry average of +50% supplement fee, Aqua Expeditions is leading the way in encouraging customers to embark on a solo adventure.
Whether it be accessing the remote communities on the riverbanks via skiffs, spotting pink dolphins in the Amazonian waters or enjoying a glass of champagne in the ship's jacuzzi, a cruise with Aqua Expeditions is sure to leave solo travellers with unforgettable memories and a fresh perspective on the world around them.
---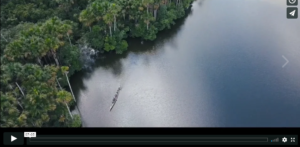 LimaTours – New video
Sharing the treasures of Peru with the world is one of our greatest satisfactions which is why today we share with you a video that shows our country´s colours and sensations. Observe the coast, mountains and jungle like you have never seen before and witness the essence of a country as varied as it is impressive. CLICK HERE to see the video
---
Mountain Lodges of Peru – New Website, plus News on the Salkantay Trek
At the end of September we celebrated the introduction of our innovative new website . We are very proud of the exciting new images, engaging layouts, and maximized user flexibility. Visit www.mountainlodgesofperu.com to see the new site.
The Salkantay Trek: We are happy to announce that Day 1 of our signature Salkantay Trek now includes a visit to the fascinating, yet seldom-visited, Quillarumiyoq ("moonstone") archaeological site! During the guided exploration you will have a chance to study, among other compelling site features, the iconic laser-like etching of a moon on a granite boulder, a celebrated example of Inca cosmology.
Contact elisabeth.lr@mountainlodgesofperu.com for details