NEW LATA MEMBERS
---
NEWS FROM UK MEMBERS
Just a Drop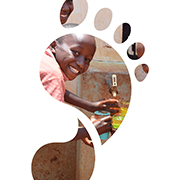 Nomination for an Award
Just a Drop are delighted to be shortlisted for the Charity Film Awards! The campaign film, Steps to Water, was inspired by the fact that, in developing countries, it takes an average of 6 km – 8,000 steps – to reach water.
Just a Drop works to bring safe water and sanitation closer to communities around the world, including throughout projects in Nicaragua. Vote by December 1st and share with your friends and family. Click here to vote!
---
Chimu Adventures
Sustainable feature of the month
Chimu Adv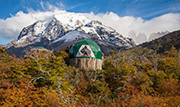 entures have chosen EcoCamp Patagonia as their 'Sustainable Feature of the Month' for November due to it outstanding environmental, social and cultural credentials.
The hotel relies almost solely on green energy which is generated by micro-hydro turbine and photo voltaic panels. In terms of social responsibility, this property sources products from local suppliers and also employs locally. Staff are given regular training and the opportunity to progress. Another key initiative which EcoCamp have been recognised for is their involvement in 'Work the World'; a project which challenges remote tourism destinations (such as Torres del Paine) to be more accessible.
You can learn more about Eco Camp Patagonia, here.
---
tranquilico
Crisis Management Workshop – SPECIAL OFFER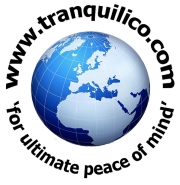 Why not book our popular half day Crisis Management Workshop with an interactive desktop simulation for March/April 2020? A great team building event that also instils confidence in your staff in how to handle a major crisis that could affect your customers. Get yourself prepared for the year ahead – if you quote ref: LATA20 you will also gain a 10% discount* off our normal price.
*Discount applies to workshops booked and paid for before 24th Dec 2019 and taken in March/April 2020.
For more information, CLICK HERE.
---
Vamoos
Customer Loyalty Research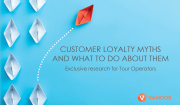 New research by mobile travel app, Vamoos, provides a fascinating insight into holiday booking behaviours, including the most common stress factors, many of which are falling under the radar of travel operators.
Research conducted on over 1,000 consumers who go on luxury, educational and/or adventurous trips in addition to 61 travel companies revealed a number of interesting discrepancies between the views of travel companies compared to customers. Click on the link to download the report.
---
The TRIP Group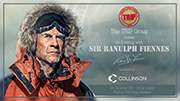 An evening with Sir Ranulph Fiennes
On the 4th of December the TRIP Group event "An Evening with Sir Ranulph Fiennes" will take place. Sir Ranulph will be sharing his adventures, which will include a Q&A session. If you haven't booked your tickets yet, there's still time. To register, please CLICK HERE.
---
Faremine
Check out Faremine's fabulous new features and you could WIN a pair of Virgin Atlantic tickets!
FARE FAMILIES
View and compare airlines' fare families/branded fares, see what's included and upsell between cabins, all on one screen, with our clever carousel display.
ANCILLARIES
View airlines' ancillaries to upsell fare extras and tailor the booking to your customer's specific requirements.
NDC
IATA's New Distribution Capability with participating airlines.
All views of the new features, in Faremine, until 31 December, 2019 are automatically entered into a prize draw to win a free pair of Virgin Atlantic tickets.
*Ts&Cs apply.
---
REGION – WIDE
Pure Central America
2020 Central America has everything!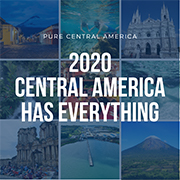 Pure Central America is delighted to announce that next year your clients have the chance to discover the hidden gems of beaches at Hopkins village in Belize and the dramatic coastlines of Emerald Coast in Nicaragua. They can live a new experience between jungles and valleys at Turrialba in Costa Rica or discover the real beauty of mother nature in Semuc Champey Guatemala.
They won't stop the adventure, your clients will go back in time at Suchitoto town in El Salvador and enjoy the warmth of new culture with Garifuanas in Honduras. Contact us for your guests 2020 bookings at sales@pure.tours.
---
AVIATION NEWS
Norwegian
New Routes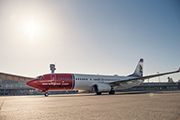 Norwegian is once again making it even easier and more affordable to travel around Argentina with the launch of two new routes from Buenos Aires to Ushuaia and Jujuy.
The route from Buenos Aires Aeroparque airport and Jujuy launched in September, offering two weekly services on a Friday and Sunday with fares from £57. Norwegian's new route to the world's southernmost International airport – Ushuaia also took off in September with fares from £73. For more information about flights and fares, CLICK HERE.
---
Air Europa
Aviation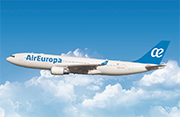 Air Europa will commence services to Fortaleza, in north east Brazil, on 20th December 2019 with twice weekly flights, which will then increase to three flights a week from 21st June 2020.
Fortaleza is the airline's fourth destination in Brazil, confirming Air Europa's commitment to the country, where it already operates services to Salvador de Bahia, Sao Paulo and Recife. The flight will be operated by the Airbus 330-200, with a seat capacity of 299 passengers, of which 24 are Business Class Seats.
---
ARGENTINA
Abax Travel
Enotourism in Mendoza – Great Wine Capitals
The presti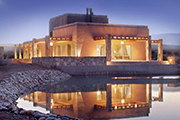 gious Rosell Boher Lodge in Mendoza, set in a spectacular landscape with the Andes as background, has been awarded with the Gold Medal as the 'Best Cellar Restaurant in the World' by the 'Great Wine Capitals'.
Mendoza continues growing as one of the best eno-gastronomic destinations, turning Argentina into a strong magnet for bon-vivants from around the globe. Congratulations to its Chef Lucas Olcese and his team!
For information about Abax Travel and their products and packages, CLICK HERE.
---
EcoCamp Patagonia/Cascada Expediciones
EcoCamp Pata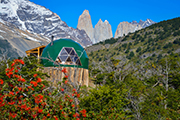 gonia won this year's Award for Sustainable Luxury in Latin America in the "hospitality" category.
The award was presented on November 6th in Buenos Aires, Argentina. We are so honoured to be considered one of Latin America's top hotels that both implements eco-friendly policies and provides guests with a rustic- luxurious experience.
To learn more about EcoCamp Patagonia/Cascada Expediciones, CLICK HERE.
---
Argentina – National Institute of Tourism Promotion
Argentina has a new touristic centre in the North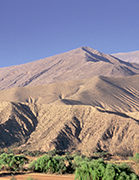 A mountain road that connects two emblem areas of the Argentine North – the Yungas and the Quebrada de Humahuaca (canyon) – was inaugurated in Jujuy Province.
Throughout a more than 136 miles journey, between the cities of San Martín and Humahuaca, travellers will reach 5 thousand meters above sea level and will immerse in the jungle, different cultures and multiple colours.
To learn more about this, CLICK HERE.
---
Argentina Travel Partners DMC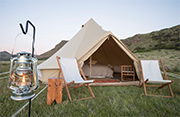 Glamping in Patagonia
A journey to places beyond. An option to evade the city sounds. Glamping offers outdoor enthusiasts an upgrade on relaxation and recreation. A new kind of travel brings nature and luxury together. Clients will go deep into the landscape, establishing a connection with the various elements: water, air and land, through a selection of unconventional accommodation, outdoor activities and bespoke moments.
Contact: mbegg@atpdmc.com for details. More info on this link: Patagonia Glamping by Argentina Travel Partners
---
BRAZIL
Del Bianco Travel Experience
New service at GIG airport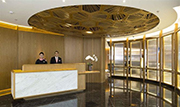 Our clients can enjoy a special service at the airport, in Rio. The Vip Lounge is a private area that includes catering, shower, confortable chairs, Internet, television and more. It is the perfect spot to rest while waiting for the flight. Consult our website for prices and details.
---
Havas Creative Tours
The new trains have arrived to the Corcovado Mountain Station!
The visit to th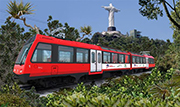 e Statue of Christ the Redeemer, on top of the Corcovado Mountain, will be even more beautiful and faster. The new trains have larger windows and panoramic roof, making the trip through the unique Tijuca Forest even more pleasant. Trains are larger and faster and the capacity of each vehicle is now for 154 passengers.
With these updates, it will be possible to take more than 600 tourists per hour, doubling the current capacity, and enhancing the experience of visiting one of Rio de Janeiro's main attractions. To check all the tours and the packages provided by Havas Creative Tours, CLICK HERE.
---
Walpax Brazil Travel Partners
Afro Brazilian – Dinner & Show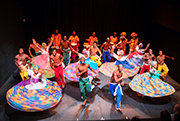 With Walpax Brazil Travel Partners, your clients will be able to enjoy a colorful and tasteful experience at Coliseu restaurant, in Salvador, Bahia. The local and international cuisine combined with the rhythms and strength of Afro Brazilian culture is bound to set the tone for this night tour option in Salvador.
They will try the Bahia Typical food in a varied buffet dinner with local and international options, get to know the Ballet Folklorico, with its repertoire that includes Afro dance, capoeira, maculelê, samba de roda, puxada de rede, maracatu and xaxado – a cultural dive into Afro Brazilian culture. For more information, CLICK HERE.
---
Passion Brazil
The biggest parties on earth will start soon at the endless summer-land called Brazil: escaping the winter to celebrate New Year's Eve or enjoying Carnival season. From Rio's vibrating celebrations to hidden escapes away from the crowd, Passion Brazil has been crafting special tailor-made itineraries for 15 years. Add more Brazilian local experiences to make your client's itinerary an unforgettable journey! Contact us at lilas@bossadestinations.co.uk
---
CHILE
Hotel Hangaroa
Confirmed Flights to Easter Island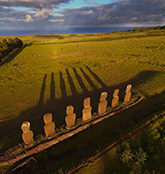 Hotel Hangaroa Eco-Village & Spa on Mythical Easter Island is guaranteeing guests can reach the south pacific island off the coast of Chile by including flights from the mainland.
From January through to May 2020, guests can book a 4-night hotel + flights package in any of the luxury property's three programs (Full Experience, Discover or Dream), which includes round-trip flights for two on LATAM from Santiago to Easter Island starting at USD1500 per person, based on double occupancy. For more information about excursions and flights, CLICK HERE.
---
BOP – Best of Patagonia
New Season
Luxury Glamping in Argentina! BOP is proud to announce the new season of Huemules – Reserva de Montana in Esquel, Argentina. Your clients will have the purest contact with nature withou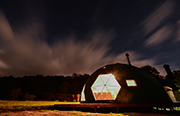 t leaving aside the comfort of a spacious dome with private bathroom, exquisite Patagonian cuisine and the kindest family service. Moreover, they will get to do a wide variety of adventurous activities within the marvellous view of our Patagonia.
How can your clients get to Esquel? Daily flights from AEP to Esquel Airport (except on Tuesdays), smoothly connected with Bariloche and the prefect gateway into Carretera Austral in Chile. Need more info? Please email mariana@bop.travel for more information.
---
Remota Patagonia Lodge
New Bird Sighting Excursion
Remota Patagonia Lodge is proud to launch a new "bird sighting" excursion, available for clients on Soft and Adventure programs from September 2020. Accompanied by our expert guides, clients will explore unique environments and beautiful landscapes inhabited by a great diversity of flora and fauna species.
In a responsible way, Remota will carry the necessary equipment to achieve an excellent bird sighting experience so that clients can capture beautiful photography.
For more information, about Remota Patagonia Lodge, CLICK HERE.
---
COLOMBIA
Bogotá, a buzzing capital and cultural center
Bogotá is a pluricultural and motley city. Cobbled streets of a colonial past merge with an unstoppable contemporary growth. A cultural melting pot that combines city and country perfectly. Find out more about Metropolitan Touring Colombia's packages HERE.
---
Colombian Journeys
Drum workshop in Cartagena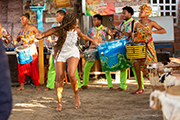 In La Boquilla, a fishing village 20 minutes from Cartagena, your customers will enjoy a cultural experience that shows them how its inhabitants preserve their ancestral traditions and the leading role that drums play in their history. They will have the opportunity to connect with the typical Afro-Colombian rhythms of folk music in this region.
The workshop will have a theoretical part where they will learn a little about the history of the drum; a presentation to listen and appreciate its peculiar sound and, finally, an interaction to learn to play the instrument.
To learn more about the workshop and Colombian Journeys' products, CLICK HERE.
---
ECUADOR/GALAPAGOS
Montemar Eco Luxury Villas Galapagos
The Mon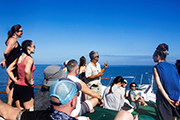 temar Experience
Exploring Galapagos with Montemar means experiencing the islands as a local, with locals. Montemar's owners, Reyna and Roberto, know the islands inside-out having lived here for over 25 years. Both have curated a number of experiences for your guests that are found nowhere else.
Let us take your clients in a journey of transformation that involves deep sea adventures, unique wildlife encounters and a profound connection with nature. Contact Rosario at ventas@montemar.ec for more details.
---
Casa Natura Galapagos Lodge
Two new species of salamanquesas are discovered in Galapagos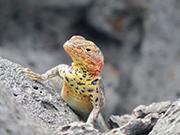 A group of scientists from several organizations, including Tropical Herping (TH), Galapagos Conservancy and the Directorate of the Galapagos National Park, identified two new species of salamanquesas, located around two volcanoes on Isabela Island.
The new species of salamanquesa found around Wolf volcano, was named as Phyllodactylus andysabini; While the other species found around the Darwin volcano was named as Phyllodactylus simpsoni, the latter is located throughout Isabela and Fernandina Island. CLICK HERE to read more about this discovery.
---

Galagents Galapagos Cruises
Real Time Availability
Dear Partners, Galagents, trying to facilitate more tools for you, so that sales can be done more easily and fast, has published its online availability of the complete fleet at www.galagents.com. Please visit our website and check real time availability, as well as our promotions. On this website, you will be also able to access to the complete B2B information, you might require of all our yachts.
---
EQ TOURING
New live a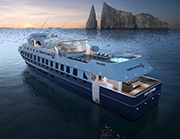 borad diving yacht M/Y Tiburon
We are proud to introduce the new M/Y Tiburon diving yacht. She will be launched on April 2020 and promises to be the best diving yacht in the Galapagos Islands. With capacity for 16 divers in 8 cabins (double accommodation) she will have all the amenities and spaces that a diver needs for a successful expedition. For more information on itineraries visit our website.
Call us for assistance at: UK +44-2033-724723 or USA +1-866-454-9060.
---
LTC – Latin Travel Collection
Ikala Quito introduces newly renovated rooms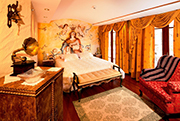 The Ikala Quito Hotel located in the heart of Quito was once a traditional colonial house. Today it is one of the most stylish and comfortable hotels in Quito!
In addition to our cosy Standard rooms, the elegant Junior Suites and the themed Suites representing the regions and culture of Ecuador, our guests can now enjoy a completely new area with thoughtfully designed rooms and amenities!
To find out more about Ikala Quito and our offers, click here.
---
Tropic Ecuador
Tropic guests who stay at the lovingly restored Relais and Chateaux Hotel del Parque in Guayaquil will discover the area's charm and the hotel's world-class dining while experiencing the lifestyle of Ecuador's 'coastenos,' – residents of the country's gorgeous coastal areas. They will also enjoy special VIP Virtuoso amenities to make their visit even more memorable. Contact Andrea Fierro at Tropic for details.
---
Anakonda Amazon Cruises
Last Offers of the year!
Looking for a unique Christmas experience for your clients? Anakonda Amazon Cruises invites you to choose Manatee or the Anakonda vessels, where the clients will share an authentic Christmas Amazon Experience with ancestral cultures and discover amazing wildlife in one of the most biodiverse places on Earth.
Your guests can also take advantage of our last 2020 Early Monkey offer. For more information, visit our website.
---
GUATEMALA
Maya Trails
Cooking Experience Guatemala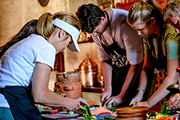 As if Antigua wasn't delicious enough already, Maya Trails have introduced an amazing new Mayan cooking experience in the beautiful colonial town. Guests will be hosted by a local Mayan family who will guide them on a local market visit, a tortilla-making stop and for a cooking class in a stunning restored 17th century colonial house.
Travellers will get a true taste of traditional Guatemalan ingredients and cuisine. It can be catered to those observing a vegetarian, vegan or other special diet – you name it, Maya Trails can do it! For more information visit our website or send us an e-mail at info@mayatrails.com.gt.
---
MEXICO
Journey Mexico
Mexico City named in World's Top Cities to visit in 2020 by Rough Guides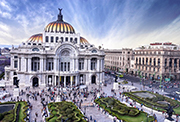 With its flourishing art and design movement, trendy neighbourhoods, an experimental foodie scene with some of the most amazing restaurants in the world (with two in the top 50 restaurant list) and some of the best museums in Latin America.
Mexico City really does have it all, so it was no surprise to us to see that it was named as one of the top cities to visit in 2020. We are very excited that even more visitors will want to visit and explore this very happening and cool city.
To read more about this, CLICK HERE.
---
NICARAGUA
Nicaraguan Tourism Board – INTUR
At the Selling Travel Agents Choice Awards 2019, Nicaragua received the award for "Global Tourist Destination that Respects the Enviroment" from Selling Travel magazine. This is the result of voting by the travel agents magazine readers, one of the most important in the British tourist industry.
By having received this recognition, Nicaragua hopes to increase the number of visitors by 2020 and highlight the diversity of the country's tourism offer. For more information, CLICK HERE.
---
PANAMA
Panama Journeys
Visiting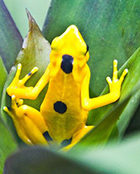 El Valle de Antón
Just a few kilometres away from Panama City is located El Valle de Antón. This place is hidden in a valley that formerly was part of a lakebed within the vast volcano crater, surrounded by forests that are ideal for walking, hiking and watching countless species of bird inhabiting the area.
Among its most exotic fauna there is the golden frog which was venerated by the pre-Columbian native people named Guaymíes who made talismans with its shape. Thanks to its location and geographical conditions, these temperatures fluctuate between 20°C to 25°C. For more information, visit Panama Journeys' website.
---
EcoCircuitos, S.A.
Escape the winter to Panama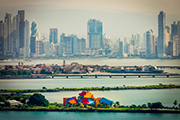 A stopover in Panama will surprise all its visitors! Within 30 minutes from the international airport, your clients could be relaxing in a boutique hotel in the centre of the colonial Casco Antiguo or a top-notch luxurious hotel in the Banking District, close to internationally known restaurants and Jazz Bars.
Contact us or visit our website for an up to 7 day Stop Over package and discover two destinations for the price of one.
---
Quimbaya Latin America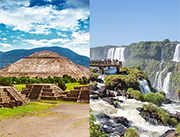 Quimbaya Latin America is delighted to introduce their NEW Fixed Departures for all their 11 destinations made in a very innovative way!
Short (4-6days) version programs per country – Starting from Mexico ending in Brazil, in 53 days but with the possibility to choose the country where to start and where to end.
Long (8-10days) version programs per country – You can choose what is best for your clients!
Please contact them now to obtain your programs!
---
PERU
Belmond Hiram Bingham

Belmond launches 'Art in Motion', a collaboration with Peruvian creatives
Belmond launches 'Art in Motion', a collaboration with local experts and tastemakers in art, design and gastronomy bringing guests closer to contemporary Per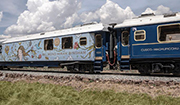 uvian culture with all-new timeless adventure.
The artful adventures are brought to life with the unveiling of the reimagined Belmond Hiram Bingham's observation car, painted by award-winning Peruvian artist and illustrator, Fito Espinosa. New menus highlight the rich natural ingredients, and stylish new uniforms by Peruvian designer Jose Miguel Valdivia celebrate the country's creative and pioneering spirit. For more information, CLICK HERE.
---
Amazonas Explorers
Ebiking in Peru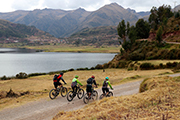 : From Cusco to Machu Picchu by Ebike
Amazonas Explorer is delighted to announce Peru's first multi-day Ebike tour. Your clients will discover the main Inca sites of Cusco and the Sacred Valley and explore lesser-known areas, not accessible by vehicle. This trip is aimed at anyone who is comfortable on a bike and wants to tour the area in a healthy, active way.
Ebikes allow riders of different speeds to stay together. Each day can be tailored to the groups abilities – with options available to adjust the exact route taken. Click here to see the itinerary, or contact us.
---
Country Club Lima Hotel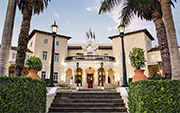 Condé Nast Traveler's 2019 Readers' Choice Awards
Country Club Lima Hotel was recognised as the #5 Best Hotel in South America and #36 on the Best Hotels in the world. Click here to read more.
---
Aqua Expeditions
Honeymoon Offer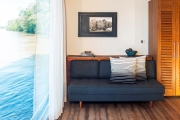 Aqua Expeditions is offering a Honeymoon & Anniversary experience on-board the Aria Amazon. Whether it be accessing the remote communities on the riverbanks via skiffs, wildlife-spotting, kayaking the waters, or enjoying dinners with unforgettable views whilst on the move, this experience is sure to leave couples with shared memories to treasure for the rest of their lives together. For more information about Aqua Expeditions and their offers, CLICK HERE.
---
Muyuna Amazon Lodge
Muyuna and the WWF work together to conduct a study of Pink Dolphins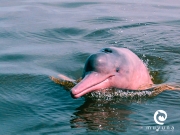 Muyuna Amazon Lodge is an Eco-Lodge that cares about the conservation of the environment. For this reason, we work with national and international NGOs to contribute to the preservation of Amazon rainforest.
Muyuna works with the WWF (World Wide Fund) to conduct a study of the pink dolphins that inhabit the region. The study aims to collect water from different areas of the river to conduct a census and learn about its migration route.
To learn more about Muyuna Amazon Lodge and their projects, CLICK HERE.
---
LimaTours
Tourism with impact | Huilloc Community
With more than half a century of innovation and milestones, LimaTours' purpose has remained constant over time: our commitment to Peru. We have been able to improve people's lives by creating programmes that include the participation of local communities, providing job opportunities, and through the LimaTours Foundation.
We want to share the results of these great efforts and their impact on the Huilloc Community in Cusco. For more information, CLICK HERE.
---
Amazon River Expeditions
Life is reborn in the Peruvian Amazon with the release of more then 6,000 Taricayas (Podocnomis unifilis) during the first Freshwater Turtle Festival at Heliconia Amazon River Lodge, which we were part of.
This initiative began in August with the acquisition of Taricayas eggs from the formalized management groups of the Pacaya Samiria National Reserve, which were incubated in semi-natural beaches in the Heliconia Lodge. They were born in October and then released in November. This process was closely monitored by Sernamp park rangers.
To read more about this project, CLICK HERE.
---
Rivers & Forest Expeditions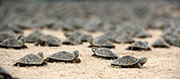 Rivers & Forest Expeditions is contributing to the "Taricaya's repopulation program", with the goal of spreading awareness about this endangered turtle species, due to indiscriminate hunting.
The program is being developed along with Ministry of Commerce and Tourism (MINCETUR), Maynas Municipality, SERNANP and the Amazon River Association. If you want to learn more about Rivers & Forest Expeditions, CLICK HERE.
---