NEWS FROM UK MEMBERS
Just a Drop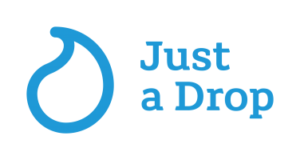 Just a Drop will celebrate its 20th anniversary and having reached 1.5 million people with safe water and sanitation at World Travel Market 2018. To mark the occasion, Just a Drop has partnered with Water-to-Go to sell Just a Drop-branded eco-friendly water bottles, which provide a solution to two of the biggest problems facing the world at the moment: access to safe drinking water and the pollution caused by single-use plastics.
www.justadrop.org
---

Elman Wall Travel Accountants – Key Points From The Autumn Budget
The Autumn Budget was brought forward a few weeks to avoid direct impact on the further Brexit discussions planned for later in November.
The Elman Wall Tax Team reviewed the various announcements and put together a comprehensive summary of some of the main points that could impact you or your business.
To read the Elman Wall Tax Team Autumn Budget Summary please click here
---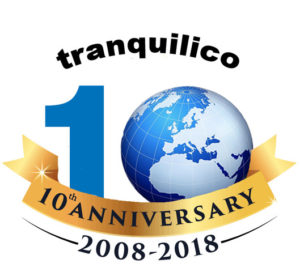 tranquilico – updates
This is a reminder to all LATA members to check the details of their transport suppliers on the LATA health & safety scheme area on the website. We are issuing out reminders to those DMC's still to complete or renew their safety assessments so need o ensure all the contact e-mails are correct. Please take just 5 minutes to check your suppliers as this will hep us tremendously.
safety@tranquilico.com
---
AVIATION NEWS
Avianca Airlines – new route
Avianca will now service between Colombia and Bolivia, with the new Bogota – Santa Cruz flight from 22nd November 2018. Avianca A320 aircraft will operate this route on daily basis. Planned schedule as follow:
AV8382 BOGVVI 20:33 01:44
AV8385 VVIBOG 02:34 05:40
---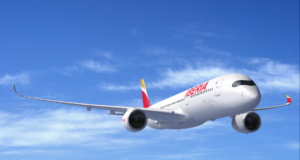 Iberia – additional flights
From Summer 2019 we are adding extra flights to Ecuador, Brazil and Uruguay and will offer a daily service to Quito, Rio de Janeiro and Montevideo.
Quito from 6 to 7 weekly flights
Rio de Janeiro from 5 to 7 weekly flights
Montevideo from 5 to 7 weekly flights
We will also add Buenos Aires and Chicago to our destinations operated by our brand new A350-900 aircraft.
31 full lie-flat bed Business seats
24 Premium Economy seats
293 Economy seats
Less emissions, more space and more comfort!
---
Copa Airlines – New aircraft
Welcome to the beginning of an Era of comfort and new experiences of sustainability and greater opportunities. Meet our new #MAX9, the most comfortable and sustainable aircraft in the history of our airline.
---
LATAM Airlines – Product news
LATAM Airlines has unveiled plans to renovate the cabins of two-thirds of its global fleet and to improve passenger travel experience. Over the next two years, LATAM will revamp the cabins of more than 200 aircraft that serve long- and short- haul routes, with passengers being able to fly on the first renovated aircraft before the end of 2018
---
REGION-WIDE
Chimu Adventures – Latin America sales boom in October
Chimu Adventures are thrilled to report October as their biggest month ever in terms of Latin America bookings. Specialising in tailor-made trips to Latin America, Chimu are big on flexibility, creating completely unique itineraries for clients. As travellers seek ever more original experiences, Chimu are excited to see this side of their business booming.
---
ARGENTINA
Eurotur SRL
Why ARGENTINA?
Argentina offers diversity landscapes, home of the Tango, amazing wine regions in the world and well known by its cuisine and the quality of its red meat. Now with a 21% VAT refund on accommodation.
Why EUROTUR?
Eurotur is a DMC with over 6 decades of experience in the market. Well known for the high quality of services provided, counting on a professional bilingual staff of over 80 people, with local knowledge and trained to satisfy our clients' needs.
Click here to check our new Tourbook 2019 or contact us at: sales@eurotur.tur.ar
---
ANTARCTICA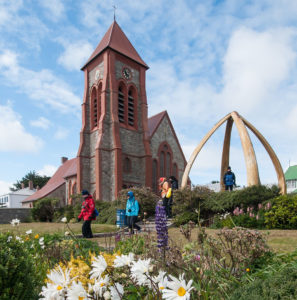 One Ocean Expeditions – New itinerary
One Ocean Expeditions continue to innovate by embracing Stanley, Falkland Islands (Las Malvinas), as their gateway city for Antarctic 19/20 season voyages. Exclusive to passengers travelling onboard RCGS Resolute, OOE will take advantage of the new international flight route from Santiago to Stanley resulting in a faster, easier and more efficient transfer to Antarctica. Features include, tour options in Santiago, transfers, and extended time to explore Stanley.
For information email voyages@oneoceanexpeditions.com or visit www.oneoceanexpeditions.com
---
BELIZE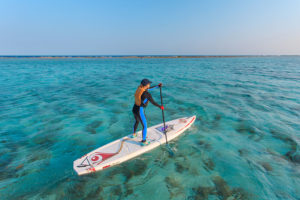 Island Expeditions – New Belize SUP Trip
Island Expeditions is excited to introduce a new Stand Up Paddleboard (SUP) Belize trip for this winter. Guests are invited to elevate their stand up paddling skills to an exciting new level with accomplished coach, SUP instructor and expedition paddler, Norm Hann on our Glover's SUP Adventure and Skills Camp. Learn, explore and snorkel amongst the turquoise lagoons and rich coral reefs within the Glover's Reef Atoll.
Click here for more information.
---
BOLIVIA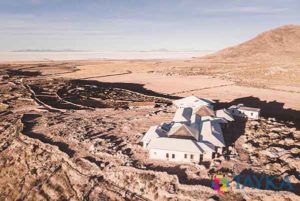 Late Bolivia – Salar de Uyuni
In February of 2018 Late Bolivia launched "Bolivia Trip" a great product to visit the Salar de Uyuni as part of a shared tour, the best option for FITs. With fixed departures every Tuesday and Friday and accommodation at the Tayka Hotels, "Bolivia Trip" gives you a very interesting option to give a complete offer to visit Bolivia.
---
CHILE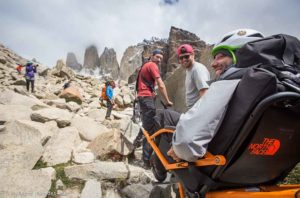 Cascada Expediciones/EcoCamp Patagonia – Adventure in Motion Award
EcoCamp has taken the top prize in the Adventure in Motion Awards. Their video, entitled Adventure is for All, chronicles their work with Wheel the World to make their tours fully inclusive. Nine finalists were chosen and voted on by the public, with the final winner announced at the Adventure Travel Summit in October. EcoCamp's desire is for the tourism industry to make their services more accessible. (Photo: Pedro Paredes)
---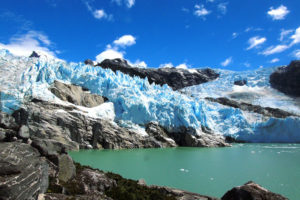 Protours Chile – New tour
NEW Protours excursion: Leones Glacier & Lake – This full day starts at the shores of the General Carrera Lake where your clients will embark on the first boat ride. They will navigate across the turquoise waters and then follow a river upstream to a valley. There, they will continue by foot to the Leones Lake, then embark on their second navigation touring this lake and the Leones Glacier.
For information contact psalazar@protourschile.com
---
Latitud 90 – New accommodation
The renowned set of boutique retreats is thrilled to announce Puro Vik, a collection of glass houses debuting in spring 2019. Inviting to enjoy the 11,000 acres of nature through the romanticism of the glass houses and explore the very best of Chilean flora and fauna while enjoying a wine and culinary experience, creating a magical oasis for travelers who are seeking an authentic escape celebrating a magnificent environment.
Contact productos@latitud90.com for details
---
COLOMBIA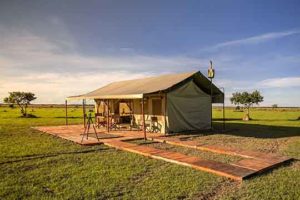 Colombian Journeys – New lodging in Colombia
Corocora is an exclusive camp in a private reserve, home to a diversity of wildlife and more than 200 species of birds, located in the region of Los Llanos Orientales. It offers 4 tents adorned with fabrics and handcrafts from different regions of Colombia. We offer a package 4 days / 3 nights to enjoy an experience where you will connect with nature and local culture. For more information contact marketing@colombianjourneys.com
---
CUBA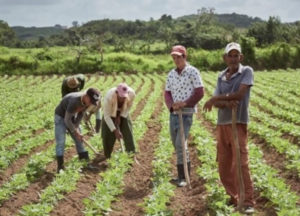 Cuba Private Travel
In Cuba organic farming is not a choice… it's a fact of life. Whilst your clients stay on the island they can spend some time with local communities in this new green revolution, becoming part of the farmers workforce in the eco community in the west.
They will also be able to zip-line, explore ruined coffee plantations, meet artists, and dine at eco-restaurant 'El Romero', set up by Cuba's vegetarian pioneer.
Contact us at: enquiries@cubaprivatetravel.com
---
ECUADOR/GALAPAGOS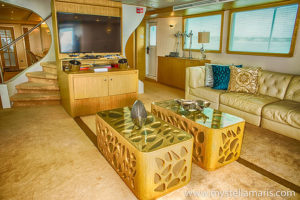 EQ Touring – Refreshed luxury yacht Stella Maris
We would like to let our partners know that the luxury yacht M/Y Stella Maris came out recently from a complete maintenance. The boat has a fresh look inside ready to receive our luxury guests for the season and 2019. For more information on the yacht please visit www.mystellamaris.com
---
FALKLAND ISLANDS (LAS MALVINAS)
International Tours & Travel Ltd – New Product/Falklands Sporting Event
ITT 's Falklands Desk, in conjunction with The Waterfront Boutique Hotel, is now offering a tailor-made 2 week Falklands itinerary centered around the Standard Chartered Bank Stanley Marathon 2019 (and its not too early to plan for 2020!).
Combine competing in the most southerly AIMS certified marathon, see up to five species of penguins and our amazing scenery, and donate to Seeing is Believing all in one go in March next year. Make it a family event with a 4 man relay team or enter your kids in the 3K fun run!
Click here for information.
---
GUATEMALA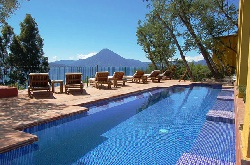 Maya Trails – Hotel information
Luxury property Casa Palopo Boutique (the only Relais & Châteaux in Guatemala) is nestled in Lake Atitlan, one of the most scenic and magical lakes of the world.
Casa Palopo has established a tradition of personalized service, spectacular dining and eco-friendly practices. Filled with antiques, brightly painted walls, exquisite furnishings and art, your guest will be immersed in the rich Guatemala Mayan culture.
Book it now for your guests: info@mayatrails.com.gt or visit: www.mayatrails.com.gt
---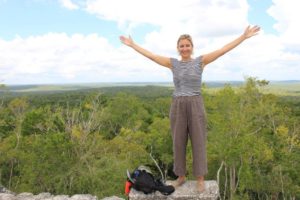 Travel Pioneers – Pioneering in Guatemala
From the sky, a mesh of dense green trees conceals a great mystery. Below the cover of the jungle are the hidden remains of the once thriving Mayan empire capital: El Mirador. Your clients arrive by helicopter – the jungle has stretched its foliage across the stone bones and temples – wandering around feels like pulling back a curtain at each turn to revel in the feeling of discovery.
For information contact katrin@travel-pioneers.com
---
PANAMA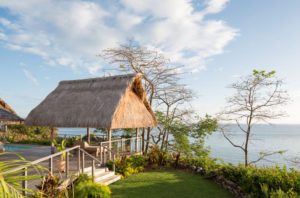 Albee Adventures – Luxury private island retreat in Panama
This Panama lodge, located in a private archipelago of 14 islands, is a secluded and sustainable destination for world-class fishing, diving and other marine adventures. Welcoming no more than 18 guests at a time, the island offers rare, exclusive access to one of the most diverse ecosystems in the world alongside exhilarating recreation, impeccable facilities and warm Panamanian hospitality.
Contact marketing@albeeadventures.com for details.
---
PERU
Sol y Luna
Sol y Luna, the hotel that was founded to fund a school for local children, is adding a foster home to its Foundation. The foundation currently includes a school for 200 children, most of whom come from families with very limited resources. The care given to the children includes education, nutrition, physical and psychological support and also accommodation to enable children from remote areas, or very troubled backgrounds, to study.
www.hotelsolyluna.com
---
Delfin Amazon Cruises – New website and Sales Package
Delfin Amazon Cruises, the first Relais & Chateaux cruise in the world, is a Peruvian-owned company operating 3 classic riverboats in the Upper Peruvian Amazon. In order to be able to compare the 3 Delfin vessels, the team has developed a new online Sales Package packed with itinerary comparisons, factsheets and details on the 3 Delfin cruises which have 4, 14 and 22 cabins respectively – please click here for details.
---
Hotel B, Lima – sailing

Following the popularity of the Hotel B Sailing Experience, there are now two boats to choose between: a classic wooden-decked yacht or a modern Beneteau Cyclades 44. Capacity is max 8 guests. Setting out from Peru's only luxury marina, the half-day trip involves a wonderful sunset sail along the bay, or a full day excursion visits the Palomino Islands where you can watch and swim with sea lions.
Click here for details.
---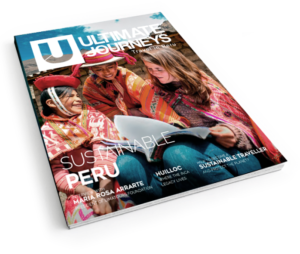 LimaTours – New edition of Ultimate Journeys magazine
Peru is a country of great natural and historical diversity, and preserving this impressive legacy is to keep it alive. In this new edition of our Ultimate Journeys magazine, connect with the Andean communities and get informed about the social responsibility proposals that seek their sustainable development and the protection of their heritage.
Click here to see the magazine:
---