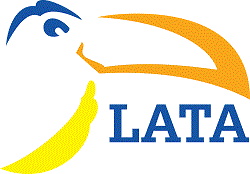 NEWS FROM UK MEMBERS
Air Europa: The inclusion of 150 routes operated by Air Europa on Ryanair's website endorses the pioneering partnership launched last year. This development has meant Air Europa has been able to duplicate its connectivity and exposure with the European continent by connecting more than 50 airports in Europe and America. Customers will now be able to book connecting flights in Madrid to highly-sought after destinations including Brazil, Cuba, Mexico, and the United States.
---
Americas: Amelia, Jude and the Americas partners look forward to again welcoming everyone to the 'Americas Room' at Experience Latin America next month. Our partners attending will be: ATP (Argentina), Crillon Tours (Bolivia), Walpax (Brazil), ADSMundo/ Sportstour (Chile), Colombian Journeys (Colombia), Camino Travel (Costa Rica), Andando Tours (Ecuador), Panama Journeys (Panama) and Lima Tours (Peru). See you there!
---
BA Changes to Winter 2018 schedule: British Airways is delighted announce an increase in its Santiago service for Winter 2018. From 28th October 2018. London Heathrow to Santiago (SCL) will increase from 4 to 5 flights per week. Operated by Boeing 787-900 Dreamliner, outbound flights will operate Sun, Mon, Tue, Thurs and Sat and inbound Sun, Mon, Tue, Wed and Fri. www.ba.com
---
Chimu Adventures' boutique hotel in Lima, Peru, Casa Republica, has been named one of the Continental Winners of Prix Versailles 2018, claiming the 'Special Prize Interior' at the 2018 Prix Versailles Continental Ceremony for the Americas at Castillo Hidalgo in Santiago de Chile on Saturday 14 April 2018. This is a huge architectural accolade for the newly opened property and one that the Latin America travel experts, Chimu Adventures, are delighted with. www.chimuadventures.com
---
Copa Airlines has been identified by digital magazine Money (part of Time Inc) as one of the best airlines to travel in Latin America thanks to its extraordinary punctuality. The selection comes from an evaluation of 70 major international airlines, taking into consideration costs, customer experience and flight performance, selecting the best options for economy class travellers. Copa Airlines connects to 78 destinations in 32 countries in the Americas.
---
Elman Wall Travel Accountants The annual Elman Wall Tax card is now out for Tax Year 2018/19. Designed to fit easily in purses and wallets, or of course, on the go, you are sure to always have access to the vital rates required. To download your own copy, please see here. Elman Wall is the UK's leading firm of Travel Accountants – a hub of expertise all under one roof.
---
Just a Drop starts safe water project in La Calera, Nicaragua. In La Calera, near Camoapa, Just a Drop has started construction of a hand-dug well with a rope pump. This project will provide safe water to ten families who live furthest away from existing sources, which are not sufficient to serve the whole community. Children will especially benefit from access to safe water, with increased health, improved performance in school and in the long term, improved economic opportunities.
---
Network GSA Ltd.For the best way of getting around Bolivia, fly Boliviana de Aviacion. Operating a fleet of modern aircraft, the airline serves 7 destinations within Bolivia including La Paz, Sucre and Trinidad from its home bases of Santa Cruz and Cochabamba. For further information please contact: Network GSA Ltd. Tel 01293 813962 / email: BOA@networkgsa.com
---
One Ocean Expeditions is proud to announce RCGS Resolute's maiden tropical voyages in the summer of 2019. Guests will experience breath-taking beaches, azure blue waters, magnificent Mayan ruins, and the rich cultural heritage of Central America. With two sailings in April and May 2019, there is no better way to explore this ecological paradise than onboard the comfortable 5* expedition vessel, RCGS Resolute. For more information contact voyages@oneoceanexpeditions.com
---
Talking Stick Marketing Be sure to make appointments with Estancia Los Potreros and Inca Rail who will be attending ELA in June. Louisa & Kevin travel straight from Argentina's beautiful Sierras Chicas to share tales of the experiences that can be enjoyed in their authentic working estancia. Inca Rail also have lots of updates to share, including images of their refurbished First-class Machu Picchu train, as well as the brand new 360° Machu Picchu Train.
---
NEWS FROM THE REGION
---
REGION-WIDE
Latinconnect, the alliance of Latin American DMCs with partners in Colombia, Panama, Costa Rica, Nicaragua, Guatemala, Mexico, Belize, Cuba and the Dominican Republic is offering a professional webinar program for their English-speaking customers, starting in May 2018 with the basic level. Please find further information here, or contact katrin.schmitz@latinconnect.com.
---
ANTARCTICA
Antarpply Expeditions have just released their 2019-20 season dates and rates and due to strong demand, will offer a high season CLASSIC SOUTH GEORGIA voyage in January 2020 (A090120). Other itineraries include WEDDELL SEA QUEST and POLAR CIRCLE QUEST in addition to the popular CLASSIC ANTARCTICA voyages. Please email info@antarpply.com or visit www.antarpply.com for further information and frequently updated availability.
---
BOLIVIA
Crillon Tours are launching a unique City Tour in the thriving city of El Alto, visiting intriguing trade fairs, such as truck markets, Yatiris (Andean Chaman), antiques, junkyards and the fascinating new architecture, "the Cholet´s", an icon of the success and opulence of the Aymara immigrants who are today successful families dedicated to trade, mining, small industry, commerce, and gastronomy, forming new social and economic groups. You will reach El Alto by Teleferico, enjoying a fabulous Bird´s eye view over La Paz & El Alto. www.titicaca.com www.uyuni.travel
---
BRAZIL
EMBRATUR: A beach break in the sunniest area of Brazil is closer than ever. Fortaleza, capital of Ceara State will be more connected to Europe from 3rd May with Air France and KLM's new routes via Paris or Amsterdam. TAP also serve this route, via Lisbon. Main destinations are Fortaleza, Jericoacoara, Trairi, Aquiraz, Morro Branco and Canoa Qebrada. Learn more about Ceara and their hidden paradise beaches here. http://visitbrasil.com/en/estados/ceara.html
---
CHILE
Over the next few months, several Protours employees will embark on a variety of familiarization trips throughout Chile. They will visit the wine valleys, the Lake District and the Patagonia among others. The idea of these is to find new highlights and discover useful and interesting tips to increase our know-how and share with our travelers to better their experience as much as possible.
---
Skorpios Cruises has launched its Early Bird promotion for new bookings of Season 2018-2019. The promotion is valid until July 31, 2018, and includes discounts of USD200 and USD100 per person, on the Rack Rates of Chonos Route and Kaweskar Route, respectively, only in case of a single payment for the total amount of the booking is done at the time of confirmation. Click here for more details on this promotion.
---
COLOMBIA
Colombian Journeys: From June 1st, 2018, Las Islas opens its doors on Baru Island as the first luxury hotel in this area. It will offer 54 bungalows and 2 Suites with the high standards of hospitality and quality that characterizes "The Leading Hotels of the World". It will have restaurants, bars, pool, sport center, spa, crafts store, solarium, meeting room, ATM and electric transportation inside the hotel. More information at marketing@colombianjourneys.com
---
COSTA RICA
Albee Adventures: For 20 years, Albee Adventures has been creating luxury trips as unique as you are and striving to provide you with the most exuberant experiences and the most exclusive properties Central America has to offer. Let us introduce you to the small selection of luxury dwellings we offer in Central America. From 1 to 10 bedrooms, we will make sure to find the best option for your family or friends. Click here for details.
---
Camino Travel – Activities for Families. It's always a challenge to find new activates that can give us the satisfaction of adventure, knowledge and discovery and on top, share it with the family. Here you can find a list of 10 activities for families in Costa Rica: Rainforest Ziplining; Rafting; Banana Boat; Snorkelling; Dolphin Watch; Volcano Sighting; Central Market of San José; Museums; Hanging bridges, Horseback riding. Click here for more details.
---
CUBA
Cuba Private Travel – Sailing in Cuba. Experience taking a boat in Cuba, immortalised by Ernest Hemingway in The Old Man and The Sea. Because of the restrictions placed over the last 60 years, contemporary yachting culture is in its infancy. However, chartering a yacht is possible, and, with 45,00 miles of coast, getting on a sailing boat is a way to DIY-create an amazing, deserted-beach experience. Contact us at: enquiries@cubaprivatetravel.com
---
ECUADOR/GALAPAGOS
Quito Tourism Board: Quito presents new digital platform for promotion. As part of its tourism promotion strategy, the Mayor's Office of the Metropolitan District of Quito, through Quito Tourism Board has implemented a new digital platform that articulates digital and promotional tools. They are integrated by a renewed website with detailed information of tourist attractions, by the mobile application to plan trips from your pocket, and a renewed city brand, with avant-garde elements that highlight the tourist positioning of Quito in the region.
---
This Summer, Quito's iconic mansion house hotel, Casa Gangotena, will launch a heritage package celebrating the 40th anniversary of the city's UNESCO World Heritage Site status. Granting guests special-access to some of the city's most cherished monuments, the newly introduced two-day experience includes a first-of-its-kind heli-tour, an unrivalled walking tour of Quito Old Town and a taste of yesteryear through a newly introduced culinary experience at Casa Gangotena.
---
Casa Natura Galapagos Lodge: Elite and recreational cyclists from all over the world will meet for 3 days in Santa Cruz Island to participate in the second Galápagos International Cycling Tour from October 5-7, 2018. Casa Natura Galapagos Lodge is one of the Galapagos hotels that is already preparing to welcome all these athletes with open arms in order to be part of this great event. Click here for more information.
---
Neotropic Expeditions is proud to announce its unique and many exclusive experiences for family, foodie, community, culture, and adventure enthusiasts. "With our Experiences Menu, our travel agents will easily design the classic high-end destinations with an authentic and renewed flare. It will allow to wrap and turnaround times, ending up with beautifully coordinated programs." Click here for details.
---
Surtrek South American Travel: Ecuador's wildlife and nature make it one of the best getaways in South America – if not the world. Its mesmerizing mix of lowland jungle, highland forests and pristine coastlines all condense into one small but amazing country. The Galapagos Islands are the jewel in Ecuador's crown, with their mind-blowing endemic species of flora and fauna, not to mention totally unique volcanic landscapes. But what about the rest of the country? Click here to find out.
---
EL SALVADOR
Sustainable travel in Central America: At Pure Central America we focus on providing unique travel experiences in the countries that we love so much. Our main goal is to help guests enjoy each destination like locals do, journeying through the rich traditions and history, enjoying local food and music, and admiring natural treasures. All this while being responsible with the natural and cultural heritage and supporting local people. Contact us to learn more. sales@pure.tours
---
GUYANA
Wilderness Explorers: Getting to Guyana will be easier with American Airlines announcing a new service from Miami to Georgetown which will operate thrice weekly from December 2018, increasing to a daily service during the summer. LIAT have also announced a direct daily service from Georgetown to Trinidad, commencing in July 2018. On the ground we have had excellent tapir sightings around Atta Rainforest Lodge. Contact Claire for details on this and our forthcoming fam trip at claire@wilderness-explorers.com
---
MEXICO
Native Trails At the edge of the subtropical rainforest Native Trails will let you discover one of Mexico's jewels of the jungle, Palenque, which is said to be its most beautiful ruined site. The Temple of Inscriptions with about 620 hieroglyphs invites you to follow the footsteps of King Pakal. Palenque was founded around 300 BC with all its buildings like the Grand Palace or the Temple of the Sun still intact.
---
NICARAGUA
Vapues Tours Protests have taken place in different cities in Nicaragua due to the social security reforms. Our hearts go out to the victims among the civilian population. On Sunday April 22nd, President Ortega announced the reversion of the social security overhaul and the intent to review the act. At time of writing clients staying in Nicaragua are safe. For more information, please contact us at marketing@vapues.com, or meet our director at ELA.
---
PANAMA
EcoCircuitos Fam Trip Mini Cruise (June 5 – 11, 2018) Discover the natural beauty of Panama on board the Discovery cruise on a unique Fam Trip from June 5 – 11, 2018. This journey will take you to Darien National Park, the Pearl Island Archipelago and a Panama Canal transit. This will be combined with historical tours while walking the legendary trails of the Pirates and Conquistadores. For details or complete itinerary please email: annie@ecocircuitos.com
---
PERU
At Amazonas Explorer, we recommend our clients include some half day activities. This allows extra free time to relax and really make the most of those lovely hotels you stay in. Choose from half day paddle boarding or kayaking on tranquil Lake Huaypo, half-day horse riding or biking in the beautiful Sacred Valley, or historic half day tours of Cusco or the Inca ruins above. Contact info@amazonas-explorer.com for details
---
LimaTours: PureQuest Adventures has developed a variety of routes for travellers seeking adventure and culture in Full and Half Day treks, allowing visitors to explore nearby historical and scenic sites an alternative way while touring Peru. These are the Devil´s Balcony, Choquechaca, Maras-Moray, Pumamarca, Huchuy Qosqo and Chinchero-Urquillos. Venture into these experiences and learn about the traditions and lifestyle in the Andes by clicking on the links below.
Moray-Maras: Pumamarca: Huchuy Qosqo: Choquechaca: Devil´s Balcony: Chinchero-Urquillos:
---
The next Members' Newsletter will be emailed to members at the beginning of June and will be focusing on Experience Latin America 2018. The deadline for news is 28th May.
Please contact info@lata.travel if you need any more information.