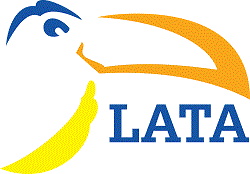 NEWS FROM UK MEMBERS
LATA Transport Safety Scheme – tranquilico.com With the new PTR's coming into force in July – it's even more important that you review the status of your land transport suppliers on the LATA website. We are experiencing difficulties issuing and receiving new completed safety assessments due to many of the e-mail contacts on the website being incorrect. If you could review them and update them, then we can continue to issue and grade the new LATA Land Transport safety assessments. Your co-operation is much appreciated.
---
British Airways is pleased to announce changes on board its Boeing 777-200 aircraft flying from London Gatwick. The improvements are being rolled out across 2018 and include brand new seats in World Traveller and World Traveller Plus, advancements to in-flight entertainment systems, new USB sockets at every seat. Currently the first aircraft is operating on selected flights to Cancun, Kingston, and Punta Cana. As more aircraft are reconfigured, additional routes will be operated by a refreshed aircraft.
---
Copa Airlines strengthens connectivity with direct flights to Puerto Vallarta, Mexico Starting December 16, Copa Airlines will connect Puerto Vallarta-Riviera Nayarit with Panama City and 77 additional destinations in North, Central, South America and the Caribbean, operating from the Hub of the Americas in Panama City. With this operation, Copa Airlines is expanding its network to 79 destinations in 32 countries.
CM345 PTY 09:48 – 13:40 PVR : CM346 PVR 14:43 – 20:07 PTY
---
EMBRATUR- THE LONDON CAIPIRINHA FESTIVAL IS BACK! The 2nd edition will kick off on 5 July with a travel trade event aimed at travel agents at the Embassy of Brazil, followed by a 10-Day Caipirinha and Brazilian Gastronomy Competition (6 to 15 July) with bars and restaurants being voted by consumers in various categories (www.londoncaipfest.co.uk). If you are interested to attend the opening event please contact rsvp@vbrata.org.uk – Don't miss the chance to promote Brazil! #londoncaipfest
---
Iberia Celebrating 50 years flying to Ecuador. This year we are celebrating 50 years flying to Ecuador. We fly six times per week to Quito, offering about 225,00 seats annually. Starting from this April, we also added our new Premium Economy Cabin to Quito, giving our customers more choice and comfort.
---
International water charity Just a Drop has won bronze at the Charity Film Awards for its film 'What We Do', awarded in the category of Best Film for charities with a turnover of £500,001 – £5,000,000. 'What We Do' was created by Inspired Films to illustrate the impact of Just a Drop's work in bringing safe water, sanitation and hygiene programmes to communities across the world; which increase health, education, safety, income, and empower people to lift themselves out of poverty.
---
Opening 10th Sept 2018, Chablé Maroma is located on the pristine beach of Maroma, 35 minutes from Cancun Airport in the Riviera Maya, Mexico. Featuring 70 villas with private swimming pools and moon showers, resort will include 650 feet of beach front, as well as a beach yoga pavilion, a 17,000 sq. foot spa with eight treatment rooms, and three restaurants. Special opening rates available, contact Kurtzahlers for details. jo@kurtzahlers.com
---
Network GSA Ltd: LC Peru records over 1M passengers in 2017 LC Peru operates 12 routes within Peru, including some most airlines do not fly to. Tingo Maria, a city on the Huallaga River, in Central Peru, and gateway to the biodiverse Tingo Maria National Park. Andahuaylas, capital of Andahuaylas province. Huaraz, capital of the Ancash region, home to the Huarascan National Park, which includes Peru's highest mountain, Huarascan.
---
One Ocean Expeditions announces photography cruise to Central America onboard RCGS Resolute. Embarking April 2019, RCGS Resolute sails for Costa Rica & the Panama Canal to explore endless beaches, exotic rainforests, tangled mangroves and coral reefs. Home to 6% of the world's biodiversity, Costa Rica is a dream location for amateur and professional photographers, as well as wildlife watchers. Triple cabins from US$3,995pp and twin cabins from US$5,295.00pp, both en-suite.
---
NEWS FROM THE REGION
---
REGION-WIDE
Pure Central America – Astonishing hotels of Central America The richness of Central America is reflected in the amazing hotels found throughout the region. We know the right choice of hotel can make a difference, so we offer the best accommodation for all tastes and budgets. From ancient colonial mansions to jungle lodges, old haciendas and secluded beach resorts, we know them all! www.pure.tours
---
BOLIVIA
Crillon Tours: MADIDI National Park -northeast of La Paz- with an area of 19,000 km2 is the most diverse protected area in the world and one of the jewels of biodiversity on the planet, reported CNN and New York Times. MADIDI is almost unexplored, crossed by wild rivers and exotic animals running & flying freely. CRILLON TOURS is launching appealing programs in the area and surprising new products, expanding their offer in UYUNI and LA PAZ. www.titicaca.com www.uyuni.travel
---
CHILE
KMS Travel Chile presents a new category of Adventure Programs to bring people closer to nature, culture and landscapes, through outdoor sports. Including the "Open Water Swimming Program in Chile" – Puerto Varas. The program offers daily swimming in beautiful lakes, surrounded by volcanoes,rivers and magnificent scenery, along with visits to natural and cultural spots. Click here for details.
---
Protours Chile NEW Photography Tour Circuit "Frame Your Memories" (2 departures September / April – max 8 passengers): Get your flashes ready for this 13-day adventure that will take you to some of the most well-hidden and picturesque places of Chile and part of Argentina. The sites you visit will be postcard ready and a guide who has been trained in the field will be available to assist you. Details available with Protours travel consultant.
---
COLOMBIA
Colombian Journeys Bioxury is a hotel inspired by elegance within a natural environment. Located close to exclusive shopping centers, boutiques, green areas and renowned restaurants. It is 30 minutes away from the airport. It has 94 elegantly decorated rooms and equipped with minibar, flat-screen TV and Wi-Fi. The hotel has 2 restaurants, 2 bars on the terrace, gym with personal trainer, laundry, room service and in-room massage service. More information at marketing@colombianjourneys.com
---
COSTA RICA
Travel Pioneers The Unsung Caribbean: Green Season is upon us from June to October and we´ll zoom in to Costa Rica´s Caribbean, home to some of the most ecologically diverse land in the world. We love Cahuita NP for how calm and intrigued we felt while idling about. Relaxed enough to spot one of our favorite creatures, the sloths and green macaws. Famous for the easy to spot coral reefs found just off the beach.
---
ECUADOR/GALAPAGOS
Emergency Health insurance + hotel reservation will be required to enter the Galapagos, starting in August 2018. Travellers to the Enchanted Islands, will be required to have health insurance that includes air/marine emergency transportation in between islands and from the islands to mainland Ecuador. If their insurance does not include this coverage, they must purchase an additional insurance in Ecuador. Passengers will also need to present Galapagos hotel or cruise boat reservations in order to enter the islands. (Source: Casa Natura Galapagos Lodge)
---
Andean Travel Company It's not too early to book a Galapagos cruise for 2019. Customers can now take advantage of Andean Travel Company's special early bird prices to ensure the best deals on our exclusive selection of yachts. Please send an email to marketing2@andeantc.com or contact your sales manager to find out the best deals. Offer valid until 30th of June 2018.
---
Casa Natura Galapagos Lodge offers new destination in Galapagos In an effort to provide more travel options in the Galapagos for its guests, Casa Natura Galapagos Lodge expands to include San Cristobal island in its Island Hopping packages. Visiting 2 of the most amazing islands in the Galapagos (Santa Cruz and San Cristobal) on the same trip is now possible. Click here for more details. or contact ecolodge@casanaturahotel.com
---
Ecuador a Paradise for birdwatching: With about 1500 species of birds in Ecuador. Geo Reisen has specially designed tours for bird lovers; those surround the different regions of Ecuador, where visitors can experience the lifestyle of several species of birds, their colors and sizes that distinguish them and makes them unique in a small country with many charms to discover.
---
Neotropic Expeditions shares the ultimate way to customize trips for Colombia, Ecuador and Galapagos through a curated sensorial experiences menu. Be able to tailor your guests' itinerary with creativity and uniqueness by mixing and matching our hand-picked family, food lover, adventure seeker, culture explorer and community experiences in each destination. Use our suggested main destination programs as a core, to build upon. Add-on experiences to integrate perfectly into each destination.
---
FALKLAND ISLANDS
International Tours & Travel Ltd (Falklands Travel) PENGUINS BY HELICOPTER … Whilst fellow travellers take a lengthy off-road drive why not travel in style with just a 20-minute flight. From November, be collected from your accommodation, take a scenic flight before having at least one hour at Volunteer Point, seeing three species of penguins including kings. A definite for those cramming three weeks of wildlife into one, or if on a whistle-stop trip to the Falklands! falklandsdesk.itt@horizon.co.fk
---
GUATEMALA
Albee Adventures http://albeeadventures.com/ Dive into the Mayan culture in Guatemala, be amazed by the turquoise waters while kayaking on Lake Atitlan, discover the local culture, textiles, and Mayan villages. Admire the beautiful landscapes of this mystical lake surrounded by volcanoes. Then, at dawn, explore the Mayan site of Tikal and gaze at the unforgettable sunrise. An experience of a lifetime.
---
Maya Trails – Guatemala/Belize/Honduras Where can you trek an active volcano, have an amazing picnic lunch, then roast marshmallows in the volcano itself for dessert? Guatemala! Maya Trails Pacaya Volcano Trek is fun for the whole family. Pacaya – the most visited volcano in the country is easily accessible from Guatemala City or Antigua. At a height of 2,500m, the moderate fitness level walk takes around 2.5 hrs from the base. Contact for more info info@mayatrails.com.gt
---
GUYANA
Wilderness Explorers: Our annual Guyana (and Dominica) Evening is on 15th August at the Dominica High Commission in London.
Tony will be giving a talk on the 18th August at the British Birdwatching Fair.
We then take our annual fam trip from the 7th – 23rd September to the 3 Guianas.
For details on any of the above or the new edition of the Bradt Guide to Guyana which Claire has just updated, contact claire@wilderness-explorers.com.
---
MEXICO
Native Trails regrets to inform that one of Mexico's greatest attractions, El Chepe, will change its schedule. The high-class train El Chepe Express, has been introduced which takes daily tours but only stops at four stations instead of the usual 12. El Chepe Regional will continue its stops but reduced its tours per direction to three days per week. For newly composed itineraries contact us at annika.behle@nativetrails.de
---
PERU
Inca Rail introduces 'The Private' train carriage. Groups of up to eight can now exclusively hire an entire luxury train carriage for the journey to Machu Picchu. Inca Rail recently introduced The Private, a refurbished parlour car designed with its own bar, open balcony, lounge seating, upholstered armchairs and dining tables placed next to wide, UV protected windows. Operating between Ollantaytambo and Machu Picchu, The Private comes with two butlers and a chef.
---
Viajes Pacifico: Chachapoyas invites you to contemplate the Kuélap Fortress, thanks to the first cable car system in Peru. Immerse yourself in the Gocta Waterfall, its 771 metre height will amaze you; discover the mystery of the Sarcophagus of Karajía, the Mausoleums of Revash and observe the 200 mummies at the Leymebamba Museum. Complete your experience at Casa Hacienda Achamaqui, a space focused on relaxation, connection with biodiversity and culture appreciation. Click here for details.
---
The next Members' Newsletter will be emailed to members at the beginning of July.
The deadline for news is 29th June.
Please contact info@lata.travel if you need any more information.