NEW MEMBERS
---
NEWS FROM LATA FOUNDATION
THE LATA FOUNDATION COMMITS TO SUPPORTING EIGHT CHARITABLE PROJECTS THROUGHOUT 2022
LATA's charity arm, the LATA Foundation has confirmed its commitment to supporting eight charitable projects throughout 2022, across eight countries.
The projects (listed below) are predominantly focused around education, community empowerment and poverty relief. Typically projects are selected in popular tourism areas to enable the travel community to give back to these regions.
El Rio Foundation, Colombia
Condor Trust, Ecuador
Healing Venezuela
Fundacion Calicanto, Panama
Abriendo Mentes, Costa Rica
Xtraordinary Women, Nicaragua
Friends of Alalay, Bolivia
Vidancar, Brazil
More details on each project will soon be released but the LATA Foundation hopes that now travel is bouncing back, more companies will be able to help with fundraising efforts to be able to grow the support and assistance in Latin America in areas where it is most needed.
---
NEWS FROM UK MEMBERS
tranquilico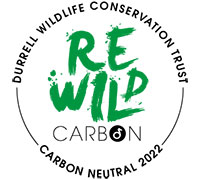 We are delighted to announce that we continue to be Carbon Neutral during 2022 through our partnership with the Durrell Wildlife Foundation and their re-wild programme in the North Atlantic Brazilian rainforest.
As a LATA business associate supporting a project in Latin America we hope you all approve.
As travel once again gets back on its feet we look forward to working with you on your health, safety & crisis management needs.
Just a reminder to Tour Operators – as a LATA member you have access to Latin America non-accommodation safety data via our Global Google Drive – just e-mail us at safety@tranquilico.com for access.
DMC's can complete an assessment and have their results displayed on our system for operators too.
#staysafe
---
REGION-WIDE
Furlong Incoming

New DMC in Uruguay!
Furlong Incoming is very happy to announce that on February 1st, we started operations and launched our own office in Uruguay, leaded by professionals with vast experience in the field.
Our expertise and know-how can help you create remarkable tailor-made experiences for UK travellers across Uruguay, as well as multi-country itineraries combining Argentina as well.
For more information, please contact Andrea Cambón: acambon@furlongincoming.com.uy
---
Vapues Travel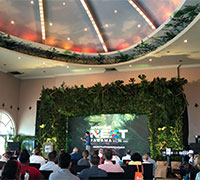 Vapues Travel have been working with the Travel Trade for over 20 years, providing high quality services and innovative products.
We offer solid ground support, in-depth local knowledge, competitive rates and fast, detailed travel proposals, so you can feel confident that your Nicaragua and Panama bookings are in safe hands.
As the world slowly begins to recover and adjust to the effects of Covid-19, we have confirmed participation for the following travel trade events: Emotions (Buenos Aires), LATA Expo (London) and Remote Latin America (Cafayate).
We are looking forward to seeing our dear friends and colleagues again!
---
Say Hueque Journeys
Argentina & Chile Updated Travel Requirements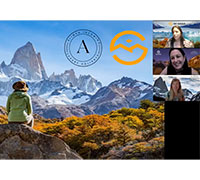 Say Hueque & Aliwen Incoming are proud to have launched two successful webinars to inform about what to expect when traveling to Argentina & Chile, going through the current requirements for both countries and clearing up all the doubts.
This webinar will be repeated on March 17th with the latest entry requirements. To register and for further information please contact us at journeys@sayhueque.com.
"We would love to have you on the journey!"
https://sayhueque.com/ | https://aliwenincoming.com/
---
ANTARCTICA
Antarctica21
Antarctica21 offers Flexible Booking Packages for the 2023-24 Air-Cruise Season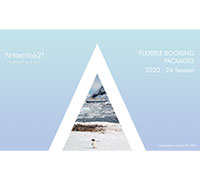 Two Flexible Booking Packages are available for purchase for those guests who wish to add flexibility and peace of mind to their reservations for the 2023-24 Air-Cruise Season.
These optional, non-commissionable packages provide our guests with the ability to change their reservation without incurring any penalty or to cancel for any reason while receiving a full refund.
For more information, please contact nkrumrey@antarctica21.com
---
ARGENTINA
Estancia Los Potreros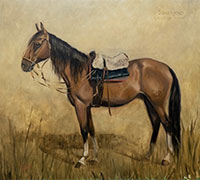 Estancia Los Potreros is and will forever be a working cattle estancia, with beautiful individual guest rooms, fine food and some of the best wines.
For the last two weeks we have hosted Madeleine Bunbury, a well-known equine artist and Georgina Preston, a lifestyle photographer.
This is just the beginning of a series of exciting visits by talented individuals.
To find out more about us, click HERE.
---
ATP DMC – ARGENTINA TRAVEL PARTNERS
Trendy Buenos Aires Rooftops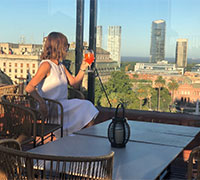 From trendy to casual, Buenos Aires rooftop bars are a booming trend. With unbeatable locations on terraces or the top floor of iconic buildings, high-rise bars, better known as rooftops or sky bars, offer unique panoramic views, surrounded by good music, original cocktails, and a varied food offer.
It is an excellent option to eat and drink outdoors and enjoy the city from a different angle, and a very original and fun alternative to include as a stop during a visit to the city, to organize a cocktail before dinner or other activities such as wine tastings, cooking and art classes, yerba mate tastings, etc.
Here we share a selection of the rooftops we like the most: https://sites.google.com/view/buenos-aires-rooftop-bars/p%C3%A1gina-principal
---
CHILE
travelArt
Wine of the desert – A unique wine tourism alternative in the north of Chile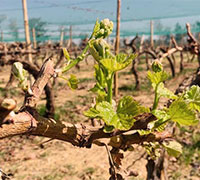 About 97 kilometres from Iquique, on the wine route of the Tarapacá region, there is a winery where the only 100% registered Chilean grape variety, Tamarugal, is grown, from which the Vino del Desierto (Desert Wine) is made.
It is an interesting attraction that offers a unique experience where visitors can see the history, winery, vineyards and gastronomy with local identity.
Not only do visitors experience the unique feature of a vineyard and winery in the middle of the desert, but they can also taste the regional gastronomy combined with the wines of the desert.
Wines made from the Tamarugal (white wine) and Gros Colman (red wine) grape varieties are served. Both grape varieties are grown exclusively in the Tarapacá region.
For more information: info@travelart.com | www.travelart.com
---
The Singular Patagonia
The Singular Patagonia has launched a brand-new Exceptional Patagonia Experience for guests looking to explore the local area.
Acting as the gateway to discovering the most wonderful sites in Patagonia, the property is perfect for travelers interested in enjoying expeditions to glaciers, navigating the fjords and exploring Puerto Natales.
This new experience includes one night at The Singular Patagonia, access to the property's SPA facilities, breakfast and the use of the hotel's bicycles to travel around Puerto Natales. During their stay, travellers can also take advantage of The Singular Patagonia's extensive excursion offerings, including visiting Torres del Paine National Park.
---
COLOMBIA
Colombian Journeys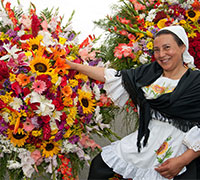 The Flower Fair is one of the flagship events of Medellín. On these dates "the city of eternal spring" flourishes in all its splendour; its balconies, terraces, gardens and posters are flooded with flowers, music and colours typical of the "paisa" culture.
The most representative event is the "Silleteros" Parade which represents the end of slavery when instead of flowers, slaves carried lords on their backs up steep hills.
More than 500 "silleteros" participate in the fair, a term used for farmers who make beautiful flower arrangements on a "silleta" (a chair-like contraption for carrying flowers on a person's back) using multiple flower varieties such as pinocchios, lilies, carnations, agapanthus, sunflowers, wedding veil, orchids, among others.
Confirmed dates for 2022: July 29th to August 7th. Information about packages at marketing@colombianjourneys.net
---
Colombia57
The World's two oldest airlines connecting the UK and Colombia
The UK and Colombia are once again reconnecting with Avianca restarting their direct overnight flights on the Bogotá to London route with the first departure from London Heathrow on March 27th.
Additionally KLM have recommenced their service from Amsterdam to Bogotá with the return leg operating from Cartagena de Indias to Amsterdam, another interesting option for UK based clients.
For more information on partnering with Colombia57 please contact us at info@colombia57.com
---
COSTA RICA
Travel Excellence
New Boutique Hotel in Monteverde
Ocotea Boutique Hotel is the new outstanding lodging option in Monteverde, located right in the heart of Santa Elena, nearby shops and a good variety of restaurants.
It is a family-run property which offers high-quality, warm personalized service, and stunning views of the mountains, the cloud forest and the Nicoya Gulf.
This modern property is for guests over 10 years of age, and consists of two buildings with a total of 21 rooms including top amenities and services designed to provide comfort and relaxation.
Contact us at mercadeo@te.cr for more information
---
ECUADOR/GALAPAGOS
ProEcuador
Great news from Ecuador! For us, it is very important to welcome your travelers and make them feel like home.
For this reason, the entry requirements to Ecuador are now even more flexible. Travellers older than 3 years must present either:
Vaccination certificate with its QR code (two doses and at least 14 days validity), or
A negative RT-PCR test performed up to 72 hours prior to departure.
Ecuador is ready to welcome visitors from all around the world!
More details in https://ecuador.travel/en/travel-safe-in-ecuador-2/
---
Montemar Eco Luxury Villas
Environmental and Social Responsibility at Montemar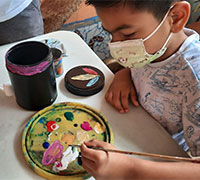 As an active member of the local community in Galapagos, Montemar is fully involved with sustainable initiatives, such as 'Huertos Comunitarios', a joint venture with Frente Insular, a community movement that runs social and environmental initiatives in Puerto Ayora.
Montemar also supports recycling art with 'Manitos en Acción'; 'Jóvenes en Acción', devoted to education and outdoor activities for teenagers; and, 'Canastas Hope', baskets of vegetables, fruits and basic foods for families in need.
These projects use art, organic agriculture and marine exploration as means to create interconnectedness and educate about sustainability and responsibility.
For info/bookings, contact your supplier or us at ventas@montemar.ec
---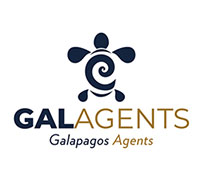 Galagents
Be Part of our Galapagos network
Dear Colleagues,
You now have the chance to grow your products' portfolio, partner up with the real local experts and increase your profits.
If you want to be part of this network follow the link.
---
Tropic Ecuador
FAM Opportunity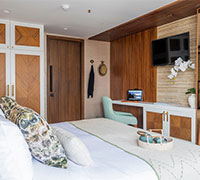 We are pleased to have been chosen by Kontiki to partner with them on a FAM opportunity to experience the Ichik Expedition on the newly launched M/Y Kontiki Wayra, a luxury 128-foot-long boutique yacht.
This brand new 5-day/4-night adventure is focused on conscious travel and immersive experiences, both underwater and on land.
We will discover one of Ecuador's least explored areas along the coast, taking advantage of the opportunity to experience our country's cultural traditions and rich biodiversity while giving back to our communities.
Spaces are limited – register your interest for one of the four departures HERE.
---
Anakonda Amazon Cruises
The Ecuadorian Amazon – Down a timeless river and into a hiddfen world of magic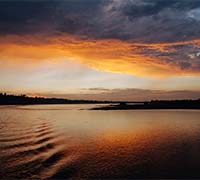 The Amazon River itself, the greatest River on earth, was discovered from within Ecuador. On February 12, 1542, Captain Francisco de Orellana, a Spanish Conquistador, began travelling down Ecuador's Napo River leading to this powerful river, becoming the first European to discover the Ecuadorian Amazon rainforest.
While the search for the legendary city of El Dorado, or the "City of Gold", ultimately proved to be a failure, this great discovery made it worth the effort, and since then, the Ecuadorian Rainforest has been revealed as a true Amazonian gem.
---
EQ TOURING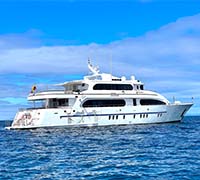 Luxury yacht Grand Daphne has availability for summer cruises during June, July and August.
Contact us for information in our special deals and available departures and have your clients experience of a brand new luxury yacht in Galapagos with the company of a highly trained crew and a top Naturalis Guide who will escort the group from beginning to end.
Contact us at eqtouring@eqtouring.info
---
EL SALVADOR
Embassy of El Salvador
Boards & Art debuts in El Salvador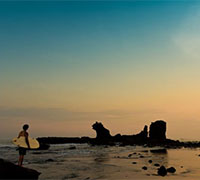 For the first time ever, Surf City El Salvador is ready to host Boards & Art. The most important artistry event of boards sports in Latin America arrives to La Libertad coast this February.
Thinking as a celebration for skate, surf, and street art culture, it is an itinerant festival that has been held in South America for more than one decade.
All the artistic performances will on site, meaning that attendants will enjoy the creative process of each artist in real time. Small business and crafted products brands will participate also, giving the opportunity to take away a souvenir for this relevant B&A edition.
---
GUATEMALA
Maya Trails
Glamping Location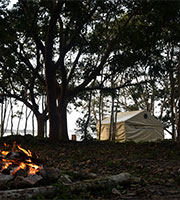 Yaxha glamping – Guatemala's Yaxha (pronounced 'yah-shah') gives travellers the chance to escape the modern world and delve into the history of an ancient civilization. Yaxha is an archeological site and ancient ceremonial center of Mayan civilization situated in the northeast of Peten and is a mixture of archeology and beautiful landscapes.
With more than 500 structures including 40 steles, 13 altars and 9 pyramids, the site is truly a marvel and should not be missed. Maya Trails guests have the chance to spend the night in the middle of the jungle wilderness in a luxurious private tent.
With delicious food, gorgeous surroundings and a dawn chorus of toucans and howler monkeys, your guests will be spoiled on this unforgettable adventure! www.mayatrails.com.gt | info@mayatrails.com.gt
---
MEXICO
Journey Mexico
A warm and positive hola from Mexico!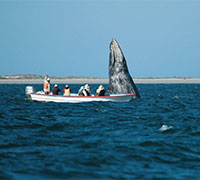 Wow, your nature-loving clients with a private journey will get to see the gray whales of Baja California Sur. The friendly creatures migrate to the warm waters of San Ignacio lagoon each winter for mating and calving season.
Kick off the experience with a private charter flight to the laguna's luxury camp, where guests will stay for 3 nights to enjoy the wonders of their natural surroundings.
Observers will get to take multiple boat trips out onto the water for close-up encounters with these amazingly social marine mammals.
For more information, please contact us.
---
PERU
PROMPERÚ
Peru, one of the most fascinating countries in the world to surf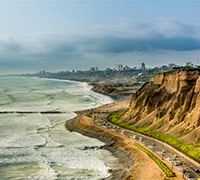 More than 2,000 km of Peruvian coastline have gained international relevance. This is because the prestigious travel guide, Lonely Planet, has placed Peru as one of the 10 most fascinating countries in the world to surf, also highlighting that it is home of the longest ocean wave in the world.
The article indicates that one of the most visited beaches is Máncora. Located in Piura – at kilometer 1165 of the Panamericana Norte-, it stands out for its great waves and warm climate.
Continuing in the northern region, is Los Organos. This beach – located just over two hours by car from the city of Piura –, has its best season for surfing between October and March.
---
Setours Handcrafted Journeys
Waqra Pukara, the horned fortress atop the Apurimac River Canyon that gives off a certain Machu Picchu-like air.
This somewhat unknown archaeological site is covered in ancient Incan ruins, made even more dramatic with the seemingly infinite cliffs that surround it. Situated 150km from Cusco en route to Puno, we recommend stopping by to experience the magic of this said to be astronomical observatory while it is still undiscovered by the touristic crowds.
On our recent visit to Waqra Pukara we brought a drone along for the ride so that we could truly capture the magnificent location from the skies that it set out to observe.
Find more information here: https://www.setours.com/move-over-machu-picchu-make-room-for-waqra-pukara/
---
Amazonas Explorer
Grand Re-Opening of the Land Borders – Almost Without a Hitch
After a long and tiresome two years of them remaining firmly shut, the land borders of Ecuador – Peru – Bolivia have reopened… after a temporary setback involving a lost gate-key between Peru and Bolivia!
Those wishing to cross by land can now do so, at the moment with the conditional of being fully vaccinated.
Those travelling with a PCR test will still have to fly into each neighboring country. You can check out up-to-date information using our blog, listed here. Happy Travels!
---
LimaTours
MICE travels to Peru are once again a reality!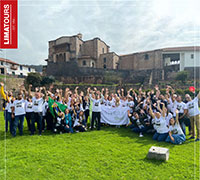 MICE travel is making their way back in today's travels to Peru. We recently received a group of 82 members from the doTerra team, who came straight from Brazil, with our partners from TSB.
Their main objective was to start their year off recharging with the energy of Cusco, the Sacred Valley and of course, the majestic Machu Picchu.
We are more than ready to welcome your teams back into our destination. Visit our website to find out more about our products, or take a look at our programs.
For further information, please contact us via sales@limatours.com.pe
---
Condor Travel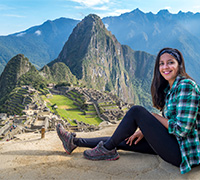 Travelling represents something different to each person. Having that in mind, we present our themed fixed departures 2022 to Peru, intended to offer passengers a unique approach to the destination, custom-designed to fit their interests and motivations.
"True Wellness" is our 8-day program with activities that balance physical and mental health with a positive impact on what surrounds passengers on destination: people and environment.
"Female travellers" is a 7-day itinerary crafted for women that highlight the work of local female leaders and entrepreneurs in the tourism industry, leaving a mark and improving their quality of life.
You can find more details of these departures here: https://cutt.ly/xPzD9Oc