NEWS FROM UK MEMBERS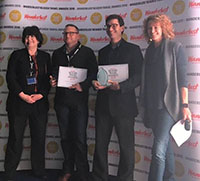 Llama Travel

Llama Travel is delighted to be awarded the joint winner of the 2019 Wanderlust Readers' Awards in the Top Tour Operator category, for the second year running. We'd like to thank everyone who voted for us as well as those who've shown their support over the years.
---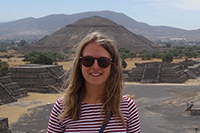 Americas
Americas is delighted to announce that Katrina Mowbray has joined our team. We look forward to introducing her to you all soon.
---
Talking Stick Marketing
Swiss Travel Costa Rica and Latin Trails will be attending ITB Berlin 6th – 10th March. Be sure to make an appointment with Claudia to hear about all the latest hotel openings in Costa Rica, as well as their new Carbon Neutral certification. Latin Trails are on hand to share all the latest updates from Ecuador & Galapagos, including from the Illa Experience Hotel which recently celebrated its 1st birthday!
---
AVIATION NEWS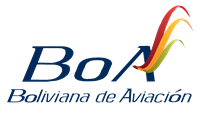 Boliviana
BOA have promotional fares from London via Madrid to Santa Cruz and Cochabamba for travel from 01 March to 30 June 2019 inclusive. Fares start from GBP730 and on sale until 30 April. BOA operate 3 times a week from Madrid to Santa Cruz and once a week to Cochabamba. BOA also operate domestic flights to many popular destinations like Sucre and Uyuni. Check your GDS for further details.
Contact boliviana@networkgsa.com for information
---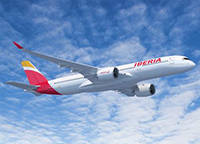 Iberia
Iberia has just received delivery of its 3rd A350-900 XWB and customers will also be able to experience it on the London Heathrow – Madrid route in the next few weeks. With lower emissions, more space and more comfort, the aircraft will offer 31 full lie flat Business seats, 24 Premium Economy seats and 293 Economy seats.
---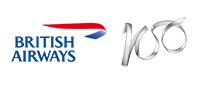 British Airways
British Airways celebrates its centenary in 2019 with a £6.5bn investment for our customers including extensive cabin improvements across all long haul cabins, further enhancements in lounges and catering and the long awaited new Club World seat. Look out for special offers and events over the next few months!
---
Copa Airlines
Copa Airlines is pleased to announce the start of operations in Paramaribo, capital of Suriname, from July 6. The service operates with two weekly flights on Wednesdays and Saturdays, departing Panama at 09:17hs and arriving at Paramaribo International Airport at 15.45hs. The return flight will depart the same day from Paramaribo at 17:52hs, arriving in Panama at 20:28hs. The route is operated by a Boeing 737-700 with capacity for 12 seats in Business Class and 112 in Economy.
Contact info@copaair.eu for information
---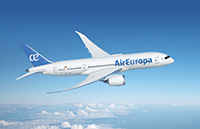 Air Europa
Starting in June 2019, Latin American specialist Air Europa will operate the first direct flights from Europe to Iguazu in Argentina, home of the spectacular Iguazu Falls.
Accessible from London Gatwick via Madrid, the twice-weekly flight opens up access to the spectacular 1.7-mile-long waterfall system, one of the world's great natural wonders. The magnificent spectacle can be visited all year round, and makes a memorable trip for nature lovers.
---
REGION-WIDE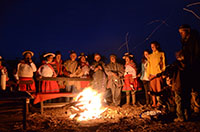 Condor Travel
WEAVING STORIES: Connect with the essence of South America
Interpreting Andean constellations, enjoying the endless energy of Rio or exploring the wildlife routes of Galapagos are some of the experiences collected by Weaving Stories.
Each program is aim to portray and share the richness of South America. Passengers will be leaded by hosts that will connect them with the genuine essence of their culture. A totally diferent and real way of exploring a destination, where the involvement goes beyond the place and onto the people and the activities that have forged the cultural mixture that have turned the region special.
For further information, please contact us at: receptivo-lima@condortravel.com
---
ARGENTINA
Arrivals of British tourists to Argentina increased 10 per cent in 2018
With almost 7 million international tourists, receptive tourism in Argentina showed positive growth in 2018. In relation to this, United Kingdom was one of the most important markets, with 102,107 arrivals. This was 10.3% more compared to 2017.
The refund of VAT for accommodation and a better air connectivity, such as the Norwegian flight between London and Buenos Aires, were some of the reasons that allowed the optimal results.
www.argentina.gob.ar/turismo
---
Say Hueque
We are extremely proud to celebrate this year our 20th anniversary. Rafa Mayer founded Say Hueque in 1999 – two decades later his company is a team of 60 dedicated professionals who share his love for local culture, his appreciation for amazing landscapes and his passion for helping people experience Argentina in a memorable way. We want to thank LATA for the support along the years and vote of confidence regarding the making of responsible and transformational tourism.
---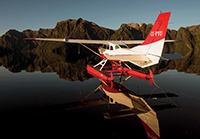 ALCHEMY DMC

Exclusive Hydroplane Flight – This is one of our signature experiences where your clients will get a bird's eye view of the exotic and remote landscapes of Patagonia. They will explore the wilderness of Pumalin backcountry from above, with low flying over the Andes mountains, turquoise lakes, waterfalls, fjords, glaciers and volcanoes, landing in a remote freshwater lake for morning or afternoon tea.
Learn more at: https://www.alchemydmc.com/exclusive-hydroplane-flight/
---
CHILE
Latitud 90

We have recently launched a list of new active excursions in San Pedro de Atacama. We're very excited about the ideas that were brought onto the table and the feedback that we have received. These excursions are planned to get the adventurers, mostly the soft kind but some hardcore ones as well, out and away from the busiest places in Atacama. A bit of work and exercise to appreciate the already amazing desert from a different angle is there for you.
Contact productos@latitud90.com for information
---
Remota Patagonia Lodge

Remota Patagonia Lodge maintains its promotion Free Additional Night, offering clients to extend their stay and experience in Patagonia at a very convenient price. The promotion is valid only for those guests who book an All-Inclusive Program of 3, 4, 5 or 6 nights, who are offered an additional night free of charge. This promotion only applies to stays during March, April and May 2019.
For more information, plese contact saleseuro@remota.net
---
COLOMBIA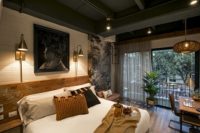 Colombian Journeys
A brand-new boutique hotel with a unique design inspired by botany has opened in Medellin. The hotel offers 22 rooms with desk, LCD TV, Wi-Fi, air conditioning, safe, a broad range of amenities and an open bathroom. The hotel has a solarium, elevator, 24-hour front desk, laundry service and luggage storage. People under 18 years old are not allowed. Note that the restaurant is not managed by the hotel and currently does not offer breakfast.
Contact marketing@colombianjourneys.com for information.
---
COSTA RICA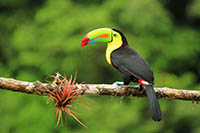 Aurora Expeditions
Aurora Expeditions, a world leader in polar cruising launches its 2020/21 program aboard their NEW ship, Greg Mortimer, one of the most advanced expedition ships in the world. The new program includes a diverse mix of exciting itineraries and destinations, including Costa Rica & the Panama Canal. The voyage will explore some of the most biodiverse rainforests in Costa Rica. You will experience the Pacific Coast of Costa Rica, filled with remote national parks and biological reserves brimming with colourful wildlife. You will also discover Panama City before traversing the iconic Panama Canal on a guaranteed daylight crossing to the Caribbean Sea.
Contact craig@auroraexpeditions.co.uk or visit www.auroraexpeditions.co.uk for information.
---
CUBA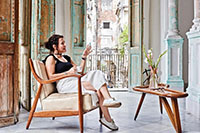 Cuba Private Travel
A few steps from the Capitol building, Ser Habiramy is an art project created by the Cuban artist Sandra Pérez Lozano and run by the curator Sachie Hernández. The 1905 building is undergoing a stunning renovation, the first stage of which was the opening of an exquisite, light-filled by-appointment gallery, focusing on emerging art.
---
ECUADOR/GALAPAGOS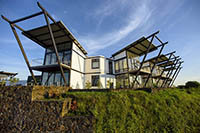 Pikaia Lodge
Take advantage of Early Bird promotion at Pikaia Lodge, Galapagos Islands…
A 15% discount is offered on bookings at Pikaia Lodge, in the Galapagos Islands, made before 20th February 2019. This applies to visits during July and August 2019 and is valid on all packages. The offer also includes a complimentary 30 minute massage per person, once per stay.
Contact jo@hiddendoorwaystravel.com for information
---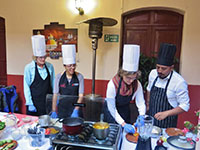 GeoReisen
GeoReisen is proud to be part of the ITB Berlin 2019! We'll be in Pavilion 23A, stand #111, in the "Latin America Encounter" association, as well as having a booth in the Ecuadorian stand section.
This year we'll be bringing new products to our clients, promoting specialized excursions such as: Biking, Birdwatching, Gastronomy, etc. visiting all of the most important destinations for each of these specialty programs.
www.georeisen-ecuador.com
---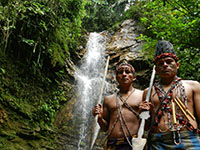 Latventure
As varied as the landscapes of the Andes Mountains and the rainforest around the equator line, so diverse are the people you will be encountering here. From the Otavaleños in the North to the Quichua in the rainforest, and finally to the Kichwa in the central Andes. With this 12-day group trip, your clients will get to know the high diversity of Ecuador with all its highlights followed by a 5-day Galapagos group extension exploring the unique wildlife.
www.latventure.com/en/our-service/roundtrips/group-travel-ecuador/
---
GUATEMALA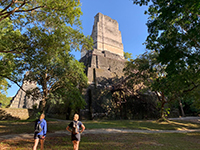 Maya Trails
Your guests can experience the "Heart of the Mayan World" at Tikal in Guatemala, ceremonial center of the ancient Maya civilization. Dating from the Late Classic period, Tikal contains some of the most fascinating archaeological remains of the ancient Mayas. It's a jungle gym for all types of visitors, from families, to couples, to small groups.
Find our more at www.mayatrails.com.gt or inquire at info@mayatrails.com.gt
---
MEXICO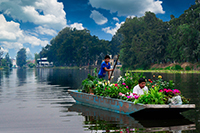 Journey Mexico
New Conservation Project Outside Mexico City – With Mexico City growing in popularity year on year, and sustainable travel being at the forefront of many travelers holiday plans, Journey Mexico has created a trip that allows guests to explore this diverse city in a different light. Working with a community of farmers on the Chinampas in back channels of Xochimilco. Guests will enjoy bird watching and learn all about the intriguing Axolotl salamander, a rare amphibian that is on the verge of extinction, and support the conservation efforts for the last remaining floating organic gardens.
For information see: https://www.journeymexico.com/itinerary/axolotls-and-chinampas-in-xochimilco
---
NICARAGUA
The Nicaraguan Tourism Board strategically promotes travel to the most unique and original destination in the Americas after the Foreign & Commonwealth Office lifted its travel advice, by launching 20 new tourists routes and upgrading tourist infrastructure across the country, in addition to key partnerships with TripAdvisor, Expedia, American Airlines, Air Europa and Avianca, and exhibiting at travel shows in London, Berlin, Madrid, Milan, the US and Taiwan, already generating an important increase in tourists and cruise ships arrivals
---
PANAMA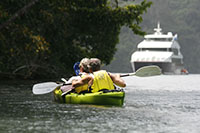 EcoCircuitos Panama
Discover the natural and cultural beauty of the Atlantic and Pacific of Panama on board the Discovery Expedition Cruise. This journey will take you to the Darien National Park in search of amazing wildlife and for a cultural exchange with one of our distinct indigenous groups: the Emberas. We will navigate the Pearl Island Archipelago and will have the unique experience of crossing the renowned Panama Canal.
Contact annie@ecocircuitos.com for details
---
PERU
Amazonas Explorer
Are you putting your clients at risk by using unlicensed operators for adventure in Peru? An official adventure licensing scheme was introduced last year, with individual licences for each activity. As yet, there is no licence for trekking. So far only 15 companies hold any sort of licence. Amazonas Explorer holds licences for both rafting and biking.
Contact info@amazonas-explorer.com to ensure your clients travel safely.