REGION-WIDE
Vapues
Thank you LATA Community!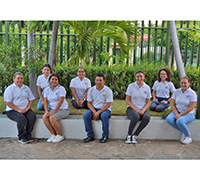 We have always believed that our people and their local knowledge are our biggest asset, and over the years we've built a team of skilled professionals who know everything Nicaragua and Panama have to offer. Passionate, creative and with an eye for the little details which can make a vacation truly special, our loyal team are the heartbeat of Vapues Travel.
Taking advantage of this last newsletter of the year, we would like to sincerely thank you for your cooperation in this year of post-pandemic travel revival. Thanks to you we were all able to get back to work, and grow again as a team, professionally and personally. Wishing you and your family lovely holidays and a happy 2023!
---
Senderos
Partner news

Senderos Partner TIERRA PATAGONIA is one of only 4 hotels in Latin America to feature in Condenast Traveller's prestigious Gold List 2023 of the best hotels in the world.
Our partner MOUNTAIN LODGES OF PERU has partnered with the NGO Trekking for Kids on a new project which includes the funding and construction of a ceramics workshop in the remote mountain community of Huacahuasi. The project aims to improve the quality of life in the communities where Mountain Lodges of Peru operates. Read more or watch the video.
ANAKONDA AMAZON CRUISES has new promotions with discounts of up to 50% for departures till the end of March, Summer 2023 Specials and an Early Monkey offer of up to 20% discount for 2024. See details HERE.
Contact: info@senderos.co.uk
---
UK MEMBERS
tranquilico.com
Festive wishes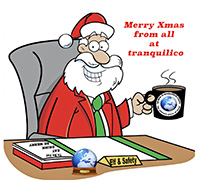 Wishing all LATA members a calm, safe and healthy festive session and a busy and profitable 2023.
Thankyou for your support over the years and keep safety and crisis management front of mind
---
ANTARCTICA
Albatros Expeditions
New Appointment
Albatros Expeditions appoints expedition cruise expert Akvile Marozaite as their Business Development Manager for UK and Scandinavia to work with existing and new travel trade partners.
Get in touch with Akvile at akm@albatros-expeditions.com to discuss Antarctica and South America itineraries onboard our two brand new, purpose-built expedition cruise ships Ocean Victory and Ocean Albatros.
---
ARGENTINA
Say Hueque Argentina & Chile Journeys
OUR PLAN IS TO PLANT: We commit to plant 20K trees by Pachamama Day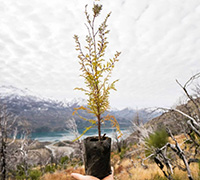 At Say Hueque, we've been putting reforestation at the heart of what we do. We are strongly convinced that this is the way to give back, uplift local communities, and restore biodiversity.
Over the past years, we've donated and planted 5,194 trees in Patagonia, and now we decided to go much bigger: WE COMMITTED TO PLANT 20,000 TREES by August 1st, 2023. The native trees (Coihues y cypresses) will be planted in the Rio Tigre basin, in Cholila, a small village at the foot of the Andes range, in the province of Chubut, Argentina.
Massive reforestation is urgent! It's on us to take action.
---
Furlong Incoming
Sustainability Report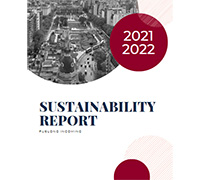 We are pleased to announce the launch of our second Sustainability Report, based on Travelife guidelines for the period 2021-2022. We are proud to share some of the actions we have carried out:
1. "Protejamos Bosques" program where for each reservation confirmed with us, 18 mts2 native forest in Argentina is protected.
2. We created webinars for our clients to present Argentina as a sustainable tourism destination.
3. We carry out awareness workshops for suppliers and local guides to raise awareness about respect for local communities, care for the environment, accessibility and diversity.
4. We started a tourism academy.
5. We evaluate the commitment of our suppliers when selecting them.
To access the full report send us an email to sales@furlongincoming.com.ar
---
ATP DMC – Argentina Travel Partners
Pristine Camps: Glamping in Salinas Grandes and now shortly in Iguazu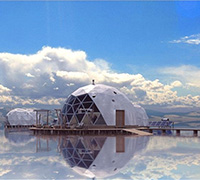 We visited Pristine Camp in Salinas Grandes this weekend and found it an amazing experience. Picture an expanse of blinding white, surrounded by mountains, and then 5 white domes jutting out yet blending in with the surroundings.
The silence at night is absolute. The stars infinitely bright. Fabulous food, impeccable and unobtrusive service, stunning ever-changing views one can't stop looking at. The whole camp is an intimate, private bubble where the cares of the world melt away for a while. Shortly they will be opening a camp in Iguazu too!
We can't wait to visit. Read more HERE
---
BOLIVIA
CRILLON TOURS S.A.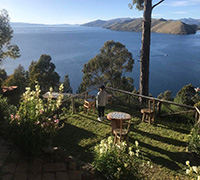 At the end of 2022, we want to thank our friends and colleagues for their understanding in difficult times, in this transition between the pandemic and recovered normality. We have had successes and mistakes, which, although they hurt, it has taught us to be more creative and empathetic with a world that has changed.
We have surprises waiting around the corner, because Bolivia is a Great Destination and CRILLON TOURS have the answers to the NEW tourists demands; open spaces in a dazzling nature, ancient living cultures, adventure, security, intelligent infrastructure and personalized service.! NOW IS WHEN!
Contact us as soon as possible…Merry Christmas and a Happy New Year.
www.uyuni.travel
---
CHILE
travelArt
TravelArt celebrates its 28th anniversary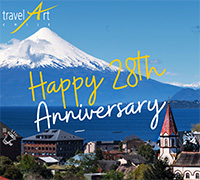 The end of the year 2022 marks the 28th anniversary of the company for us.
TravelArt's history began in the Chilean Lake District, in the city of Puerto Varas; From this first office we plan tailor-made trips with the aim of creating unique and unforgettable travel experiences in Chile.
The last few years have not been the easiest in the entire tourism industry, but we look to the future with confidence and hope and will continue to offer our guests beautiful experiences in Chile with lasting memories.
---
Hotel Las Majadas – member of Leading Hotels of the World
Product update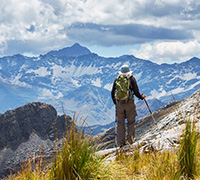 The Andes Mountains in western South America is one of the longest mountain ranges in the world and Hotel Las Majadas invites you to explore its trails and discover its mysteries. With excursions of different intensities and lengths, we will take you to the most remote corners of our beautiful mountains for quiet, a connection with nature and unforgettable moments.
End the day by relaxing in our Spa, in the shade of our centennial trees or enjoying dinner in our Sequoia Restaurant. Just 50 minutes from Santiago de Chile, Las Majadas is a unique place to enjoy nature, gastronomy, wine and local tourism.
---
Turavion
Lauca National Park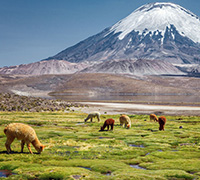 Lauca National Park covers an area of 137,883 hectares, protected by its status as a biosphere reserve. In this area, the visitor discovers unique flora and fauna at 3200 to 3800 metres above sea level. Alpacas, llamas, guanacos, vizcachas and numerous bird species are at home here.
Lauca National Park also has impressive volcanoes such as the Parinacota, Pomerape or Acotango volcanoes, all of which are about 6,000 metres above sea level. The famous cobalt-blue Lake Chungará is located about 54 km east of Putre. Along the lake are the Cotacotani lagoons and a number of wetlands with a diverse wildlife of more than 130 native species, including flamingos and wild ducks. There is the option of driving to the lake by car rental or joining an excursion that usually.
---
ALCHEMY DMC Argentina & Chile
Between The Valley and Stars with the ALCHEMISTS!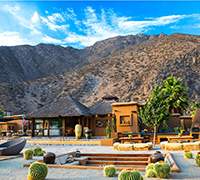 The Elqui Valley is one of the most essential basins in Chile, where the production of pisco, mysticism and astro- tourism stand out. In this place, we can find the beautiful Casa Molle Hotel. Casa Molle Villa & Golf invites you to discover the unique Elqui Valley, surrounded by the most unbeatable landscapes and warm climate, along with excellent service, all the comforts and the best gourmet experience in the region. It only takes 25 minutes from La Serena Airport to Casa Molle.
The property is on 17 hectares, offering various activities such as a golf course, baby football, outdoor sports circuits, outdoor pools, heated pools, hot tubs and a sauna. It has its own lagoon where guests can enjoy kayaking. Contact the ALCHEMISTS for more adventures in the valley!
---
COLOMBIA
Colombian Journeys

Travel guide to the Coffee Triangle by National Geographic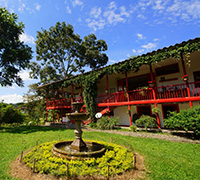 Visit the Colombian coffee region and the Cocora Valley, destinations that are part of the most unforgettable experiences in the country; and stay in the best accommodations in the region, recommended by the travel guide of National Geographic Magazine, including:
– Hacienda Venecia, a place of peace and tranquility for coffee lovers amidst the region's mountainous landscape.
– Hacienda Bambusa, an old restored farm, with diverse activities around nature, a beautiful and artistic design.
– The Hotel Sazagua, a boutique hotel with an elegant design, restaurant and Spa.
Access the complete guide HERE
---
COSTA RICA
Travel Excellence
New Junior Tree House
The 68 acres of rainforest bordering San Carlos river makes Maquenque Ecolodge the ideal place for nature lovers looking for great variety of flora and fauna.
Now, guests have a new room category to stay. Two Junior Tree Houses have been added with a nice design combining wood and glass and the unique feature of being built 14 meters high from the ground. Some amenities are: 2 queen size beds, sofa bed, hot water, ceiling fan and terrace.
Read more HERE and Travel Excellence´s team will be glad to provide details of this new lodging experience.
---
ECUADOR/GALAPAGOS
Montemar Eco Luxury Villas
What our clients say!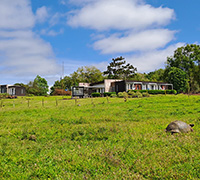 "You need to experience Montemar: Montemar is made up of beautiful landscape, amazing creatures, and wonderfully kind people. Their curation of our excursions was second to none and each day was better than the first. We were always welcomed back "home" after exploring with a special surprise and delicious meals. I truly miss being there in the solitude and beauty of the place. It's a must stay!" – https://www.tripadvisor.com/ShowUserReviews-g297532-d17620855-r872089360-Montemar_Eco_Luxury_Villas-Santa_Cruz_Galapagos_Islands.html
For info, contact ventas@montemar.ec , visit www.montemar.ec, or contact your local supplier.
---
Adventure Journeys
News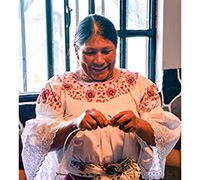 For 2023 Adventure Journeys has its focus based on the strategies proposed post pandemic, one of the main ones being the humanization of the brand, focusing on promoting and encouraging sustainable projects in different parts of Ecuador. Thus, several of our tours include a visit to "Sacha WarmiKuna" a project led by women, whose main motivation is to have an alternative to support and sustain their families, as well as to enhance the women's empowerment in the community.
Visitors can be part of a unique cultural experience,learning about the Pijal community's way of life, their customs and traditions, as well as their Andean cuisine with their special recipe to prepare local "Aji".
---
Anakonda Amazon Cruises
SUMMER HOLIDAYS SPECIAL OFFERS!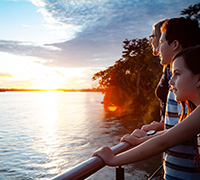 What better way for your guests to enjoy a summer vacation than on board our luxury boutique river cruise vessels? The natural Amazon rainforest surrounds and envelops us here, and the facilities onboard could not be more comfortable!
For this wonderful season, we include special benefits for bookings made by March 31, 2023, on all our summer departures from June to August 2023 on board the Anakonda and Manatee.
See special benefits HERE
You can also download our flyer HERE to promote this special summer offer to your clients.
Contact us for more information at info@anakondaamazoncruises.com
---
Exclusive Ecuador
Boutique Galapagos land tours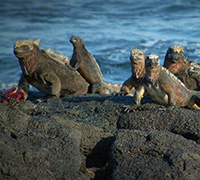 Exclusive Ecuador is proud to start 2023 with special departures in our boutique Galapagos land tours which visit the highlights of Galapagos while explorers enjoy their stays in boutique properties where service is at the highest level. Our Naturalist Guides who have years of experience leading luxury excursions mostly on private yachts are now part of our team and deliver an unbeatable travel experience for those who book one of these tours with us.
Explore our website www.ExclusiveEcuador.com or do not hesitate to contact us for more information at our email: information@ExclusiveEcuador.info
---
EL SALVADOR
Embassy of El Salvador
The Salvadorean Costa del Sol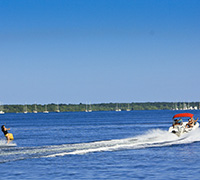 The beach Costa del Sol is a natural jewel located in the department of La Paz, in the central area of El Salvador.
The beach offers a perfect combination of attractions that make it a world-class beach destination. If you are looking for a place to enjoy the sun from sunrise to sunset, and an endless white sand beach, all types of accommodations, a wide selection of Salvadoran and international cuisine, and the additional attractions of being surrounded by an immense navigable estuary and waves to practice good surfing, this should be your choice.
This beach is surrounded by the immense Jaltepeque estuary, populated by intricate and impeccable mangroves, ideal for SUP, boating, sailing, fishing, and skiing, or to rent a small boat and have a nice ride out.
See HERE for more information.
---
GUYANA
Wilderness Explorers
News update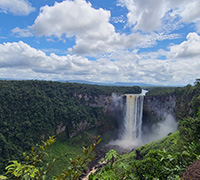 Wilderness Explorers is launching several new itineraries designed around the new BA flights which commence on 27 March 2023. Contact us for details of our scheduled Guyana Wildlife and Adventure Journey group tour as well as our Guyana Highlands Trekking Adventure which features 23 miles of hiking, 8 hours of rafting and three stunning waterfalls in the tepuis close to Mount Roraima.
2023 will bring many new hotels, immersive experiences and trips combining the three Guianas and Guyana and Saint Lucia which will be featured in fam and media trips organised in conjunction with British Airways.
Contact Claire or Tony at claire@wilderness-explorers.com for more information or for an appointment at ITB or training in the UK in February or March.
Happy New Year to all our colleagues and clients!
---
MEXICO
The Los Cabos Tourism Board
Swimming With Whale Sharks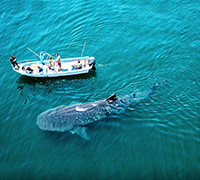 The sleepy town of La Paz along the East Cape is one of the best places in the world to swim with whale sharks. Tours generally depart from Cabo San Lucas on a scenic two-hour drive to the Sea of Cortez, where the whale sharks can be found. Travelers may also opt to stay in the charming seaside town of La Paz to launch their excursion with minimal travel.
If you are fortunate enough to find a pod, a jump in the water will have you swimming alongside the majestic creatures in a truly magical experience. The best time to encounter whale sharks is between October and April, so plan your trip accordingly.
---
Yucatan Ministry of Tourism
Chichén Itzá and "Noches de Kukulkán"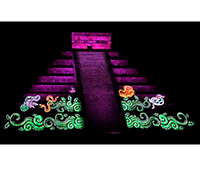 The heart of the Mayan world, a must-see on any trip to Yucatán. The archaeological zone of Chichén Itzá, which means "Mouth of the Well of the Itzaes" is a UNESCO World Heritage Site and one of the new wonders of the modern world, with its "Castillo de Kukulkán", which is one of the best-preserved testimonies of the Mayan civilization.
As night falls, Chichén Itzá lights up with its show "Noches de Kukulkán" … A unique experience!
---
Journey Mexico
New product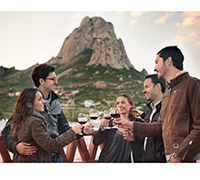 In San Miguel de Allende, Mexico City, and Puebla – we can arrange private street food experiences, market visits, and private Chef's Tables led by renowned, Mexican chefs. Many people are unaware that outside of San Miguel Allende and extending into the Queretaro region, there are dozens of vineyards that can be visited for wine-tasting and pairing with private, chef catered meals; we've created private experiences not easily found with select wine, spirit, and agricultural producers.
https://www.journeymexico.com/blog/23-new-experiences-in-mexico-for-2023
---
NICARAGUA
Nicaraguan Tourism Board – INTUR
Nicaraguan tourism to October 2022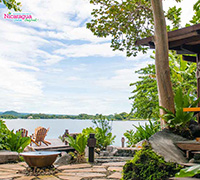 The Ministry of Tourism highlighted a positive recovery after several local and external scenarios, the numbers for 2020 and 2021 have already been exceeded. According to the last projections until October 2022, the country has received around 612,000 tourists and it is projected to close the year with 800,000 visitors. There has been a positive acceleration, the average of spending daily has also increased compared to 2019.
Tourists have placed their trust in Nicaragua by being one of the countries that is leading the vaccination scheme against covid-19, in addition to its natural and cultural attractions that have been promoted with a series of campaigns and participation in international events, as well as the renewal of some airlines that is positive favor for tourist activity.
---
PERU
Aqua Expeditions
Private expedition charters with Aqua Expeditions: once-in-a-lifetime memories for your guests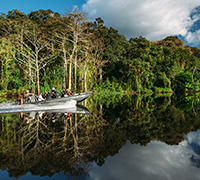 Creating memories and spending time with loved ones is one of life's greatest treasures. If your guests are planning to travel in a large group, Aqua Expeditions offers unparalleled, all-inclusive private vessel charter experiences. Whether it's a celebration, a reunion, or a corporate getaway, sailing aboard one of Aqua's vessels is bound to be a once-in-a-lifetime adventure.
Aqua Expeditions offers special charter rates with savings between 10% to 15% in comparison to our regular rates per person.
For your convenience, we have created stunning unbranded flyers for each vessel and destination in English and Spanish. These are made to share with your clients when planning their next charter adventure in 2023.
Download them HERE
---
Condor Travel
Private expedition charters with Aqua Expeditions: once-in-a-lifetime memories for your guests
The Nazca lines do not stop surprising the world, now with the discovery of about 170 new figures that date back more than 2000 years.
The new finds have the shape of humans, cats, killer whales, birds, and camelids like llamas and alpacas. These geoglyphs are relatively small (between 2 and 6 meters) and can be seen from the ground, unlike the classic lines that must be seen from the air.
The Nazca lines are a World Heritage Site and an unmissable destination, just three hours away from Lima. Our extension program is the best way to get close to this fascinating place: https://cutt.ly/L0FXPmv