NEW LATA MEMBERS
---
NEWS FROM LATA FOUNDATION
Green Shoots in Ecuador with schools set to reopen in Quito from September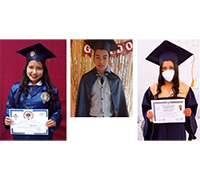 The LATA Foundation is proud to support Condor Trust, a grassroots NGO located in Quito, Ecuador. The focus is to provide education for children from low income families.
Despite schools being forced to shut down in Quito at the start of the pandemic, finally, the news from Ecuador is looking a little brighter. After remaining shut for 18 months, schools in Quito look set to re-open in September. Initially a hybrid system may be put in place, but at least there will be some face-to-face teaching for everyone.
From September 2020, Condor Trust was able to continue providing education online with the additional support of five donated computers, as well as providing regular phone contact with the children. In the midst of this, three students graduated in July 2021 and all will shortly begin higher education. Two new students will start on the programme in September 2021.
For more information on the Condor Trust or to donate to the LATA Foundation, please visit www.latafoundation.org
---
NEWS FROM UK MEMBERS
Silversea
Antarctica Bridge All Inclusive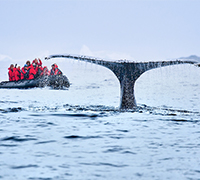 Antarctica can be closer than you think with Silversea's Antarctica Bridge itineraries. Your clients can skip the Drake Passage to fly Business Class from Punta Arenas straight to Antarctica.
The Silver Explorer can take them across the continent, where they will be immersed in the otherworldly beauty of the most extreme latitudes on the planet.
Adventurer Class Suite from £10,980pp, includes round trip economy air, one-night pre and post-cruise hotel, Private Business class flights from Punta Arenas to King George Island, Guided Zodiac, and shore excursions led by the Expeditions Team, Door-to-Door Private Executive Transfer service (on departures from Spring 2022), Butler Service and more.
For more information, please visit our website.
---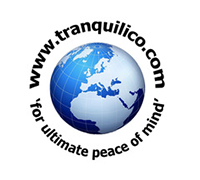 tranquilico
DMC safety opportunity
Fantastic opportunity for any LATA DMC member to show their commitment to safety to tour operators and travel agents.
See attached link: https://preview.mailerlite.com/p2q7w0
---
Senderos
Senderos Partner News
Tierra Hotels has announced the following Reopening Dates:
Tierra Atacama: 10th September, 2021.
Tierra Patagonia: 1st October 2021.
Tierra Chiloé: 1st November 2021.
See more details at https://tierrahotels.com/update-on-covid-19/
Please contact your DMC or Senderos with any questions at info@senderos.co.uk
Senderos Partners: https://senderos.co.uk/en/partners.php.
---
REGION-WIDE
Maya Trails
Information on Guatemala and Belize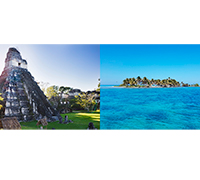 Guatemala: Open for almost a year, all protocols are in place with Maya Trails operations, hotels, restaurants, etc. Vaccinated travellers are welcome, if not vaccinated, an Antigen Covid test is good for arrival.
Vaccination progress in Guatemala is going at full for most of the population and also there was a special vaccination program for the Travel Industry, and now most of the sector has the vaccine. There is still a quarantine on UK travellers, but that should soon be halted.
Belize: Open for almost a year, all protocols are in place, also there are Gold Standard hotels and providers. Travellers are still required to enter with an Antigen Test (even if they are vaccinated). Also the Vaccination progress is going at full and most of the travel sector are vaccinated.
---
Vapues Travel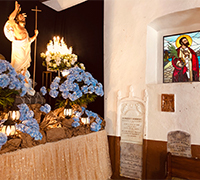 Indigenous tribes, colonial invasions and Caribbean pirates all play a part in the fascinating history and culture of Panama and Nicaragua, and learning a little about these countries pasts can really enrich your clients travel experience.
At Vapues Travel, we love to show off the history and cultural heritage of our home countries, so we've developed a range of immersive experiences and authentic accommodation in some of the most important cities and sites of Central America.
Take a look at a few of our favorite places, properties and experiences:
https://www.vapues.com/blog/12/history-and-culture—panama-&-nicaragua
---
ARGENTINA
Estancia Los Potreros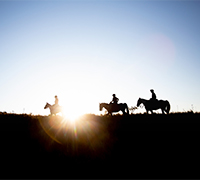 We are delighted to share that Cordoba International Airport has now been authorised to start receiving international flights.
Although we have had several setbacks over the last year, it now seems that we can see the light at the end of the tunnel.
Estancia Los Potreros has been ready to reopen its doors at all times but we are now starting to get excited with the success of the vaccination program and the possibility of a swift return to travel.
For more information about our Estancia, CLICK HERE.
---
Condor Travel
Argentina is closer to welcoming your clients again!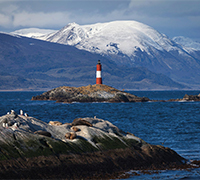 After being on hold for long months, Argentina is finally closer to receiving your clients again.
The operation of the upcoming Cruise Season as well as it's Sanitary Protocols have recently been approved and will start next October.
This decision applies to all 3 main tourist ports in the country: Buenos Aires, Puerto Madryn and Ushuaia.
Thinking about the re-opening and return of tourists to Argentina, we have prepared unique and unbeatable promotions for you. Find out more HERE.
---
ALCHEMY DMC Argentina
Fly the Northwest in style!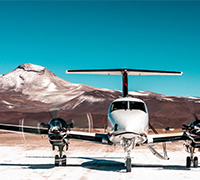 The Argentine Northwest is a one-of-a-kind area where visitors can enjoy different attractions, from its wine estates to the immense Puna and Salt Flats, from the Yungas to its colonial towns nestled in colorful valleys… Why not do it in style aboard a private jet?
We offer the unique and magnificent experience of visiting distant points across the Northwest aboard private jets with attention to detail and high-quality service.
Your clients can visit more places saving time and energy, witnessing pristine and amazing views. There are a variety of itineraries crafted to make the most of traveller's time, visiting the towns of Cachi and Cafayate, with stunning views of Los Cardones National Park, the mythical Route 40, and more.
Contact the ALCHEMISTS for unique tailor-made programs: leisure@alchemydmc.com.
---
Furlong Incoming
Sustainable Travel in Argentina Sessions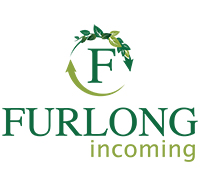 5 regions, 5 sessions – September 2021
We invite you to discover sustainable experiences along the 5 regions of Argentina in a weekly encounter where you'll meet each region's experts: from local operators, new products and services to hotels that have found a way to combine quality service with a compromise with the future.
Join us to learn more about sustainable travel in Argentina. To subscribe please send an email to sales@furlongincoming.com.ar.
---
Aliwen Incoming
We are very excited to launch our Family Travel Collection for Argentina.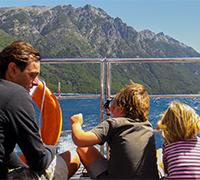 At this 1 hour event, we will show you why Argentina is an ideal holiday destination for Adventure Families. Additionally, we will give you some strong selling points that families can't resist:
Make it meaningful for all ages and create ever-lasting bonding experiences
Including the grandparents into a multigenerational trip
Add in unforgettable experiences with an Argentinian Flavour
Best flight and family itinerary routes
Excursions that teens love
Where to have up-close encounters with wildlife
PLUS: Get to know our accommodation selection for families
Join us next August 31st at 1 pm Argentina (GMT-3), via Zoom. Register by clicking on this LINK.
We would love to have you on the journey!
---
ATP DMC – Argentina Travel Partners
Uruguay gets ready to allow tourists!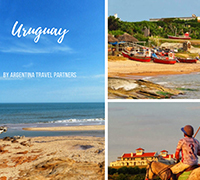 It is time for your clients to start planning a holiday to South America's smallest nation!
Starting November 1, all foreigners will be granted entry into the country as long as they have had two doses of the coronavirus vaccine and a negative PCR test.
Uruguay boasts both natural and cultural UNESCO Heritage sites, bucolic wine country, laid-back city life and trendy seaside resorts.
Accompanying this news, the Uruguayan government has set in motion the path of reconnection with the world and continues to add airlines that confirm their frequencies with Montevideo, and some exclusive properties started to launch Early Bird campaigns for those who want to enjoy next summer !
Check our Rustic & Exclusive Uruguay Sample Itineraries or contact us at info@atpdmc.com for more information!
---
Say Hueque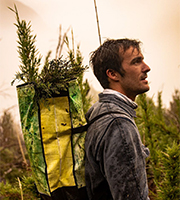 August is the month of Pachamama (Mother Earth) for the original cultures of the Andes. This celebration is held to thank, ask and bless all the fruits that mother earth offers.
To honour Mother Earth, Say Hueque decided to take action and stand against deforestation and climate change.
In partnership with Reforestarg, Say Hueque is donating 1000 native trees to be planted in Patagonia.
"Massive reforestation is urgent. We must turn awareness into action now", said Rafa Mayer, founder and director of the company.
The native trees (Coihues) will be planted in September in Rio Tigre Nature Reserve, Chubut, Patagonia (Argentina) and are part of a major plan.
---
BOLIVIA
Crillon Tours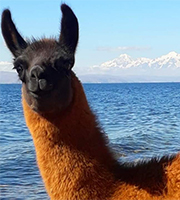 Hoping to soon return to the already long-awaited reactivation of worldwide Tourism, we have taken the time to implement all the Bio-Security protocols, but also to take care of the animals that accompany us on our tours, so that they can shine in all their natural splendor and good health…
Well, except for our mule Patricia on Sun Island, since what she lacks in glamour, she has plenty of strength and personality.
Our vet has checked them and given them their vitamins as well as their annual injections and has cut off their excess wool… a true rural coiffure.
To learn more about our tours, CLICK HERE.
---
CHILE
travelArt Chile
MAULE VALLEY, THE OLDEST AND WIDEST WINE VALLEY IN CHILE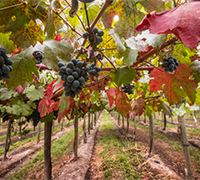 Chile is a wine country where world-class wines are produced. The most famous vineyards are located in the central part of the country.
The Maule Valley in central Chile, known as the "Cradle of Chilean Wine" is one of Chile's largest and oldest wine valleys. Wine lovers will be delighted to discover the country's many wine routes, one of them leads through the Maule valley.
During a tasting, your clients can visit the valleys where the grape varieties are grown and Chile's best wines are produced.
For more details on visits to wineries contact info@travelart.com | www.travelart.com
---
Southbound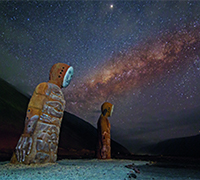 Over seven thousand years ago, the hunter-gatherers of the Chinchorro tribes settled and inhabited the coast of the Atacama desert, the dryest desert in the world.
With specialized fishing technology, such as hooks and other rudimentary tools, that have been preserved thanks to the exceptional climatic conditions of the north of Chile. These extraordinary people mummified their dead long before the Egyptians, and this mummification is remarkable both for its antiquity and for the technique used.
Due to the "exceptional value for humanity", UNESCO have now recognized the archaeological settlements of the Chinchorro Culture as the Seventh World Heritage Site of Chile.
Southbound offers several full day or multi day itineraries to experiencie this new UNESCO highlight in Northern Chile.
Please contact us for more details.
---
andBeyond
andBeyond Launch Honeymoon itineraries and offers for the Honeymoon of a lifetime
In the wake of a year of cancelled and postponed weddings worldwide andBeyond has launched a carefully-curated collection of honeymoon itineraries and special offers including:
a new gift registry
insightful podcast
top 10 list & when-to-go calendar to help plan the honeymoon of a lifetime
andBeyond offers couples a 50% saving on romantic honeymoons to Chile's picturesque Lake District at andBeyond Vira Vira Lodge.
To find out more about andBeyond Vira Vira, click HERE.
---
COLOMBIA
Colombian Journeys
EXOTIC FRUITS & CHOCOLATE TASTING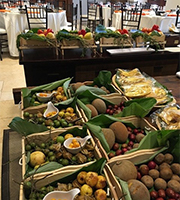 Due to its climatic and geographical conditions, Colombia has the privilege of having a great biodiversity, especially the Colombian Caribbean. For this reason, Cartagena offers an amazing diversity of tropical fruits.
Your clients will have the opportunity of tasting the seasonal fruits and experimenting its delicious, flavors, textures and aromas. Additionally, they will enjoy pairing the fruits with a very special fine cacao of Colombian aroma, in various grades of concentration and from different parts of the country.
This tasting can also be done with 4 types of water, local or imported, depending on the quality, taste, acidity and structure of this precious liquid. This is an ideal experience to enjoy with the family and children. It includes a bilingual expert sommelier.
More information at marketing@colombianjourneys.net
---
Colombia57 Tours, Travel & Logistics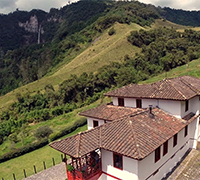 Colombia57 offers incredible adventure and lodging opportunities in the foothills of one of Colombia's magical National Parks.
The unpaved road climbs towards Los Nevados National Park, home to the unique Paramo ecosystem and a sanctuary for Condors, mountain tapirs, white-tailed deer and the endemic Bearded Helmetcrest hummingbird.
Arrival at the secluded Hacienda is on horseback or foot. Incredible trekking and riding opportunities lead to viewpoints of snow-capped mountains and volcanos and the world-famous coffee plantations below.
The Hacienda boasts a thermal pool to enjoy the night sky before an exhilarating downhill bike ride departing from the Hacienda in the morning.
Drop us a line for more information: info@colombia57.com
---
Metropolitan Touring
The sunflower route in Atlántico: the reactivation of agritourism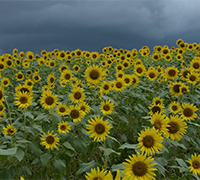 As part of a new program called Seeds of life, the government is seeking to reactivate the activities of agritourism in the area. Five municipalities of the area will be part of this project where over 50 hectares of sunflower fields will be open to the visitors.
This will be called the Sunflower route and visitors from all the country and the world will be able to take wonderful pictures, walk the fields and learn about the wonders of its seed.
The experience is already open to the public so your clients can make it part of their journey if they visit the Caribbean Region of Colombia.
Source: El Heraldo
Picture: Johnny Olivares
---
COSTA RICA
Travel Excellence
Iberia has resumed its daily nonstop flight to Juan Santamaria International Airport (SJO) as of last month, reflecting the increase in the demand for travel and tourism to Costa Rica.
This announcement arrived perfectly with the beginning of the Green Season, which gives the opportunity to take advantage of the special promotions offered by the hotels and to enjoy unique seasonal experiences such as whale watching in the Central Pacific and the turtle nesting in Tortuguero.
---
Horizontes Nature Tours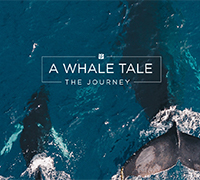 Costa Rica is the central birthing spot for the Northern hemisphere and Southern hemisphere humpback whales.
The months of August and September are known to be the best to see humpback whales as they are coming to breed and raise their young.
The 4 part series of a whale's long and perilous journey home. "The Dome", is a place like no other if you want to experience a unique way of catching a glimpse of these amazing mammals.
Check out our latest blog "The Journey Home: "A Whale Tale".
---
Quimbaya Latin America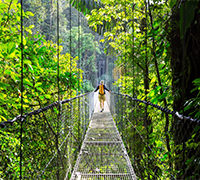 Featuring Costa Rica this month as the destination has its borders open and safe travels certification and protocols in place in all hotels, transport and restaurants.
The destination has been operating well since the start of 2021 and we already have happy returning customers from the amazing green Costa Rica!
We have few options available for programs: Guaranteed Departure program for 2022 for minimum 2 people to maximum groups of 16 people.
Program includes: 10 Days, 9 nights. Next departures are on the 6th Sept, 25th Oct, 8th Nov. 2021.
Request your program today at laura-ortiz@quimbaya-tours.com and your login password to our Online Agent system for tariffs.
---
ECUADOR/GALAPAGOS
Napo Wildlife Center
We have been nominated for the World Travel Awards, as Ecuador's Leading Green Hotel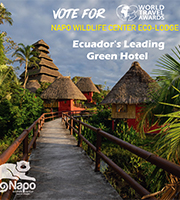 Vote for us:
Log in if you have an account with the World Travel Awards or register yourself.
A confirmation email will be sent to the registered email. Follow the link there to cast your vote!
To find us, go to South America and then to Ecuador, we are nominee for Ecuador's Leading Green Hotel 2021 award.
Inquiries: www.napowildlifecenter.com/contact
---
Hotel del Parque
Hotel del Parque Guayaquil Earns Green Globe Certification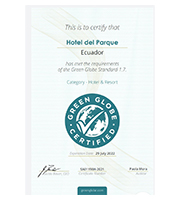 We are honored to announce our new Green Globe Certification, which confirms that Hotel del Parque is committed to make our property a truly sustainable destination.
Green Globe is a sustainability certification system that has been developed exclusively for the tourism industry. This certification recognizes that Hotel del Parque has worked to ensure that its operation is in accordance with the global criteria for sustainable tourism.
The Green Globe Standard includes 44 core criteria supported by over 380 compliance indicators.
The Hotel del Parque team will continue working for economic, social, and environmental sustainability.
For more information, please CLICK HERE.
---
Montemar Eco Luxury Villas
Our Galapagos Tortoises Conservation Coffee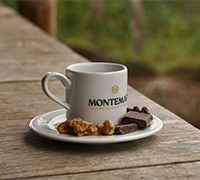 Our coffee production started as a way of creating a sustainable income to support the rehabilitation of the ecosystem of the Galapagos Giant Tortoises, which abound at our land.
We apply organic and biodynamic practices to improve the soil, to keep the plants healthy and to eradicate invasive species.
Hand-picked, sun dried, and carefully roasted, Montemar coffee is a high-end cup of the most sophisticated palates that has been recognized nationally and internationally.
Our guests enjoy a coffee tasting experience and learn about the role of our coffee in the conservation of the Giant Tortoises. Find out more at www.montemar.ec
---
Galagents
Galagents Galapagos Cruises was the first operator in the Islands to come back in August 2020 after the lockdown in 2020. Take a look at these graphs where we will present our statistics from the last year.
As we want to thank all our partners that trust in us during this uncertain times.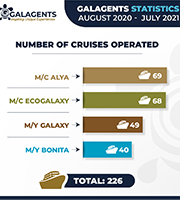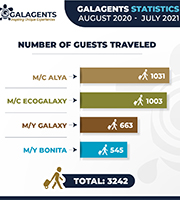 ---
Tropic Ecuador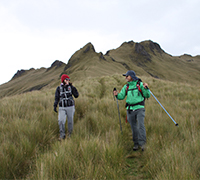 Ecuador's Andes environment is vulnerable, and at Tropic, we use tourism as one way to help preserve its delicate ecosystems.
Endemic and migratory species such as the spectacle bear, condors, mountain tapir, rocket frogs and countless more thrill visitors.
When you send your travellers, they are part of a cycle of education and conservation.
They become be part of not only the preservation of these delicate, wonderous ecosystems, but also contribute to the recovery of tourism, whose tendrils reach out in myriad positive ways to people, animals and landscapes.
Contact us for more information on our sustainable Andes programs.
---
Anakonda Amazon Cruises
WORLD CRUISE AWARDS NOMINATION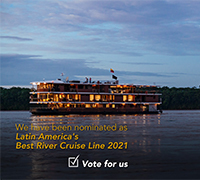 We are proud to announce that Anakonda Amazon Cruises have been nominated for the first edition of the World Cruise Awards in 3 different categories. You can vote for us at the following links:
We are counting on your vote!
---
Adventure Journeys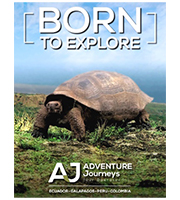 The Galapagos Islands are one of the most unforgettable destinations one could have on a travel bucket list. Also known as the Enchanted Islands, this is a destination for anyone interested in adventure, nature, animals, pristine beaches, active volcanoes and even history. Surrounded by wonders, the Galapagos are the best place to disconnect from the rest of the world, but what to do in the Galapagos?
There are hundreds of things to do, and here are the top 5:
Snorkeling
Hiking
Kayaking
Biking
Scuba diving
The Galapagos are the perfect place to disconnect from the outside world. Galapagos is a place where you can find anything to do. We can help you planning your trip to the Galapagos.
Contact us: https://adventurejourneys.com/top-5-activities-to-do-in-the-galapagos-islands
---
Via Natura Peru, Ecuador & Galapagos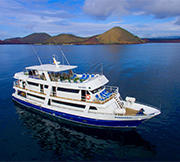 Complementing the physical enhancements carried out on our vessel, Via Natura, owner of the First Class Monserrat Galapagos Cruise, is excited to announce the adoption of new itineraries to guarantee life changing experiences for our guests in the Galapagos Islands.
The Monserrat will be adding exciting sites in Fernandina and the west of Isabela island on its Itinerary A (4 Night/5 Days) and will have a new 4 night/5-day expedition including visits to Rabida, Bartolome, South Plaza, Santa Fe and Punta Pit on its Itinerary B.
We are also launching our 6 night/7-day Itinerary C+D visiting among others, Española, Floreana and Genovesa Islands.
The Monserrat will continue to offer unforgettable 7 night/8-day itineraries.
Our new itineraries will give our discerning guests the opportunity to see the best of the Galapagos!
---
MEXICO
Riviera Nayarit
Marriott opens its first all-inclusive Delta hotel in the world in Mexico's Riviera Nayarit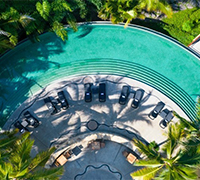 Riviera Nayarit, Mexico's hidden treasure on the Pacific Coast, just welcomed the opening of the first brand-new all-inclusive resort, Delta Hotels by Marriott.
Delta Hotels by Marriott, Riviera Nayarit, is located in the mountainous area of ​​La Cruz de Huanacaxtle, nestled between the Sierra Madre mountains and the Pacific Ocean. The one-of-a-kind tourist resort provides 117 luxury rooms with private balconies that have stunning sea and mountain views.
The resort boasts facilities that allow for a seamless travel experience, helping visitors unwind through amazing food and beverage experiences and relaxing by glistening pools.
It's idyllic location, just north of Puerto Vallarta Airport, means visitors can experience whale watching, play on luxury golf courses, stroll along its hidden beaches or hike in the Sierra Madre mountains.
---
NICARAGUA
Nicaraguan Tourism Board – INTUR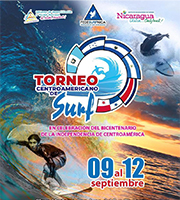 Nicaragua will host the Central American Tournament of Surf from September 9 to 11 at Madera's beach, San Juan del Sur.
This event is in context of the Bicentennial Independence of Central America and in greeting to our national holidays, there will be more than 100 athletes of Central America region participating.
Nicaragua has the best waves in the region where you can enjoy this sport every day of the year, in addition, we are privileged for having multiple natural scenes, where you can also enjoy the culture and the variety of gastronomy of the country.
More information here: https://www.intur.gob.ni/2021/08/torneo-centroamericano-de-surf-sera-en-nicaragua/
---
PANAMA
Panama Journeys
Visitors from all countries are welcome to visit Panama! Panama is open to international travellers, keeping the safety and health of both tourists and locals our top priority.
A negative COVID-19 test is required for entry. Non-vaccinated travellers arriving from or that have transited through India, South Africa, the United Kingdom and some South American countries in the last 15 days will be required to take an additional COVID-19 test upon arrival and quarantine for 3 days in a hotel covered by the traveler.
However, travellers arriving from these countries that can present a complete vaccination scheme, equal to or greater than 14 days after the last dose, will be exempt from the 3-day quarantine.
For more information visit: SAFETY GUIDELINES FOR YOUR NEXT TRIP TO PANAMA
---
PERU
PROMPERU
The Inca Trail to Machupicchu opened on July 15. Since then, tourists have been able to enter the routes of the Inca Trail which is part of the network of Machupicchu.
Considered one of the most formidable adventures and one of the best treks and travel experiences of the world, the Inca Trail reopened after more than a year of closure due to the pandemic.
The reopening came as part of the tourist reactivation of Cusco and Peru, and will be added to other routes reopened in July 2020 that are part of the Qhapaq Ñan or network of roads that united all the Inca empire.
---
Aqua Expeditions
New Aqua Nera Images and Latest Marketing Material Now Available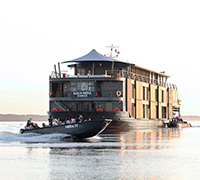 Get a taste of the exquisite detail of the décor that truly sets Aqua Nera apart by accessing our Resource Library in our Agent Portal.
Download our new and best selection of pictures to update your marketing materials to showcase the best that Aqua Nera has to offer. All our latest Aqua Nera sales materials, including detailed itineraries, rates, dates, deck plans, maps and more are also available.
Access our Agent Portal HERE.
---
Amazonas Explorer
As Peru continues to re-open, the vaccines continue to roll out, and life moves closer and closer towards 'normal', more guests are welcomed back to the country.
For our travellers' peace of mind, we are offering some of our most popular trips as bubble tours and private treks so that our guests can still enjoy the unique experience of Peru, but without the newly added stress of having to worry about COVID.
For more information, please visit our website.
---
Country Club Lima Hotel
The Country Club Lima Hotel is an expert blend of classic and lively architecture with the contemporary air of a cosmopolitan and sophisticated lifestyle. During your clients' stay, they can make a reservation at our 5-time award-winning Perroquet Restaurant.
They will get to enjoy the chef's monthly food festivals and our Sancochado, a Peruvian favorite of the winter months consistent of beef and vegetable soup, served as an assisted buffet on Wednesdays and Thursdays. The English Bar, recently reopened following protocols and safety guidelines, is decorated with dim lighting and warm wooden walls, perfect for private dates and known for the best Pisco Sours in the capital.
For more information about Country Club Lima Hotel, CLICK HERE.
---
LimaTours
Peru Open House by LimaTours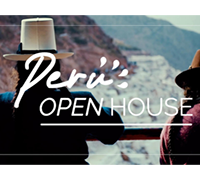 An open house is an opportunity to get to know a house in depth – the most important place for a family that very few can access. A space of closeness that holds your most memorable memories. Peru is that for us: our home. The one that makes us proud, that we love and value.
We want to take you on a different trip in Peru, a more intimate one through corners outside the traditional path. Let us get you closer to our customs with a unique and local perspective.
This is Peru Open House.