NEWS FROM UK MEMBERS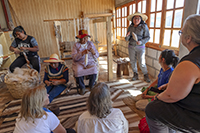 Senderos Partner News
Mountain Lodges of Peru have launched their 'Special Adventures' one-off itineraries including a 'Soul of the Andes Festival' Experience which bookends the Lares Trail with festivals of Qoyllor' Ity and Inti Raymi.
Tierra Atacama's new Ancestral Excursions offer deeper insight into the heritage and culture of the Atacama's community and traditions. These include cactus needle weaving and cultivation technique workshops in the driest desert in the world.
Contact nicola@senderos.co.uk for details
---

Americas
Meet with the Americas partners at ELA
Americas are pleased to announce that we will have an 'Americas Partners Pavilion' at this year's ELA. Attending will be ATP (Argentina), Crillon Tours (Bolivia), Walpax (Brazil), ADSMundo / Sportstour (Chile), Colombian Journeys (Colombia), Camino Travel (Costa Rica), Andando Tours (Ecuador) Native Trails (Mexico), Panama Journeys (Panama), Lima Tours (Peru) and Viajes Bueme's (Uruguay). For more information please contact: jude@americas.co.uk We look forward to seeing you there! Jude and Katrina
---
AVIATION NEWS
Aerolíneas Argentinas
Once again, Aerolíneas Argentinas was distinguished in the "Traveler's Choice Awards" awarded by the specialized website TripAdvisor, based on opinions and ratings of thousands of travelers. This year Aerolíneas Group won "Best Major Airline in Latin America", a distinction for the greatest airlines of the region.
https://www.aerolineas.com.ar/en-eu/prensa/comunicadoprensainterno/4839_aerolineas-argentinas-distinguished-by-travelers-as-the-best-airline-in-the-region
---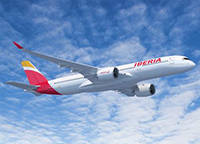 Iberia
Iberia are pleased to announce 3 new additional weekly flights to Lima. This will bring the total number of flights per week to 10. The service will operate year round. We are also delighted to let you know that our seasonal service to San Juan will now also operate year roun.
Contact rebecca.wright@ba.com for more information
---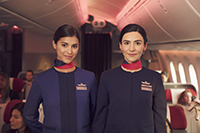 LATAM
LATAM Airlines was the most punctual airline in the world in 2018 in the "Mega Airlines" category.
We are proud to have been awarded first place in the 'Mega Airlines' category by the prestigious OAG (Official Airline Guide), the rankings that measure the punctuality of all the main airlines in the world. First place was awarded on the fact that 85.6% of our flights landed within the first 15 minutes of the agreed arrival time.
---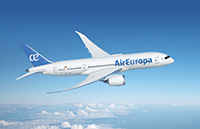 Air Europa
Air Europa will consolidate its presence in Central America with the commencement of its new route to Panama in June and, at the same time, will offer its passengers a codeshare option with Copa Airlines to travel on from Panama to Costa Rica, Nicaragua, El Salvador or Guatemala.
The code share will come into effect on June 3, when Air Europa passengers will arrive in Panama on one of the airline's Dreamliner aircraft, on the inaugural flight.
Under the agreement, Air Europa will operate daily codeshare flights between Panama and the cities of San José (Costa Rica), Managua (Nicaragua), San Salvador (El Salvador) and Guatemala City (Guatemala), offering passengers a quick, convenient connection to and from all these destinations.
---
REGION-WIDE
Chimu Adventures

Sustainability initiatives in South America – to coincide with Earth Day on the 22nd April 2019, South America specialists, Chimu Adventures, highlighted their favourite sustainability initiatives in South America which contribute positively both environmentally and culturally.
These include electric cars for transfers in Brazil (the first in the country); being partners with Ecuadorian ecolodge, Hakuna Matata; and working closely with indigenous communities on eco and community tourism projects in Peru, Land of the Yachaqs.
One of Chimu's unique selling points is that they work with their own DMC's in South America. This ensures their standard of client service and ethics are maintained throughout all operations.
---
Setours Handcrafted Journeys
Exhibiting at EMOTIONS Travel show, Buenos Aires
Setours Handcrafted Journeys is looking forward to the 6th Edition of EMOTIONS Buenos Aires 5-8 May, 2019. Our team will be on hand to share our responsible operations and our bespoke multi-country experiences.
For more information get in touch https://www.setours.com/contact/
---
ANTARCTICA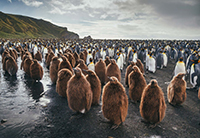 Quark Expeditions
Sustainbilty update: Quark Expeditions Continues its Sustainability Strategy in the Polar Regions
Quark Expeditions, the leader in polar adventures, unveils its sustainability strategy under the banner, "Polar Promise." The strategy advances existing initiatives aimed at improving environmental and social outcomes in the polar regions, and provides a cohesive plan the expedition company will adhere to. The strategy translates Quark Expeditions' ongoing and newly-announced efforts into concrete, measurable goals and sustainable outcomes to be achieved by 2025.
CLICK HERE to learn more
---
ARGENTINA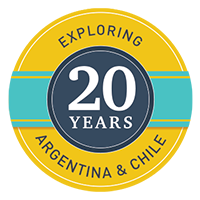 Say Hueque
We are excited to be launching expedition trips to see the Total Solar Eclipse in Argentina this July 2019. The eclipse will be seen in San Juan province (Argentina) where is the 100% visibility line of the eclipse. It will be an amazing and unique experience and worth recommending to your clients. We still have a few spaces available for this trip (just for FITs) so if you are interested please let us know ASAP at agencies@sayhueque.com
CLICK HERE to view the itinerary
---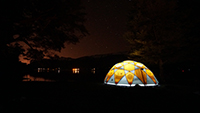 ALCHEMY DMC

A solar eclipse will occur next year and Bariloche is one of the best places to appreciate it.
For such an event, our alchemists have designed a tailor-made glamping experience in the eclipse area, a private location that can only be reached by helicopter and will include Bilingual host, on-site chef, wine tasting, among other upscale services. For more information send us an e-mail: argentina@alchemydmc.com
---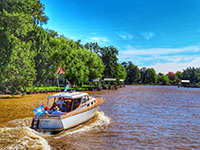 Argentina Travel Partners – ATP DMC
We would love to meet you in London! – Meet Merina Begg at ELA and let Argentina inspire you!
Merina Begg and Matias Gomez we will in London for ELA 2019 and will be very happy to share with you news and products that we are preparing for your clients. Current trends are becoming stronger in terms of transformative travel and unique moments. That is why we are working on unconventional accommodation and a portfolio of experiences to satisfy the expectations of one-of-a-kind moments.
We would love meeting with you at ELA!
---
BRAZIL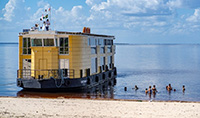 Del Bianco Travel Experience
Deluxe cruise in the Amazon forest – Discover a new way to explore the Amazon forest on a special cruise. The Untamed Amazon is a deluxe boat, unique in this area, bringing together sustainability and design. It has 8 suites of 18m² each, with private bathroom, air conditioning and panoramic windows to enjoy the best view of the forest. The common areas include a large lounge and two jacuzzis.
There are regular departure dates and it is also possible to charter the boat for groups.
Contact marketing@delbianco.com.br for more details and prices.
---
BOLIVIA
Late Bolivia
Bolivia Trip, updated audio-guide with french language – we are very glad to inform that the update of our audio-guide mobile app will include also the french language option, this update will be launched on May 1st. The audio-guide mobile app is a new option to visit the Salar de Uyuni circuit included at the Bolivia Trip tour.
"Bolivia Trip" is our exclusive 3 day tour at the Salar de Uyuni and Colored Lagoons circuit, it has fixed departures and accommodation at comfortable hotels.
For more information please visit www.boliviatrip.tours or send us a message to info@boliviatrip.tours
---
Crillon Tours

We have certainly learned about the exquisite preferences & needs of our UYUNI clients, first by evolving from Tents to our successful Campers -and now adding more quality services for both- our Classic Journeys and Bespoke Luxury lines. We are happy to launch new refined services and infrastructure to assure unique experiences with exclusivity! We will shortly start with these new journeys & extraordinary bespoke visits, demonstrating again our leadership throughout Bolivia!
www.titicaca.com www.uyuni.travel
---
CHILE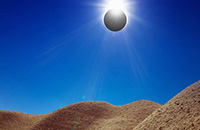 Wendy Wu Tours

On 2 July, a total eclipse will plunge a small swathe of Chile into darkness, and Wendy Wu Tours are running a trip of a lifetime to experience it in the breath-taking surroundings of the Atacama. Seats are available on their day tour from Santiago, including charter flight to the Elqui valley, prime viewing spot, food and wine plus insight from an astronomer. For more details contact: Fiona.lunardelli@wendywutours.co.uk
---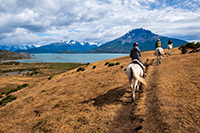 Remota Patagonia Lodge
Remota Patagonia Lodge has launched the new handbooks for its All-Inclusive programs for next seasons 2019-2021, including an improved selection of activities. The new handbooks offer several new excursions, including the most popular activities inside and outside Torres del Paine National Park, and maintaining its most exclusive excursions as rock climbing, mountain biking and kayaking. Please download the new handbooks:
CLICK HERE for the soft excursion handbook
CLICK HERE for the adventure handbook
---
Cascada Expediciones
Travelers can now tackle Torres del Paine's incredible "W trek" in winter! The experience is completely different during the cold, snowy months and it is a great chance to explore the park with fewer crowds. This 7-day adventure is led by expert guides who can show guests everything from the remarkable viewpoint at the base of the towers to the icy and breathtaking Grey Glacier. It's a unique winter journey, and an adventure few have yet to experience!
CLICK HERE for details
---
COLOMBIA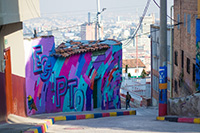 Colombian Journeys
New excursion in Bogotá: Social transformation tour
Get to know the impressive story of a group of locals from Egipto neighborhood, who decided to leave behind their criminal past and found a real alternative for their personal and professional development. Wander the neighborhood streets that are full of works of art and colorful colonial houses. Arrive in the hills where their modest houses are, viewing a soccer field, built thanks to this transformation project. For more information contact marketing@colombianjourneys.net
---
ECUADOR/GALAPAGOS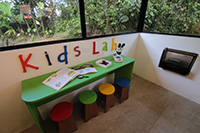 Mashpi Lodge
Mashpi Lodge has launched the new 'Mashpi Rangers Adventure' programme for children aged six and older to become stewards of the Cloud Forest. Led by Mashpi's team of native rangers, children will embark on day hikes and night walks to discover the diverse range of unique flora and fauna that thrive in the 2,500hectares in which the eco-lodge resides. Rides on the Sky Bike and Dragonfly Gondola offer panoramic views of the forest from canopy level, whilst the Kids Lab involves them in scientific studies, which aims to build on their knowledge of this biodiversity hotspot and promote environmental awareness.
---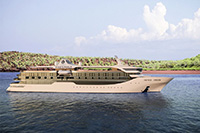 Silversea
Silversea unveils new details of Silver Origin, the cruise line's first ever destination-specific ship, which will unlock deep travel experiences for guests in the Galapagos Islands from the summer of 2020. One of the most environmentally friendly cruise ships ever and designed entirely with these unique islands in mind, Silver Origin will combine Silversea's local destination expertise with the cruise line's trademark level of luxury to offer guests the ultimate destination experience.
Contact sabrinat@silversea.com for more information
---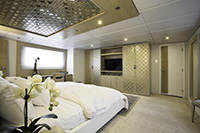 EQ Touring

The Luxury yacht M/Y Stella Maris is without a doubt the best option for a luxury charter in the Galapagos islands, a yacht that flirts among the islands with excellent reviews and unique service on board. Our certified and very well trained Naturalist Guides are hand picked and have a vast experience managing very high end families and groups.
Customize your charter with us and let us guide you through. For more information visit www.mystellamaris.com and contact us toll free +44-2033-724723
---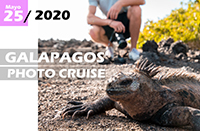 Latin Trails
Galápagos Sea Star Journey announces a specialist photography departure for May 2020. Travel the Galápagos islands in company of Carlos Palma, the experienced photographer who was born and raised in the archipelago. This is a 12 nights' opportunity – 10 nights aboard the award winning Sea Star yacht- to experience the islands in a unique way and get perfect images to tell your story visiting the archipelago.
CLICK HERE for more details
---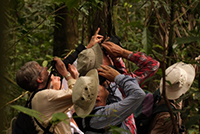 Geo-Reisen
Ecuador is known around the world for its huge variety of bird species, there are 1.632 species of birds in the country throughout the 4 regions. Geo Reisen offers specialized programs for new and experienced bird watchers alike, to the Antisana Ecological Reserve, Mindo and its amazing variety of hummingbird and tropical bird species.
Contact marketing1@georeisen-ecuador.com for information
---

GALAGENTS Galapagos Cruises
EcoGalaxy Catamaran, a pioneer in environmental efforts in the Galapagos Islands.
EcoGalaxy has been designed to be friendly with the fragile ecosystem of the archipelago, under ecological parameters that reduced the use of wood by 50% in its construction. (Smart Planet Certification).
It is the first boat in Galapagos that uses high technologies for environmental care, implementing energy, water, and lighting generation with smart consumption, resulting in reduced CO2 emissions.
Smart Planet Certification link: https://www.galapagosgalaxycruises.com/cyd-congratulates-galagents-due-to-its-environmental-efforts/
---
Andean Travel Company
Andean Travel Company will be attending Experience Latin America, Europe's only travel event dedicated to this fascinating and culturally-rich continent. The biggest event in London for Latin American tourism is back in June 2019. Come and find us at this exclusive exhibition which was founded to promote the region, build valuable business relationships and diversify the European travel market to Latin America.
For more information see http://www.andeantc.com
---
FALKLANDS / MALVINAS
International Tours & Travel Ltd
Falklands Photographic Sailing Trip – ITT are pleased to be able to offer a 20% discount on Photo Sailing Safari of the Falkland Islands 02-16 Nov 19 guided by marine and wildlife photographer Rick Tomlinson onboard yacht Pelagic Australis (operated by renowned Southern Ocean yachtsman Skip Novak). Visit wildlife destinations otherwise inaccessible to visitors, and learn about the Falklands history in this almost full circumnavigation of the Islands during peak season. Spaces limited to make this an exclusive offer. £5600 per person (excludes international flights).
Contact se.itt@horizon.co.fk for information
---
GUATEMALA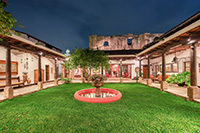 Maya Trails
We are excited to announce the new Las Cruces Boutique Hotel, located in the heart of Antigua, Guatemala! Home of the "Luxury by Nature" brand, as Las Lagunas Boutique Hotel in the Mayan Jungle. Fantastic base for your clients to explore the city. Walking distance to Central Park (2 blocks). It is an intimate and luxurious property. With just 11 suites, your guests will feel pampered throughout their stay. Each suite has original silver pieces from XVII century, a beautiful interior patio, relaxing sitting room and a charming veranda with views of the city and the volcanoes.
Contact info@mayatrails.com.gt for information
---
PANAMA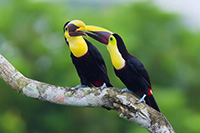 EcoCircuitos Panama
Considered one of the top spots in the world for birding, Panama host more than 1000 bird species. Our classic birding program is for those who wants to discover the unique avian diversity of the Isthmus that changed the world. For info please visit www.ecocircuitos.com
Layover in Panama City? don't stay bored inside some walls and explore a city that offers a delightful combination of history, diversity and nature.
---
Panama Journeys
New flight – starting on June 3, Air Europa will launch a new flight to Panama with a daily frequency that will open more alternatives within the country's competitive air proposal, which has given it the name of the Hub of the Americas.
The plane covering this new route is a Boeing 787 Dreamliner, considered one of the most modern aircrafts in the world. It is an 'ecological' aircraft, lighter, with less fuel consumption, and with capacity for 296 passengers. The flight will depart at 3:30 p.m. from Madrid and will land in Panama at 6:30 p.m.
---
PERU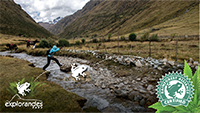 Explorandes
Recertification with the Rainforest Alliance – We are proud to announce that we have been recertified under The Rainforest Alliance's Sustainable Tourism Standard for Tour Operators. While exhaustive and at times tedious, the preparation for our re-certification audit and the time spent reviewing our documentation with the auditors forced us to look at and reflect upon every aspect of our business – always asking the question, "is there a better, more efficient and sustainable way to do XYZ?"
CLICK HERE to read the full blog
---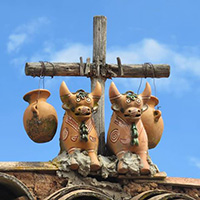 Legendary Peru

Have you seen them before? These are decorated ceramic bull figures called Pucará Bulls, originally made at the north of Puno. You will find couple of them stand on the middle of most rooftops in then Peruvian Andes. This powerful image brings good fortune, prosperity & protection for the families who live there. These ceramic figures, serve as reminder of the history and power of the bull to the Incan culture. So in your next trip to Perú, do not forget to get your Pucará ceramic bulls, they will bring all the strength and prosperity that we wish for you!
---
Amazonas Explorer
Amazonas Explorer upgrades bike fleet again – Not content with adding 8 new full suspension Haibike Ebikes, we just received another 16 Specialised Stumpjumpers to add to the Specialized Cambers that make the core of our fleet. Owner and keen biker Paul Cripps explains, "Frequently replaced, well-maintained bikes are essential for the safety of our clients. That is why we also employ a dedicated bike mechanic, who happens to be the only IMBA qualified guide in Peru." We also have trailer bikes and bike seats for children, as well as children`s bikes. Contact us on info@amazonas-explorer for details of our fully licensed biking options.
Contact mark.smith@amazonas-explorer.com for more information
---
Tucano Peru Travel Boutique
Tucano Peru, the prized travel boutique, known for designing innovating itineraries for more than 20 years in Peru and South America is happy to announce its participation in the international event Connections Wellbeing by Terme Olimia Slovenia. At the occasion, Tucano will proudly present its exclusive line: PERU WELLNESS TRAVEL, intended to promote Peru as a destination for the wellbeing of tourists coming from Europe, this new initiative consists of partnerships and joint ventures with the best operators in the international market:
https://peruwellness.travel/en/home/