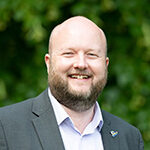 Martin Johnson has been elected as the new chairman of the Latin American Travel Association, replacing Colin Stewart who steps down as chairman after six years at the helm.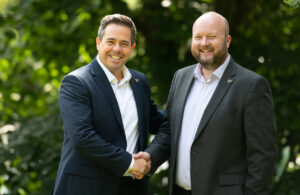 Colin:
Doesn't time fly by (excuse the pun) – six years have come and gone, and what six years they have been. As I reflect on the journey LATA has been on over those years, I am proud to have played a small part in LATA's evolution and success over those years. It has been a real privilege and honour to serve as Chairman of this unique and remarkable association – something I will always hold dear.
Some of the highlights for me include being the first Chairman to visit our Argentinian members in April 2018. I was able to jointly host a drinks reception in Buenos Aires with the support of our good friends at ATP and special thanks to Merina Begg who facilitated what was a wonderful evening.
Overseeing the LATA Committee during what was arguably the most difficult period for travel in our recent history. Each member of the committee contributed with much needed industry insight and counsel ensuring we came out the other end unscathed if not a little bruised.
Finally, I can't finish without recognising the efforts and contribution of Danny and Megan, not forgetting Andreea. Seeing first-hand, their passion and dedication in delivering the very highest standards of professionalism for LATA has been hugely rewarding – LATA is lucky to have them on board.
But as with all good things, it must come to an end, as I reflect on my time as Chairman, I can with hand on heart, walk away in the knowledge that the association is in a position of strength, stable and with the right people in place to lead it upwards and onwards.
I can't think of a better person to pick up the reigns. I have known Martin for several years, and witnessed first-hand his leadership qualities as he built a business from nothing to one of the most successful Latin American Tour Operators in the UK. I am confident, that by handing over the reins to Martin, the association is in very safe hands. I take comfort in knowing both Danny and Megan, the engine behind LATA will continue to support and help Martin move the association onto bigger and better things.
At the heart of LATA is a commitment to its members. To always strive to enhance, promote and safeguard the remarkable region that is Latin America. As an association, our success must always be measured by the value we deliver to our members, they are the lifeblood of LATA and I am confident, Martin will always place their needs at the very top of LATA's objectives.
Martin:
First of all, I would like to sincerely thank Colin for his outstanding work and commitment in guiding LATA through some of the most difficult times imaginable, hugely raising the associations profile, and improving the association beyond all recognition from when he took over 6 years ago. He is leaving LATA in a great position for the future as well as some very big shoes to fill! I look forward to Colin's continued valuable input as an ongoing member of the LATA Committee.
It is my honour to take over the Chair at LATA. When I set up Latin Routes, with my business partner, nearly 12 years ago in a tiny office above a pizza shop, and later that year attended my first LATA event, I could only have dreamt of one day being able to call myself Chair of such a fantastic organisation. Today, Latin Routes is one of the leading Tour Operators to Latin America, a business we have all built from scratch with tenacity, hard work and an entrepreneurial spirit that has seen us create many opportunities throughout the years. It's an ethos I intend to apply to my chairmanship of LATA, as it also looks to develop and grow for the future.
Before we do that, we must first acknowledge that while the pandemic is thankfully now a memory, it's effects are still being felt across the LATA membership, whether that is businesses still in recovery from the financial impact, suppliers still in recovery from operational challenges, or that Latin America was unfairly held back as one of the last destinations to become available for the UK travel market to visit once again. LATA itself is also still feeling the impacts from this time, and I am committed to ensuring that, through a combination of growing the membership and creating opportunities for revenue generation, LATA will continue to secure its successful future.
Looking at future challenges, one of the biggest our industry has ever seen is now upon us. Evidence abundantly shows us that responsible and sustainable travel is now a fundamental requirement, to ensure we're all able to secure a successful future. As chair, I will be absolutely committed to ensuring LATA is a vital part of that discussion and leads the way for its membership to achieve their own requirements and goals in this area. The new sustainability programme spearheaded by Megan, is only the beginning of what LATA can achieve in this space and there will be more to come.
Growing the LATA membership, in the right way, will also become a key focus for me. It is something that will only benefit everyone within the membership. There are opportunities for us to widen our Tour Operator membership and significantly develop our Travel Agent membership, capitalising on the great work started with our agent roadshows this year. That must be combined with growth in our supplier membership, from ground suppliers to cruises, hotels, tours and anyone providing tourism services. I want LATA membership to become an essential choice for you to grow your Latin America business in the UK.
I also want to directly appeal to the tourist boards of Latin America – for too long a lot of the marketing investment in the UK has been too little, disjointed and/or complicated to access. The UK has some of the most passionate travellers, and highest spenders, in the world, but many simply do not realise how incredible Latin America is. Tourist boards have got a huge opportunity to tell UK travellers how amazing your destinations are and inspire them to visit. There is a huge amount of incredible LATA Tour Operators and Travel Agents, ready to help you capitalize on that investment and significantly increase UK travellers to your destination. I urge you to contact us at LATA to discuss your investment and strategy in the UK, and let us help you make every single dollar, peso or real go as far as it possibly can!
It's essential that LATA works even harder to deliver value, and ensure it communicates effectively with all of its members. I am never one to rest on laurels or do things in a certain way, just because that's the way it's always been done! So, alongside Danny and Megan, we will be looking at everything LATA does, to ensure that it delivers the best possible value and benefit to the membership. There is already some exciting developments in discussion, and I look forward to sharing the relevant news in good time.
I would also like to acknowledge the amazing work that is done by the whole team at the LATA Foundation. As Chair of LATA, I intend to bring LATA and the Foundation much closer together, as it's an incredible asset. I want to enhance the support and exposure that LATA gives to the foundation, in order to help them achieve their goals and grow in a manageable and fulfilling way. I want to see the LATA Foundation become a key charity partner of choice, to as many members as possible.
Finally, it must be acknowledged that it would simply not be possible for LATA to achieve so much, without the incredible work put in by the existing LATA team – Danny and Megan. Without them, all of the things we have achieved, and all of my goals as Chair, would merely be ideas! I am committed to supporting them in their roles, alongside their own personal development. When the time and finance is right, we must also enable them to develop their team in a way that allows LATA to secure our goals and ambitions as an organisation.
Latin America is without doubt the greatest continent on the planet and I've loved travelling there for over 15-years! Nowhere offers higher mountains, richer culture, friendlier people and more diverse wildlife – all in the one holiday! I look forward to leading LATA in its mission to promote Latin America as the tourist destination of choice and stimulate growth of travel to the region.