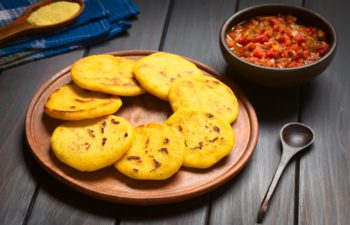 Colombian food is not haute cuisine. Don't expect fine dining and delicate dishes. Food here is humble hearty fare, heavy on the carbs and meat, but delicious none the less. Here are 9 dishes you simple can't visit Colombia without trying. Just loosen the belt before you do so.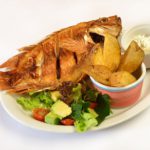 Pescado frito
If you visit the Caribbean Coast try fried mojarra or red snapper. Served with fluffy steamed coconut rice, a simple salad and plenty of lime wedges to get your fish a zing. What could be better at a simple Colombian beach shack, listening to the sound of the waves crashing on the shore and accompanied by a cold beer. Bliss.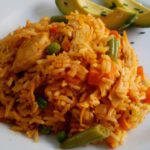 Arroz con pollo
Arroz con pollo is an absolute classic. A simple concoction of rice and chicken with extras of peas and vegetables is a delicious staple. Achiote gives the dish a vibrant reddish look. And the best part? It's inexpensive. There's no wonder why Colombians eat this dish daily.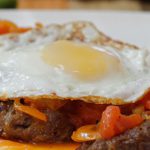 Bistec a caballo (steak on horseback)
You can't get any simpler than this. A beef steak topped by a fried egg and served with a little fluffy white rice. A delicious red tomato and onion sauce adds extra flavour. If really hungry add some fried plantains.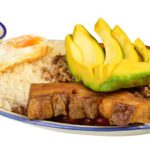 Bandeja paisa
Bandeja paisa is a gut buster not recommended for those on a diet. You may want to set aside the rest of day after tackling this enormous feast. This meaty dish includes sausage, chicharron (crackling), beef, black pudding, chorizo, beans, rice and fried eggs. The only sign of a vegetable is a light garnish of tomato, a little lettuce and maybe even a slice of avocado.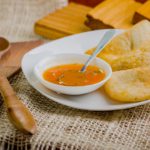 Empanadas
Latin American empanadas are so much more than our pasties. Crispy morsels of deliciousness served throughout South America and filled with everything from chicken, pork, eggs, cheese. This street snack is always tasty, and at less than a buck each they won't break the bank. More often than not it is the simple street food which is beats expensive restaurant fare.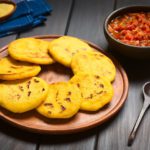 Arepa
This simple corn bread is a staple. Eaten with most dishes or filled with all manner of things including cheese and meat. They are served throughout Colombia, Venezuela and Panama. This street snack has many variations including the unhealthy, but delicious deep fried version. Sweet arepas smothered in queso fresco (fresh cheese) are also popular.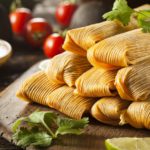 Tamales
In their various forms, tamales are found throughout Colombia, Central America and Mexico. Often eaten as breakfast in Colombia, a plantain leaf is filled with belly pork, ribs, egg, vegetables and chicken. It will set you up for the day, often served in the he morning with a thick hot chocolate drink. Along the Pacific Coast try a tasty variety filled with green plantain and coconut milk.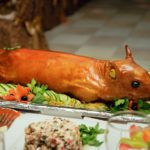 Lechona Tolimense
Who could resist a whole suckling pig filled with yellow rice, onions and spices and roasted in a brick oven for over ten hours? The result is melt-in-the-mouth tender inside and covered in a crispy crackling. Trimmings include salads and the obligatory arepa. Due to its size, it's often served at family gatherings and events and comes from the Tolima region.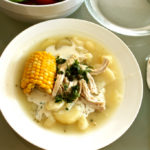 Ajiaco
A simple soup of three varieties of potatoes, chicken and the herb guascas is tastier than it sounds. Throughout the country, but particularly in Bogota, it's traditionally eaten on Sunday afternoons. Varieties of the stew can be found in Peru and Cuba that also include other meats. The soup is served in large clay pots and often with a corn in the cob poking out the top.