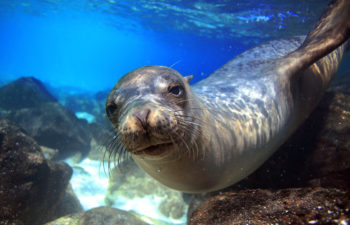 From the Pacific to the west and the Caribbean and Atlantic on the east, Central and South America boast some of best dive spots in the world. Wildlife rich waters, coral reefs and clear waters make for excellent snorkelling or scuba diving. Some places are only accessible by boat and others are a few steps off the beach. The friendly local people enrich a trip to this region. Here are eight of the best.
Great Blue Hole, Belize
The Great Blue Hole lies 70 kilometres off the coast of Belize. A sinkhole formed from a collapsed limestone cave thousands of years ago. Declared a UNESCO World Heritage Site, the spot was named as 'one of the top ten dive sites in the world' by French explorer Jacques-Yves Cousteau. The circular shape that stretches almost 300 metres across and 125 metres deep. It has a staggering variety of marine life including reef, nurse and bull sharks.
Isle Holbox, Mexico
Located a half hour boat ride away from the northern tip of Yucatan is a small island Holbox, a tranquil haven. To protect the environment, there are no cars. Between June and September, enormous whale sharks come near Holbox. They arrive to the shallow waters to mate and feed. It one of the best places to snorkel and swim with these gentle giants and a fun place to hang out.
Galapagos Islands, Ecuador
The Galapagos islands are popular with wildlife enthusiasts. With unique wildlife, much of which is endemic to the archipelago, it's no wonder. Only here are found marine iguanas and lots more. The lack of predators and human contact have allowed the creatures to evolve with fear. You can enjoy close encounters with playful sea lion pups, turtles, sharks, rays and exotic fish. Scuba divers can stay on liveaboard cruises. So you can visit far reaching islands where impressive schools of hammerheads congregate. Those with less experience can do day-trips from the inhabited islands. On a land based cruise it is still worth snorkelling at every chance.
Fernando do Noronha, Brazil
Located off Brazil's northeast coast, Fernando do Noronha is another world class diving spot. The island has a basic accommodation, but this means only serious divers make the journey to this unique spot. With an impressive visibility of over 50 metres and plenty of wildlife it will not disappoint. This includes angel fish, manta rays, turtles and moray eels. The archipelago also has the world's largest spinner dolphin colony. The beaches are award winning too, makes this one of the best diving islands in Latin America. Book up well in advance.
Little Corn, Nicaragua
The remote Little Corn Island located off the coast of Nicaragua, is home to around twenty dive sites. For example, at Turtle Rock you can see lobster, octopus, sting rays and moray eels. At Yellowtail the sandy channels and coral reef are home to eagle rays, triggerfish, barracuda and dolphins. The sheer number of diving spots make this an ideal option for those who want a longer diving holiday.
Sea of Cortez, Mexico
Squeezed between the Baja California peninsula and the mainland of Mexico, the Sea of Cortez is home to a staggering variety of flora and fauna. Much has evolved in almost complete isolation. Scuba divers can either take day trips or they can stay on liveaboards. Wildlife includes schools of hammerheads, manta rays, sea lions, jacks, tuna, dolphins and eels. Mobula flying rays (relatives of mantas) are common during the winter months.
Ambergris Caye, Belize
The Cayes, pronounced 'keys', are a small chain of coral islands off the coast of Belize. One of the largest being Ambergris Caye, a popular area due to its excellent nearby dive sites and plenty of choice of accommodation. This mecca for scuba divers includes the Hol Chan Marine Park where plenty of harmless rays and sharks congregate. It's is also possible to see manatees, big, gentle plant-eating giants.
Los Roques, Venezuela
Another top-notch dive spot, Los Roques lies north off Venezuela in the Caribbean Sea. The National Park contains more than 300 islands and cays around a lagoon. Clear waters make spotting angel fish, rays and nurse sharks easy. The archipelago's coral reef is popular for both snorkellers and scuba divers. An added attraction are the isolated white-sand beaches. Here you can also try windsurfing, fishing and sailing.