Skip to main content

This information was published on 25th June 2020
Panamá was recognised by the WHO as one of the countries with the fastest response to its first case of COVID 19. Panamá took the necessary measures early enough to avoid saturation of the health system.
The country, as the HUB of the AMERICAS and with the largest connectivity in the region has decided to keep its borders closed to avoid more spread. The country has remained in lockdown and will gradually open its economy always with the health and safety of its population in mind.
Plans to reopen to international tourism
There is a new tendency of travellers nowadays, a conscious traveler is a green advocates of the places he visits and keen to explore nature and protect the environment. Managing to create an economic impact that benefited the communities. The Tocumen International Airport is set to restart operations on July 22nd as international Air flights have been postponed to resume on the same day. At the moment, we do not any international routes confirmed.
At arrival, travelers should complete a sworn declaration, they must declare any symptoms within previous days or if they have been in contact with someone with symptoms of Covid19 or similar. Temperature screenings will certainly remain a regular part of security protocols. No measures for quarantine, nor further testing is being contemplated for the moment for visitors to the country.
At the moment, we are focus in the revival of our domestic tourism, allowing locals to rediscovery the beauty of our country values and tradition. For international tourism, we expect to welcome international tourists in the second semester of 2020 or first semester of 2021.
The airport is planned to open on the 22nd of July and airlines are organizing their flights to Panamá, so as soon as we have their schedules we will communicate. The airlines flying to Panamá before the lockdown was: Air France, Lufthansa, KLM, Iberia and Air Europa from Europe.
Plans for reopening other entry points,
Regarding to entry ports such as cruise ports and other port operators, we estimate to restart operations during the second semester of 2020. Although our ports are likely to reopen at the end of 2020 as our cruise season starts, it is difficult to estimate since most cruise lines that operate in and have transit through Panama come from the United States or Europe, and there might be further delays in the arrivals and transits of these cruise ships. Considering the effects of this pandemic on the cruise industry in general, we understand that in the USA, most cruise ports and lines have postponed activity until September 2020, but focusing on their domestic markets.
As far as bio-security, health and sanitation standards and requirements, the Panama Tourism Authority has been working with the relevant industry experts to develop the guidelines to be followed, with previous approval of the Ministry of Health Panama (MINSA) and Immigration authorities, to ensure that our protocols meet international standards, keeping the safety and security of international visitors and locals and continuing to develop the tourism sector properly.
What Covid 19-related safety measures can travellers expect?
As part of our biosafety protocols, it is our duty to ensure the safety of the travellers as possible. We have developed hygiene and sanitation protocols for each tourism activity that travellers will be able to find on our website, once approved by Ministry of Health Panama (MINSA), our local authority in health matters. Wearing face mask is required at all times when interacting with others, except if a person remains solely within their own "social bubble", meaning people that are traveling together as a family or people that live together. Otherwise, if there are social interactions with other travelers it is essential to follow the health and sanitation guidelines of social distancing (2 meters between people and maintaining proper hand-washing practices, wearing face masks, and avoid touching one's face).
At the moment, shops, museums, restaurants, bars, are not open. MINSA is studying the tendencies on how COVID-19 is developing and wants to guarantee a safe return to regular activities as effective as possible. As our curve has not flattened, reopening dates are yet to be determined.
Other Covid 19-related safety measures
We have already complied with the World Tourism and Travel Council (WTTC) safe travels protocols that allow travellers use common standard protocols among the countries, for example, they can use the same guidelines of their own country within other countries. Travellers should be conscious minded that COVID-19 represents a threat, protecting themselves and their family, they are protecting others as well.
Taxis are advised to use natural ventilation at all times and ensure appropriate hygiene and sanitation measures for passengers and drivers, the Ministry of Health Panama (MINSA) suggest physical distancing within the taxi.
On the other hand, the Panama Tourism of Authority has proposed a plan to reopen tourism in the country that includes a proposal of different phases:
Phase 1 proposes that tours be allowed in protected natural areas such as trails, mountains, beaches, all sports activities and at the same time the reactivation of tourist guides services.
Phase 2 proposes the reopening of airports, hotels and travel agencies as well as tour operators. The approval of economic measures will allow the maintenance of tourist infrastructure.
On a next phase, it is under evaluation to allow any activities such as meetings, events, conferences upon a capacity of 60%.
All these proposals are subject to the Ministry of Health Panama (MINSA) approval.
Panamá has worked intensely with the local health authorities as well as the WTTC on safety protocols and was one of the first countries to get the SAFE TRAVELS STAMP that guarantees the destination has the proper biosecurity procedures that give future travellers the confidence to come to this beautiful country. All players in the tourism industry in Panamá (hotels, restaurants, TOs, transportation…) are implementing processes aligned with the protocols of local authorities, that focuses on achieving operational excellence in the "new normal".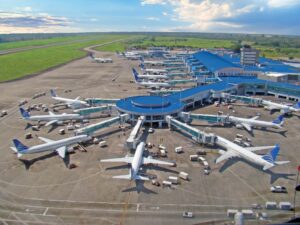 The Government of Panama has authorized the establishment of a Controlled Operations Center for the interconnection of International Commercial Aviation, which will allow – to a limited extent – air operations for transit through Tocumen Airport for the departure of passengers and the controlled entry of Panamanians or residents in Panama.
In accordance with the Executive Decree No. 300 of July 31, which is signed by the President of the Republic, Laurentino Cortizo, and by the Minister of Government, Janaina Tewaney Mencomo, passenger traffic through Tocumen International Airport will be admitted in a limited way, in terms of number and connections, as long as their connections do not take more than six hours between the arrival and departure flights. In addition, only controlled entry of passengers into national territory will be allowed, with prior authorization from the Ministry of Health.
The opening of Tocumen Airport for international connection purposes represents an important decision as a country to contribute to the connectivity of regional aviation and the well-being of numerous families.