Skip to main content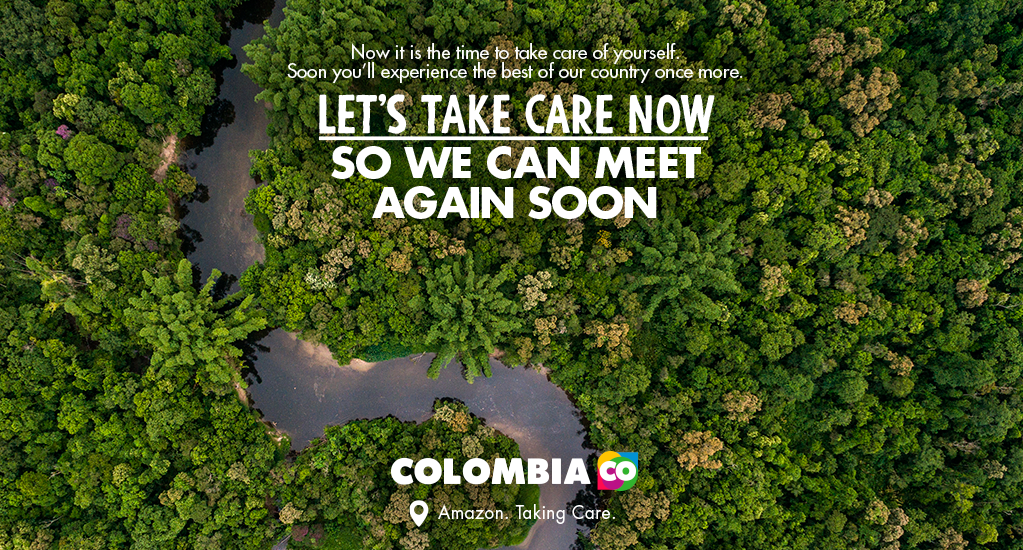 This information was updated on 26th October 2020
Colombia is advancing on its strategy for reactivating international tourism. First phase of international flights started on September 21.
Plans to reopen to international tourism
Tourism has been one of the most affected of all major economic sectors. However, we are convinced the tourism industry has immense resiliency and that it will play a crucial role in the recovery of the world's economy.
At ProColombia we are working on a recovery plan focusing our efforts on the following priorities:
adapting to change,

facilitating air travel connectivity,

and reinforcing the international traveller's trust in their ability to safely visit our destinations.
We are strengthening our promotion of a high quality and sustainable tourism. Since this pandemic began, we created the message "Let's take care now, so we can meet again soon" with the purpose to reach the most relevant markets for the promotion of Colombia as an international destination.We achieved more than 170 million impressions with the advertising pieces and videos we made with images of our national destinations.Now we are starting the second phase of this communications tactic with the evolution of the message: "We'll meet soon", now reaching 12 international markets of interest to the country. In a few days we have already reached 21.3 impressions.
The initial international flights that were restored were to the United States, Ecuador, Mexico, Bolivia, Brazil, the Dominican Republic and Guatemala. Two days before this reopening, two inaugural flights of this first phase of activation of international air transport were made, with the Rafael Núñez airport in Cartagena as their epicenter.
What Covid 19-related safety measures can travellers expect?
The Ministry of Health indicated which are the biosafety protocols for international flights:
Travellers arriving to Colombia must present a negative result of a PCR test for Covid-19 taken no longer than 96 hours before the stipulated time of travel and whoever has symptoms associated with Covid-19 will not be allowed to get on board.
In order to make easier the immigration process, passengers must fill the online form CheckMig (www.migracioncolombia.gov.co) between 1 and 24 hours prior to flight departure and should wear a face mask in airplanes and airports. Within Colombian air terminals, the minimum distance of 2 meters must be respected; on the arrival of a flight, the use of conveyor belts will be maximized; and the access to the airport terminal must be done 3 hours before the international flight.
Some measures on airplanes are: on short flights, toilets should not be used; if the flight is less than two hours, the cabin crew will not perform service on board; on medium and long flights (more than 2 hours) it is recommended to have available several face masks and replace them throughout the flight, and passengers must remain in their assigned seat at all times.
Other Covid 19-related safety measures
We are focused on regaining the international traveler's trust in their ability to safely visit and travel within Colombia.
In support of this objective, the Colombian Government has created the Tourism Biosecurity Certification. Colombia with the support of the World Tourism Organization (UNWTO), is officially the first country in Latin America with this type of certification.
The Tourism Biosecurity Stamp, created by the Ministry of Trade, Industry, and Tourism, with the support of ProColombia, aims to generate trust among travelers, minimizing the risk of viral infection and encouraging tourism throughout the country.
The certification, valid for two years, is voluntary and may be used by tourism related services providers, tourist areas, and tourist attractions in order to certify compliance with biosafety protocols.
Colombia has done a remarkable job at tackling Covid – 19. The government's swift response has kept the toll of infection and death relatively low compared to other Latin American nations like Brazil, Chile, Ecuador, Mexico and Peru.
Our nation took early isolation measures, which allowed us to strengthen the health system capacities by increasing ICUs and buying emergency supplies and medical equipment. The social distancing implemented throughout the country was also key in slowing the virus infection rate.
However, these measures that aimed at saving lives, have also had a great impact in our economy. The Government has implemented relief initiatives to assist businesses from different sectors, which include tax waivers, payroll payment assistance and forbearance on social security obligations. In addition to this, the government has extended lines of credit through government controlled financial institutions and has reduced interest rates.
Colombia has attempted to find a balance between adequate distancing and economic activity by keeping open sectors that were crucial for the economy and our supply chain, including food, agriculture, financial and essential services.
Construction and some manufacturing sectors have already resume activities and in the coming weeks, with the proper protocols, a wider portion of the economy will reopen.
We are confident about the future. We believe that these measures that we have taken to face the pandemic will help Colombia recover its economic and social growth path once this has passed.
Colombia Destination Update - 15th July 2020
Juliana Torres, Senior Tourism Specialist, ProColombia
Phone number +44 (0)7946119399
Email address jutorres@procolombia.co