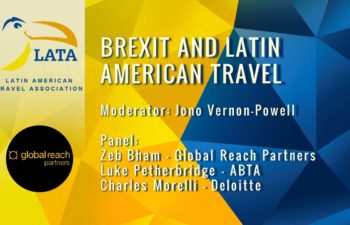 On Wednesday 7th September, LATA hosted a special General Meeting on Brexit and the possible implications to UK travel to Latin America. The session was skilfully moderated by Jono Vernon-Powell of Nomadic Thoughts, who was joined by a panel of experts including Zeb Bham of Global Reach Partners (also our event sponsors), Luke Petherbridge of ABTA and Charles Morelli of Deloitte.
Zeb opened the session with a fascinating account of the 20 hours that followed the results of the UK referendum, which saw 52% of the electorate vote to leave the European Union. The market, confident of a remain verdict remained stable until the votes began to tip towards the leave vote. What followed was a huge correction in the market and the pound drop by 15% in 24 hours.
Since then the pound has bounced back a little, possibly prematurely given the unknown risk that lies ahead. Until Article 50 is triggered it is uncertain what will happen. Currently nothing has changed, the UK remains part of the European Union.
Luke from ABTA reiterated Zeb's point that nothing had indeed changed yet. The currency continues to have issues, but consumer confidence is beginning to bounce back.
When the UK finally does leave, in at least 2 years' time, Luke believes that the majority of the EU laws that protect travel will remain unchanged, which is positive. ABTA is lobbying the government to ensure a similar aviation deal is met, but also that they look at new opportunities too. There is no point in just agreeing to comply with existing EU laws when positive changes can be explored.
The UK government has confirmed that the Package Travel Directive will be implemented in the UK in January 2018, but there is the possibility that post Brexit it may not ultimately apply to UK business. It is important to remember however, that the majority of EU travel laws originate from the UK, many since the early 70s, so there is a historical precedence of UK policy focusing on consumer protection. ABTA will certainly be monitoring this, but does not envisage the UK doing away with legislation that results in higher consumer confidence.
From an aviation perspective, Charles from Deloitte painted a rather more worrying picture, claiming that the downturn had already started before Brexit with passenger numbers reducing for many airlines. There is certainly fear in the aviation market that there will be a downgrading of UK growth with fewer people travelling.
In order to get a clear picture of the thoughts of the LATA membership, the attending members broke out into groups to discuss their own concerns about Brexit and also what opportunities they thought might arise as a result.
Most saw pricing volatility as their most pressing concern affecting the industry in the immediate term. Looking ahead uncertainty itself is worrying as the members have concerns about the slowing of the UK economy, posible stagnation and lack of investment in UK travel as a result. Holiday prices are set to increase by 15%-20% in the coming year, which is a worrying figure for a destinations (such as specific countries in Latin America) already considered expensive.
Reduced sales are likely to lead to a reduced need for a workforce in the UK travel industry, which could lead to unemployment. This was also a concern amongst members, as was a reduction in the talent pool, if European workers were made to leave the UK. Concerns about reciprocal visas were also raised and the short to medium outlook was generally perceived to be a little shaky.
Zeb of Global Reach recommends that each booking be treated individually and to make a hedging decision based on time frame between the time of booking and departure and the size of the booking. Small to medium companies can be more dynamic with this, but they do need somebody within the company dedicated to this.
Charles of Deloitte felt there was definitely a degree of pessimism in the aviation industry and that it is likely that some routes could be pulled in the next 6 months. A clearer picture of this will emerge in the new year.
Despite the uncertainty that lies ahead, positivity about UK travel to Latin America remains. Many felt that now would be the perfect time to launch a new product or campaign, while much of Europe stood still. Some felt that business travel would increase and new destinations would be discovered as the UK negotiate new business deals.
As British travellers look away from Europe as a travel destination, Latin America is very much on the up. It is perceived as a much safer destination than it has been in the past. Latin America has several new direct routes and after the incredible Olympic and Paralympic games in Rio, the spotlight is well and truly on the Latin American continent.
The British travel market is considered one of the most resilient and despite uncertainty, there was still a feeling of optimism amongst the members and panellists. Elisa-Maud Tersou who represents Turismo Chile here in the UK stated that 'Chile had had a very positive growth during the first semester (Jan-June), and anticipate this growth will not suffer a stunt because of Brexit. We remain positive overall in terms of long-haul travel.'
As Luke from ABTA concluded ''while the economic picture is still emerging, I am always amazed by how creative and ingenious people working in the travel industry are.'
What is clear, is that working together, the LATA community can weather any storm and the future, we believe, will remain positive.