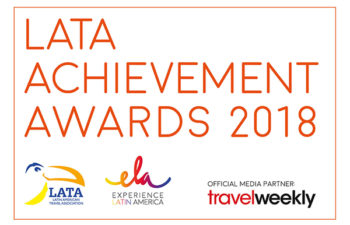 Entry criteria available HERE
Submissions are now open for the 8th edition of the LATA Achievement Awards recognising individuals and/or companies that have made an exceptional contribution to the development of Latin American tourism. For 2018, the awards will be bigger and better than ever with a range of new categories and a new judging panel.
For 2018, the LATA Achievement Awards judging panel will be led by Derek Moore, chairman of AITO, co-founder of Explore Worldwide and recipient of the Contribution to Adventure Travel award at the 2017 Adventure Travel Conference. Derek is joined by Aneil Bedi, director at M&C Saatchi and judge of the Travel Marketing Awards, Barbara Kolosinska, director at C&M Travel Recruitment, Quinn Meyer, founder of the CREES Foundation and Danny Callaghan, general manager of LATA.
The 2018 awards categories are:
Tour operator of the year award
Airline of the year award
DMC of the year award
Hotel of the year award
Cruise of the year award
Destination of the year award
Marketing campaign of the year award
Product launch of the year award
People award
Innovation in sustainability award
The awards ceremony will take place on Monday 11 June during ela; Europe's biggest B2B travel conference focused on the Latin American region.
Submissions are free-of-charge and open to all members of the travel industry including tour operators, airlines, DMCs, hoteliers, cruise companies, tourist boards, PR and representation companies, individuals a/o other tourism businesses (not just LATA members). The deadline for submissions is 30 April 2018.
Submission details and all entry criteria is available via www.lata.travel.
-Ends-
Editorial notes:
For any queries on the awards, or to discuss sponsorship opportunities, please email info@lata.travel
The Latin American Travel Industry (LATA) is represented by LOTUS. For more information a/o images, please contact Kate McWilliams or Lucy Keenan (latapr@wearelotus.co.uk / 0207 953 7470). For more information on LATA, please visit www.lata.travel or for more information on ela, please visit http://experiencelatinamerica.travel/.
Social Media
#LATAAchievementAwards