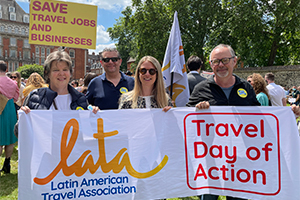 The travel industry came together yesterday at Westminster and around the country to lobby the government on a day of action to Speak Up For Travel.
Every sector of the industry was in attendance, from cabin crew, pilots, travel agents and tour operators who have been aversely affected by the pandemic and the lack of support from the Government.
LATA was there to show its support with the travel industry and flying the flag (literally) for our members overseas and for a safe return of travel to Latin America. We were also delighted to see some familiar faces after a year and a half of seeing everyone virtually.
To see the whole industry coming together, not only in London, but also in Scotland and Northern Ireland and being represented with a clear message was fantastic.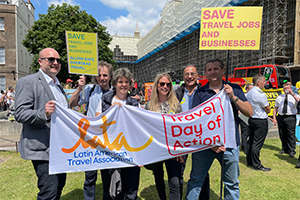 At the Travel Day of Action, we requested that the government:
Allow international travel to return safely and in a risk managed way by properly implementing the Global Travel Taskforce's plan for a traffic-light system, by expanding the Green list in line with the evidence and making restrictions more proportionate, whilst keeping a strong red list to guard against variants.
Bring forward a package of tailored financial support, including extension on furlough support, recognising that the travel sector's ability to trade and generate income is much slower than first anticipated and much more gradual than for businesses in the domestic industry.
Transparency on the criteria being applied to the travel restrictions so that the industry can understand the rationale, monitor the situation in individual countries and manage the likely risk of future holidays not being able to go ahead.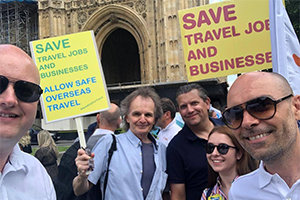 We hope that the Government will act on our requests and that we will see travel to and from Latin America open up in the coming months.