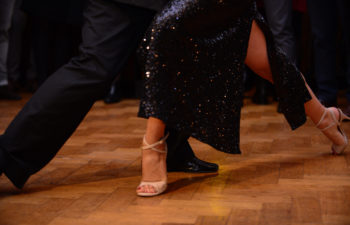 The Latin American Travel Association (LATA) brought together over 250 members of the Latin American diplomatic and travel communities on Tuesday 7 November in a unique 'Noche Argentina' hosted at the Argentina Ambassador's residence in London, in collaboration with Argentina's tourist board; Visit Argentina.
The event which took place during World Travel Market (London) transported guests on a one-of-a-kind journey of discovery through Argentina from the 1920s glamour of Buenos Aires and the lush and vibrant nature of the Litoral region to a secret speakeasy serving fine wines from Argentina.
Guests were welcomed by the Ambassador of Argentina His Excellency R. Carlos Sersale di Cerisano joined by the Minister of Tourism Gustavo Santos and Colin Stewart, Chairman of LATA. Speeches outlined the ever-growing links between the UK and Argentina and the efforts being made by UK and European organisations to work together to promote sustainable travel to Latin America.
Colin Stewart, Chairman of LATA said:
"The annual LATA WTM event is now one of the most significant calendar events for the Latin American travel and diplomatic communities. Offering a chance to celebrate key successes, look forward to developments during the year ahead and open up dialogue with leading decision makers, the event is a one of a kind. This year's attendance is a reflection of the growing links between the UK and Latin America and the importance and relevance of the travel industry for driving economic growth."
The event, branded 'Noche Argentina' (Argentina Night), also featured authentic tango and folkloric dancing, an exquisite Argentinean menu cooked by award winning Argentinean chef Javier Rodriguez including dishes such as Patagonian lamb, mushroom and pine nut stew and wines from Bodegas Colomé and Sottano.
Special guests also included members of Union Argentina – the Argentina rugby team – ahead of the opening test match against England taking place on Saturday 11 November.
-Ends-
For more information on LATA, please visit www.lata.travel
For further images or editorial enquiries, please contact LataPR@wearelotus.co.uk
#NocheArgentina #WTMLATAParty