Skip to main content
Akademik Ioffe in Antarctica
Aademik Sergey Vavilov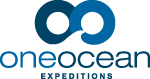 Antarctic Expedition Cruises onboard Akademik Ioffe & Akademik Sergey Vavilov
Category:
Cruise Ships
---
One Ocean Expeditions is a Canadian expedition vessel operator founded in 2007.
The company operates two purpose-built ships, each with a high ice-class and carrying less than 98 guests. The vessels are specifically designed for polar exploration and combine modern comforts and superb amenities with first-class safety features.
Offering a range of innovative expedition cruise itineraries in Antarctica, Spitsbergen and the Canadian Arctic, One Ocean Expeditions has developed a reputation for exceptional quality, customer service and great value.
People really matter on our polar voyages with options and choices provided throughout and a unique team of Adventure Concierges offering exceptional customer service to ensure an unforgettable experience.
Designed for polar research, the Akademik Ioffe and Akademik Sergey Vavilov have all the components of true exploratory vessels. Ice-strengthened, stable, quiet and highly maneuverable they are the perfect platforms for polar expedition cruising.
With a focus on wildlife, photography and adventure, we lead the way with our new ideas. Optional daily activities include overnight camping on Antarctica, expedition photography and sea kayaking, and we even offer a wellness program with sauna, plunge pool, hot tub and massage therapist.
We are committed to run an operation that is a model to the world in terms of ecological sensitivity and to minimising our impact on the polar regions.
---
Head office
One Ocean Expeditions
38141 2nd Avenue
Squamish, BC
V8B 0C4
Canada
+1 604 390 4900
+1 604 676 2704 (Fax)
IAATO

---
error:
Alert:
This content is copyright protected