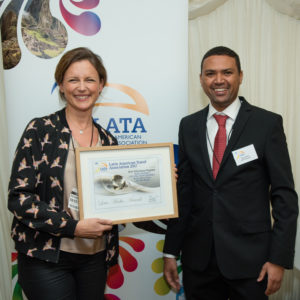 09.02.2017: MPs, Latin American diplomats and senior members of the Latin American travel, hospitality and tourism industry gathered at the House of Commons on 8 February for the All-Party Parliamentary British-Latin America Group and Latin America Travel Association's (LATA) annual reception which honoured BBC presenter Katie Derham with the 2017 LATA Media Award for her outstanding contribution to the promotion of Latin America in the UK.
Held in the Terrace Pavilion in the House of Commons, guests were greeted by Mark Menzies MP; Chairman of the APPG for Latin America and the Right Honourable Alan Duncan MP; Minister of State of the Foreign and Commonwealth Office.
Bringing Latin American culture into British homes through her work presenting television programmes such as the vibrant BBC documentary The Girl from Ipanema: Brazil, Bossa Nova and The Beach and the 2016 Proms which had a distinctly Latin flair in celebration of the 2016 Rio Olympics, Katie Derham was presented the award by chairman of LATA, Byron Shirto.
Shirto says:
"Journeying to the stunning beaches, majestic mountains and night clubs of Rio to meet key Bossa Nova musicians, Katie's The Girl from Ipanema uncovers the hidden culture of Brazil, unveils the mysterious story behind Brazil's most iconic musical export and reveals what it really means to be Brazilian to a British audience. Through this programme as well as her work presenting the 2016 Proms, Katie has transported the spirit of Latin America into many British households, driving interest in the region and creating an appetite for travel."
Also honoured during the ceremony was Penelope Kellie, who was inducted into the LATA Hall of Fame for her outstanding contribution to the Latin American travel industry. A long standing member of the Latin America Travel Association, Penelope Kellie has worked tirelessly over the last 20 years to help generate sustainable travel to the region.
Editorial notes:
Picture credit: Katie Derham pictured with LATA chairman Byron Shirto.
The Latin American Travel Industry (LATA) is represented by Lotus. For more information a/o images, please contact Kate McWilliams or Lucy Keenan (latapr@wearelotus.co.uk / 0207 953 7470). For more information on LATA, please visit www.lata.org