Skip to main content

International Travel Crisis Management Summit
8 November, 2018 @ 8:30 am

-

6:00 pm
Event Navigation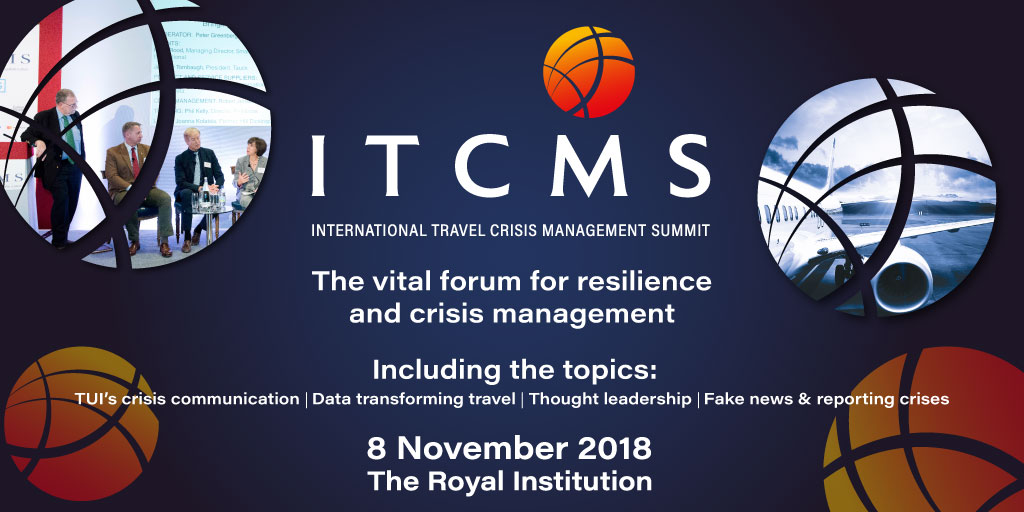 THURSDAY, NOVEMBER 8, 2018
08.30 REGISTRATION AND COFFEE
08:55 CALL TO ORDER/WELCOME Duncan Horton, CEO, Jacobs Media Group
Daniela Wagner, Director, International Partnerships, Jacobs Media
09.00 EVENT MODERATOR'S Overview of the Day, Anita Mendiratta, President/Founder, Cachet Consulting
09:05 WELCOME KEYNOTE – ONE ON ONE WITH THE EGYPTIAN PRIME MINISTER
H.E. Rania al-Mashat, the Minister of Tourism of Egypt
Anita Mendiratta, President/Founder, Cachet Consulting
Egypt has been pegged as one of the world's fastest growing tourism destinations, and the second cheapest travel destination. But the near last place in training for service occupations indicates the affordability of the destination is not attracting tourists. Perhaps a very good reason why the new Minister, an esteemed economist, heralding from the IMF and the Bank of Egypt was appointed. Embattled with various crises, Minister Mashat will share her vision for further revitalization of Egypt's travel and tourism sector.
09:20 Session #1: THE FRONTLINE – A TALE OF 2 CITIES – THEIR CRISES AND HOW THEY WERE HANDLED
2 major destinations and their crises events will be presented by individuals who participated. October 1, 2017 at 21:59 shots were fired that began the largest mass shooting in US history. What happened? How was Las Vegas able to save the 40,000 jobs and billions in revenue generated through travel and tourism? The CMO of LVCC will share lessons learned.
New York City deals with crises almost every month, NYC & Co's President will discuss crisis response to Hurricane Sandy and the Times Square terrorist incident. We will hear about the organization's crisis management plan, city coordination, emergency management officials, and communication processes with its 2,000 members as well as meeting planners, travel trade and the global media.
Robert A. Jensen from Kenyon International, the company that handles the majority of the airlines and global travel businesses' emergency services will then share with the audience how companies can effectively manage their response to a crisis, what needs to be in place and what to expect on day one, day ten and day thirty.
Presenters: Cathy Tull, Chief Marketing Officer, Las Vegas Convention Center
Fred Dixon, President & CEO, NYC & Company
Speaker: Robert A. Jensen, Chairman, Kenyon International
Interviewer: Aneil Bedi, Founder, Brand Agents
10:20 Session #2: TRANSITIONING FROM "business as usual" to CRISIS RESPONSE MODE – How is TUI Mastering Crisis Communication
Our speaker will discuss TUI's recent critical events and the policy that has developed around those events. Topics covered will include: TUI's move from multi-brand to single brand, challenges in a changing media environment; Crisis comms and crisis management: how it comes together at TUI; TUI's Crisis comm framework and its eight pillars; What is in the TUI toolkit? Lessons learned from recent crises.
Speaker: Martin Riecken, Head of Corporate Communications, TUI Group
10:40 Session #3 EMPOWERING CONFIDENCE
With over 40 years in insurance, counter terrorism, close protection deployment, our Speaker has married his skills with technology to produce a unique location-based software applications used by millions around the world to enjoy their travels, businesses to feel confident their duty of care has been met and governments to welcome new arrivals.
Interviewer: Anita Mendratta, Founder, Cachet Consulting
Speaker: Robin Ingle, CEO, Ingle International
11:00 COFFEE BREAK
11:30 Session #4: STRATEGIC INITIATIVES ENSURING DESTINATION RESILIENCY
A combination of players ensures there is fertile groundwork for travel and tourism initiatives across the world. Corporations, NGOs, development firms, and governments align with broad reaching programs that address local needs before during and after a crisis. What do these programs look like that anchor societal resilience, productivity and stability?
IBM has over 100 years of experience in business, combining technical innovation with deep industry expertise, underpinned by security, trust and responsible stewardship. IBM Services manages half the world's telecommunications infrastructure and IBM Security protects 22 of the world's 25 largest banks. Our speaker will provide a bird's eye view of IBM crisis management and resilience initiatives around the world.
Global development companies, like Chemonics Int'l, support emerging or challenged destinations to grow tourism economies, instill levers of sustainability and promote enterprise and jobs growth to withstand crises.
In communities vulnerable to natural disaster or man-made challenges, Mercy Corps uses a market-driven, community-led approach of working with local partners to improve access to basic resources and information, education, and employment, aiming to reduce tensions, empower households, community groups, entrepreneurs and local governments to better prepare for disasters, to recognize and welcome the tourist.
And, Deloitte LLP, utilizes their global experience to provide crisis management guidance and leadership to countries, cities and businesses to facilitate methodologies and appropriate leadership training are in place to ensure resiliency. What are the long term effects of these programs on the travel and tourism industry? Have systemic changes taken place in the destination and what criteria can we look at to measure success? Are programs easily transferrable to other destinations? Businesses?
Moderator: Joanne Kolatsis, Owner, Themis Advisory Ltd.
Speakers: Ibrahim Osta, Director, Middle East and North Africa, Chemonics International
Tba, IBM US
Tim Johnson, Partner, Deloitte LLP
Allison Morris, Managing Director Corporate Partnerships, Mercy Corps
12:30 Session #5: CREATIVE USE OF ANALYTICS – Destination Resilience by TripAdvisor
Presenting the global launch of TripAdvisor's destination resiliency products. We will hear three case studies (Nepal, Greece and London) where data provided direction and guidance in making decisions, taking action or realigning assets to ensure resiliency proactively and/or retroactively. In collaboration with global partners, TripAdvisor has harnessed critical information that aims to take the guess work out of preparing and addressing crises.
Speaker: Sally Davey, Global Director, Industry Relations, TripAdvisor
13:15 – 14:15 LUNCH
14:15 – 14:25 IIPT Awards (International Institute for Peace Through Tourism) will be presented to nominated persons who have furthered peace through travel and tourism.
Presented by former Secretary General, UNWTO, Dr. Taleb Rifai and IIPT President, Ajay Prakash
14:25 AFTERNOON KEYNOTE – BIOMETRICS ARE HERE. HOW WILL TRAVEL BE AFFECTED?
Gloria Guevara, President, CEO, WTTC
Biometrics is a focus of the World Travel and Tourism Council through their Seamless Traveller Journey Programme. This effort aims to bring the Travel & Tourism private sector together around a technology and system agnostic, international interoperable approach to a seamless and secure end-to-end journey. Our speaker will provide an update on the status of the programme and the path forward.
14:35 Session #6: DATA TRANSFORMING TRAVEL
The afternoon keynote presented the concept and program of the WTTC, "Seamless Traveler". Our panel will delve into the operational realities of such a program and what are the various systems under development across the globe.
Speakers will discuss airport security and how the movement of travelers must be addressed to insure security at borders. With the multiple types of systems in play how will consensus occur? Collaboration is key. We will hear how countries are progressing and what are the failsafe methods available today? At the same time biometrics are facilitating travel, they are facilitating financial transactions. Mastercard has ambitious programs and is integrally involved in the moving to a cashless society. What are the challenges in these advancements?
Moderator: Tim Willcox, Journalist, BBC News
Speakers: Isabel Hill, Director, National Travel and Tourism Office, U.S. Department of Commerce
Tony Smith, CBE, Chair, IBMATA (Int'l Border Management and Technologies Association
Ian Slater, SVP, Enterprise Partnerships, Mastercard
Gloria Guevara, President, CEO, WTTC
Mathew Finn, Managing Director, Aumentiq
15:30 Session #7 THOUGHT LEADERSHIP ON THE MOVE
Immediately following the first ITCMS, it was clear that the indigenous component required separate focus. Countries around the world approached JMG requesting the thought leadership event come to their country. Recognizing the value of tailored, regional events we launched the first RTTS in June, 2018 in Amman, Jordan. We will hear from our past and future hosts what is happening in their countries and what the event delivered or will deliver. Is the paradigm shifting? What are the current crises that are being dealt with and what best practices can they share?
Moderator: Ibrahim Osta, Director, Middle East and North Africa, Chemonics International

Speakers: H.E. Elena Kountoura, Minister of Tourism, Greece
H.E. Edmund Bartlett, C.D., M.P., Minister of Tourism, Jamaica
Deepak Joshi, CEO, Nepal Tourism Board
Gillian Saunders, Special Adviser to South African Minister of Tourism
16:15 Session #8: FAKE NEWS AND THE KEY TO REPORTING ON CRISES
Media players will show the opposite side of the coin- A TV news camera man, an investigative journalist and a travel editor will discuss what it is to cover a crisis, where do they get their facts, who do they speak with, how do they want to receive information? What can be done to ensure veracity? How does the positive narrative get out and when?
Moderator: Rachel O'Reilly, Head of Communications, KUONI
Speakers: Claire Irvin, Head of Editorial, Travel, Daily Telegraph
Sarah Begum, journalist, explorer, Sarah Begum Films and Big Earth Productions
Stephen Adrain, Cameraman, BBC News
Ian Taylor, Executive Editor, Travel Weekly
17:00 Session #9: WHAT WILL KEEP YOU UP TONIGHT? – SQUARING OFF ON LONG TERM STRATEGIC VIABILITY
Pillars of the travel industry, government representatives and renowned emergency service provider will reflect on the best practices and lessons learned in crisis management and share their concerns. Our panel will discuss what they have in place to ensure resiliency and execute strategic crisis management. How is the strategy tested, what changes do they have to make and what are the key components to long term viability? After today's event, what will keep them up tonight?
Moderator: Damian Cook, CEO, e-Tourism
Speakers: Robert A. Jensen, Chairman, Kenyon International Emergency Services
Dr. Taleb Rifai, former Secretary General, UNWTO
Lloyd Figgins, Chairman, TRIP Group
Natalie Kidd, General Manager, PEAK DMC
17:40 Wrap-Up, Daniela Wagner, Director, International Partnerships, Jacobs Media Group
Announcement: Naledi Khabo, CEO of ATA (Africa Travel Association)
17.45 POST EVENT COCKTAIL RECEPTION
error:
Alert:
This content is copyright protected