Skip to main content
Committee Elections – Rianne van Groenigen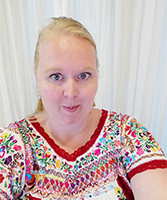 Hola, my name is Rianne van Groenigen, born in the Netherlands, Latina by heart. I lived in Mexico for almost 13 years before moving to Spain a few years ago. I arrived in Mexico looking for adventure and some months of travel and ended up staying much longer, I fell in love with the region, the people, the culture, colours, everything. During my years I worked in travel all the time. One of my favourite jobs was working as a tour guide in Mexico, Guatemala, Honduras and Belize for groups from the UK, Spain, Netherlands, Belgium and Germany. After the H1N1 crisis all my groups were cancelled for months and I got into the hotel world and loved this. Four years in Global Sales for Mexico and Latin America for Fairmont, Raffles and Swissotel allowed me to travel the continent.
Now I am proud to work for Grupo Xcaret and present Hotel Xcaret Mexico in Europe and promote travel to Mexico.
I am very passionate about Mexico and Latin America and having people travel to this area to get to know the real Latin America and not what they hear in the news and think what the region is. People who have travelled to the area are the best advocates to continue promoting travel to the region and sharing the culture and traditions from the region.
error:
Alert:
This content is copyright protected