Skip to main content
Committee elections – Mark Wheeler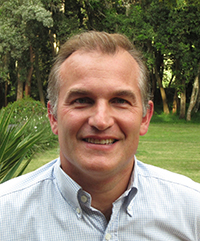 I was born and educated in the UK, I have enjoyed 25 years of international tourism experience across three continents and 14 countries, starting my career as a wildlife and volcano guide in Ecuador and working my way up to senior management roles in the tour operating and lodge / ship management fields.
Some of the highlights of my career over this time, working firstly for A&K and then for andBeyond since 2013, include 1 year living in Ecuador, 7 years living in Peru, 3 years living in Argentina, and travelling extensively throughout Latin America at that time, as well as becoming fluent in Spanish.
I have been involved at a Managing Director level in Destination management businesses across Peru, Chile, Argentina, Ecuador and the Galapagos, as well as reviewing businesses in Cuba, Costa Rica, Panama, Brazil and Colombia, thus giving me a broad view of the Latin American region's many attributes as well as sometime challenges. In terms of other tourism experience outside the DMC and Tour Operating sphere, I have overseen the development, refurbishment and operation of 10 luxury lodges in Africa, 2 boats in the Galapagos and 1 lodge in Chile, so can add the perspective of lodge and boat operations to the DMC / Tour Operating experience referenced above.
I returned to live in the UK in June of 2019 although I continue to oversee andBeyond's business in South America and Asia, as well as Business Development in those 2 regions. While my 'first love' in terms of destinations is Latin America, my experience in both Africa and Asia hopefully offers useful insights into Latin American opportunities and challenges as a result.
I very much hope to be elected to the LATA Committee and give my personal undertaking to bring my experience in, and passion for, the Latin American region to representing all elements of the destination, and promoting travel to this wonderful area of the world. I very much hope the members see fit to grant me this opportunity with their vote.
error:
Alert:
This content is copyright protected