Skip to main content
Committee Election 2023 – Lyn Hughes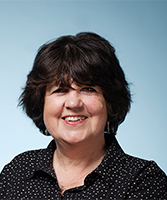 In 1992 Lyn and her late husband visited Latin America for the first time. It was a trip that would change their lives as they were inspired to scheme out their ideal travel magazine when on the flight there, and on their return to the UK they launched Wanderlust magazine from their spare bedroom. The publication went on to be one of the UK's leading travel magazines, with numerous awards under its belt. In time it led to wanderlust.co.uk and magazines and services for the travel industry. Brand extensions include the Wanderlust World Guide Awards and Wanderlust Photo of the Year.
Lyn joined LATA in 2005 and has served on the committee since. She sits on the Media Advisory Group of the Adventure Travel Trade Association (ATTA), is a fellow of the Royal Geographical Society, and is a judge of numerous competitions and awards. Lyn has won multiple awards herself for her travel writing and pops up on industry webinars, TV and radio commenting on travel. This year she was presented with an Outstanding Contribution Award in the inaugural Travmedia Awards, with presenter John Humphreys stating that Lyn is a "legend of travel" and "her influence goes far beyond the magazine". In 2008 The Times lauded Lyn as one of the "50 Most Influential People in Travel." In 2012, Lyn was presented by an Outstanding Contribution Award in the British Travel Press Awards. In 2014, Lyn was awarded one of the 'Top 60 Most Influential Women in Travel in the Last 60 Years' by the AWTE.
Lyn strongly believes in tourism as a force for good, benefiting local communities, wildlife and the natural world. While her own travels take her around the world, Latin America continues to hold a special place in her heart, and she visits at least once a year. She would love to continue to serve LATA and its members through the committee as she believes she brings 27 years of industry experience, along with a unique perspective as an editor and media influencer with both UK and global insights into consumer travel trends, media trends, and sustainable, adventure and experiential travel.
error:
Alert:
This content is copyright protected