Skip to main content
Committee elections – Kristian Brumby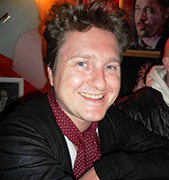 I have always been passionate about travelling to Latin America and it was after 'falling in love' with that stunning part of the world that I realised I wanted to have a career in the travel industry. After years of working in travel media in Australia, where I highlighted the beauty of Central and South America to a growing Australian audience, I am now International Partnerships Manager at OTT with responsibility for the success of the new and exciting LATA Academy.
OTT is the world's leading and largest travel trade communication tool; reaching, teaching and inspiring thousands of Travel Agents, Buyers and Tour Operators across the world to sell your brand/ destination to their clients. I have already created partnerships with many LATA members including Mexico, St Helena and Belize and I am very excited to have created a direct partnership between OTT and LATA itself. We are currently building the world's most comprehensive guide to Latin America for LATA Members to connect with over 107,000 travel agents, tour operators and buyers in the UK.
If I am voted onto the LATA committee, I would help by providing my extensive knowledge and expertise in digital marketing and brand awareness on behalf of LATA members.
error:
Alert:
This content is copyright protected