Skip to main content
Committee elections – Colin Stewart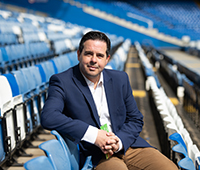 It has been a real honour and privilege to serve as Chairman of LATA for the past two years, I can honestly say it has been a wonderful experience and one that I hope to continue if you, the membership re-elect me onto the LATA Committee.
Over the last couple of years I have overseen the introduction of number of new initiatives; the provision of booking data on travel to Latin America; the launch of the LATA Sustainability Charter; membership of the TRIP Group (Travel Risk and Incident Prevention); and the launch of the LATA Academy on the industry's leading agent training platform, OTT. I firmly believe LATA is heading in the right direction to secure its long-term future and ultimately provide value to its members, something I am committed to continuing.
As Country Director, I have led the Air Europa growth here in the UK & Ireland for the past ten years, Air Europa, one of the world's leading airlines serving Latin America, started with only 3 Latin American destinations on offer, growing the network was always going to be a key strategy and as of today, we serve over 20 destinations to Latin America and the Caribbean. From almost the very first week I started working for Air Europa, I identified LATA as a key partner and one that would help us achieve the growth we witnessed over the past decade, I believe there is still work to be done in strengthening LATA, in ensuring it is perceived and recognised as the authoritative voice of Latin America and for this reason, I am seeking your support to continue as a committee member for another two years.
error:
Alert:
This content is copyright protected