Skip to main content
Committee Election – Nick French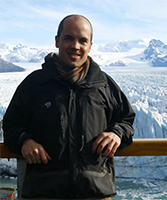 My name is Nick French and I am the Managing Director of The South America Specialists, a small, boutique, online travel company. We have been operating since 2010 with a particular focus on Argentina and Chile but now offer tailormade trips to Ecuador, Brazil, Peru and Colombia as well as Argentina and Chile.
To tell you a bit about myself, I was born in South Africa and travelled pretty extensively with my family throughout my early childhood. My first period of concerted solo travel was when I was 19 and spent around 9 months travelling through Bolivia, Peru, Ecuador, Colombia and onwards. From there I guess my career path was fated!
My travel career started in 2003 with a 2-year stint with Trailfinders in their main, Kensington branch. I went from there to working for a small luxury online operator that offered travel to Africa and South America. Being in such a small company allowed me to learn a whole host of different disciplines, from accounting to web marketing, sales and much more.
In 2010, having worked in specialist, tailormade travel for around 5 years, I decided that it was time to start out on my own. Today the company is moving into its 11th year of trading (with the highs and lows that has involved!) and we have succeeded in expanding to a group of 4 employees.
I have been a member of the committee for the last 2 years and have thoroughly enjoyed serving our members during that period. I feel that LATA is only improving its offering to membership as far as value for money, advice and ongoing support through this tricky time is concerned and feel that I have, in a small part, helped in that happening. As one of the only small tour operators on the committee I also feel I have an important role in representing the voices and concerns of the smaller operators and companies out there in our membership for which LATA can be an ever increasingly important support.
error:
Alert:
This content is copyright protected