Skip to main content
Committee Election – George Horney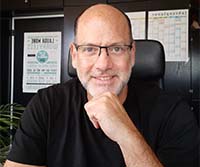 For the last 25 years I've helped travel businesses to grow. Sharing my knowledge and experience is my way to help all my colleagues in the Travel Industry to be successful – Hotels and DMC´s – and it makes me proud of being part of this amazing industry.
As a sales and strategist person, as well as a destination specialist, I was always sure that everywhere is an opportunity to be successful. I started my career in the Travel Industry back in 1995 in Lima (Hotel El Pardo Doubletree by Hilton as Assistant Manager and then as a Hotel Manager). In 2001 I switched work for a tour operator, Condor Travel as USA & Canada Division Manager until 2004 when I moved with my family to Chile to join Sportstour as a Vice-President Sales & Marketing.
In 2011 Latitud 90 invited me to join them as Tourism Director, position that I developed until July 2019. In the meantime, I moved to Germany, together with my family and in December 2017 I opened my own Sales & Marketing consultancy business. I am currently working with Hotel Las Majadas in Santiago de Chile as Global Business Development.
My passion is and always has been – "provide my customers excellence in service!" This industry gave me the opportunity to meet amazing professionals, friends and colleagues as well as to continue growing as a human being in this fantastic and united industry.
error:
Alert:
This content is copyright protected