Skip to main content
Committee Election – Colin Stewart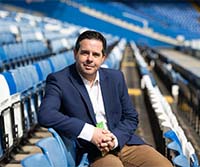 It has been a real honour and privilege to serve as Chairman of LATA for the past two terms, four years have passed very quickly in deed.
My second term coincided with the global pandemic that engulfed all of our lives, no-one could have predicted the adverse impacts on all our business and day to day activities, let alone have a plan in place to safely navigate through it but that is exactly what the wonderful team at LATA and our members were able to do. There were difficult decisions to be made, balancing the needs of our members with the realities of safeguarding the future of LATA.
Unfortunately, we were not without our casualties, however, the resilience and professionalism shown by all our members and staff once again demonstrated the quality and passion of the people that make LATA what it is.
We are not out of the woods yet, however, there are signs that we are getting through the worst of it. It is with these experiences and examples in mind that I wish to continue my involvement with this outstanding association, I hope to continue if you, the membership re-elect me onto the LATA Committee.
error:
Alert:
This content is copyright protected