Skip to main content
Committee Election – Carmel Hendry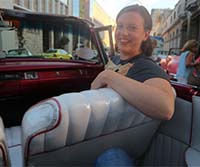 I've been a massive supporter of Latin American travel for many years now, beginning with a year living and working in Ecuador in my teens.
I'm now the Americas Product Manager at Explore Worldwide, a position that I've held for the last six years. Having travelled extensively throughout Latin America and the Caribbean, I can genuinely say that travelling back there feels like 'going home' (I'm afraid that sounds hugely clichéd!). The warm and friendly people, the diverse landscapes, the wildlife, the music and the food – I could return to each Latin American nation a thousand times and never get bored.
Working in travel, I'm particularly keen to see the area grow in a sustainable way – allowing travellers to experience its vast wealth of cultural and natural resources in a positive way that engages local people and communities. This is even more important now after the destructive effect of Covid.
I also volunteer on the projects team for the LATA Foundation, which keeps me engaged with LATA on a personal level.
error:
Alert:
This content is copyright protected