Skip to main content
Committee Election – Bibiana Tellez-Garside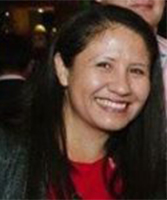 Over fifteen years' experience of promoting Latin America in the UK. An active member of LATA for eight years. Six years on the LATA committee.
In the last couple of years LATA has continued to grow as an membership organisation, which has been made possible by a lot of hard work by our very dynamic team led by our CEO, Danny Callaghan, with the direction of our Chair, Colin Stewart and the Committee.
I have felt very privileged to continue to represent our members as a Committee member for the last two years. In that time, we have consolidated our membership in the very competitive international tourism market. We have worked hard to establish LATA's name with a more professional approach, while staying true to the spirit that makes LATA so special. I hope to continue to represent our members for another term, with all the fresh challenges that lie ahead as international tourism reactivates in Latin America. Although our industry is going through unprecedented times, the opportunities will start to re-emerge in the coming months. We must acknowledge the difficulties and risks but remain positive and work together to restore and expand the market for travel to one of the most diverse and dynamic regions in the world.
I would like to take the opportunity to thank to all our members who have been able to fundraise in support of the LATA Foundation, these generous gestures have enabled us to help many projects when they needed it the most, reaching not only those projects that we work with but also to initiatives that have been hit very hard during the pandemic.
error:
Alert:
This content is copyright protected